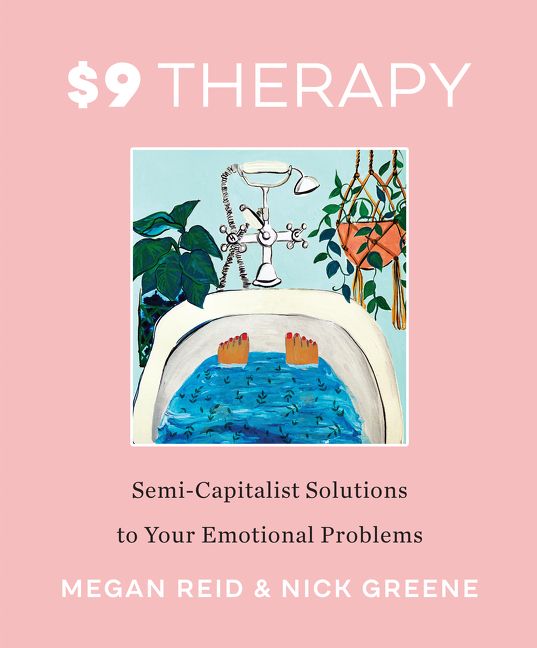 Wednesday Feb 12, 2020
7:00 pm - 9:00 pm
POWERHOUSE @ the Archway
28 Adams Street (Corner of Adams & Water Street @ the Archway)
Brooklyn , NY 11201
RSVP encouraged & appreciated.
Please fill out the form at the bottom of this page if you plan on attending. Facebook event found here.
PLEASE NOTE: Submitting an RSVP for this event DOES NOT guarantee entrance. This is a free-access event — entrance will be on a first-come, first-served basis.
---
About the Book.
Self-care is a critical, modern movement that has been increasing in popularity over the last several years. However, many of the prevalent practices can often eat up your paycheck. $9 THERAPY proves that it's possible to take self-care seriously without taking yourself too seriously and—more importantly—without emptying your bank account. The philosophy is simple: sometimes spending nine dollars on an act of self-care will make you a fraction happier.
Self-professed lifestyle gurus Nick Greene and Megan Reid are living proof of this methodology. The authors met while working their first minimum-wage jobs out of school and emerged from the experience with a firm belief in the radical potential of simple pleasures. In $9 THERAPY, they use their hard-won wisdom to show how small, inexpensive treats can elevate your adulting game: whether it's mindfully repotting a plant to finally drinking from a decent wine glass (even if you can afford only one), to recipes you'll actually want to cook, to design tips to make even the tiniest spaces look like Instagram-bait. In the words of co-author Greene, "what's fun about our book is that it's serious about taking care of yourself but we are not at all serious about ourselves. Life is hard enough without also having to slog through a ponderous metaphysical tome when you're just trying to make a goddamn pasta sauce while you call your mom back."
While the authors believe in the value of actual, professional therapy (the book concludes by extolling its benefits), they acknowledge that most people can't afford the pricey lifestyle trappings that comprise modern wellness culture like spa dates, acupuncture, and laser treatments. Greene and Reid attest that little, low-cost changes can have big effects in your daily life and overall wellbeing. Some of the topics discussed are:
Solo cups are for beer pong only: you deserve plastic wine glasses
How to Staycation and make the most of your days off
Make wine popsicles
New sheets are expensive. But high thread-count pillowcases? Those you can afford.
DIY Linen and Room Spray
Easy recipes for all occasions—from snacking to dinner parties
Throw out your dead houseplants
Have dinner by candlelight
How to be Hungover
Overwhelmed with your bills and daily tasks? Designate a "get your sh*t together day" every month
And much more
With enthusiasm and sass (and featuring 30 colorful illustrations), $9 THERAPY rounds up the life hacks and mini-upgrades that make us smile and encourage us to value ourselves and the people we love. This isn't just therapy: it's a steal—your mentality and wallet will thank you later.
About The Authors.
Nick Greene and Megan Reid have been friends, brunch companions, and enthusiastic co-conspirators since they met as book publishing assistants in 2011.
A graduate of Brown's creative writing program, Greene has worked on the editorial and product development teams for outlets such as the Atavist, n+1, and McSweeney's, and BuzzFeed. Most recently, he joined the biometric identity company CLEAR.
Reid edited several bestselling and award-winning books for Simon and Schuster after receiving her M.A. from The Ohio State University. She works in television development for FX Networks and is the author of two forthcoming children's books from HarperCollins/Balzer+Bray.
Greene and Reid live and write in Brooklyn, where their dogs Ogden and Luna are frequent playmates and helpful pwoofreaders.
RSVP
Bookings are closed for this event.