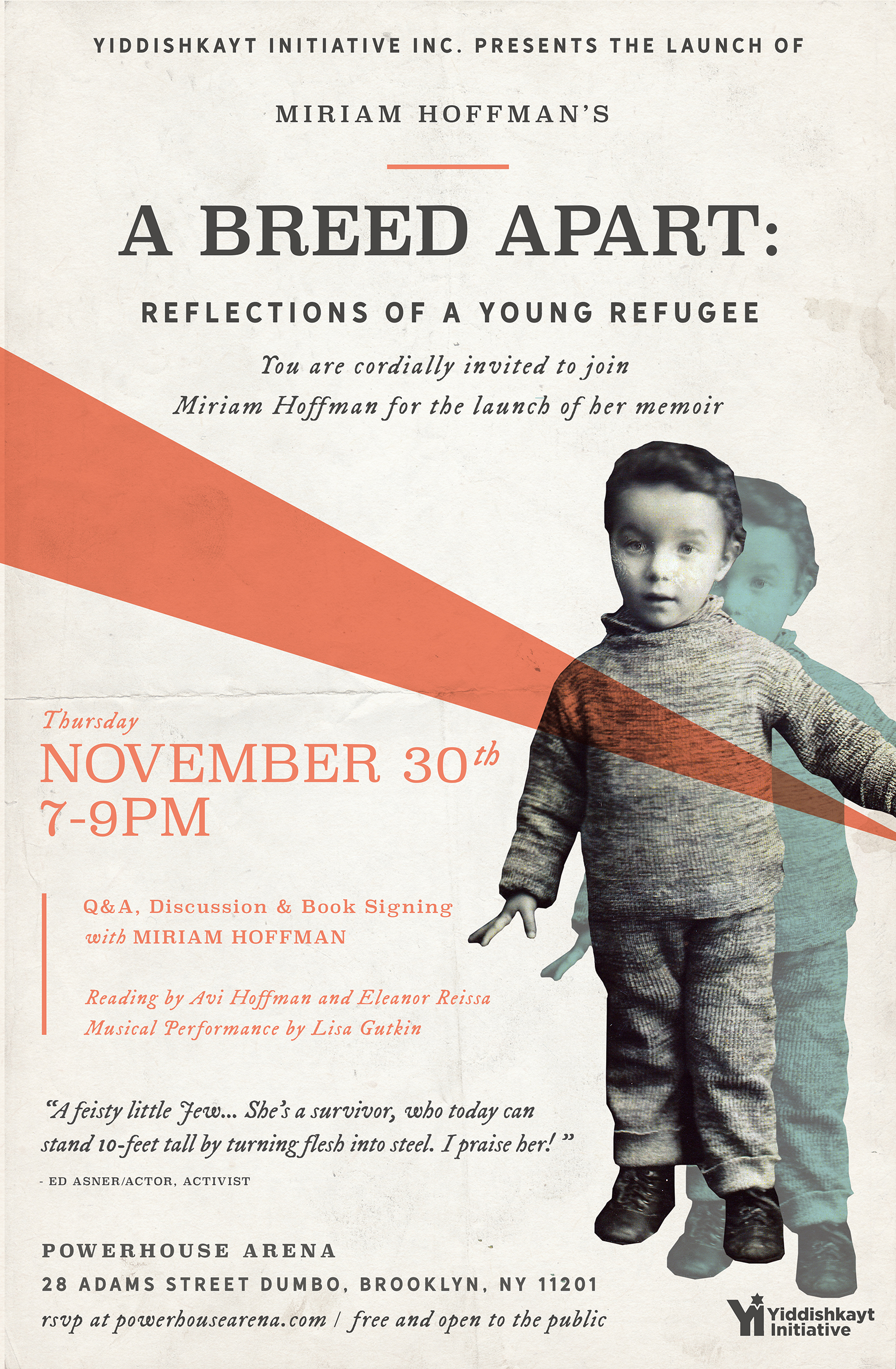 Thursday Nov 30, 2017
7:00 pm - 9:00 pm
POWERHOUSE @ the Archway
28 Adams Street (Corner of Adams & Water Street @ the Archway)
Brooklyn , NY 11201
RSVP appreciated:
Please fill out the "Bookings" form at the bottom of this page.
-or-
Send the name of the event and number of attendees to our RSVP email.
PLEASE NOTE: Submitting an RSVP for this event DOES NOT guarantee entrance. This is a free-access event — entrance will be on a first-come, first-served basis.
---
About the Book:
Yiddishkayt Press proudly announces author, scholar, journalist, playwright and survivor Miriam Hoffman's new book A Breed Apart: Reflections of a Young Refugee. This intellectual and emotional journey describes Hoffman's experience as a young refugee girl growing up in a post-war DP (Displaced Person) refugee camp in Ulm, Germany, after the destruction of World War II.
"A Breed Apart", an engaging non-fiction tale of war and survival, is seen through the eyes of a young Miriam and her father. The memoir chronicles her ability to triumph through a five-year sojourn in a DP camp leading to her immigration to the Bronx. Hoffman's personal tale captures the beauty and importance of keeping the Yiddish language and culture alive during the twentieth-century, despite countless attempts to destroy it.
"A Breed Apart' is unlike anything I've written before," said Hoffman. "It's my destiny to retell these difficult memories so that we keep the faith of humanity alive. Never again is now. Unfortunately, my story is topical in today's social and political environment."
All profits benefit Yiddishkayt Initiative, Inc., a public charity devoted to preserving Jewish culture.
About the Author & Participants:
Miriam Hoffman, an author, scholar and survivor of the Russian gulag and the post-World War II DP camps, has spent her life preserving the Yiddish language and culture that she cherishes so dearly. Her accomplishments in education, arts and literature have impacted both Jews and non-Jews alike. As a child in the post-war DP (Displaced Person) refugee camp in Ulm, Germany, she brought with her an album of pictures of life in the DP camp as well as keeping a journal of over 80 songs in four different languages – Yiddish, Hebrew, Russian and Polish. The Ulm Album has been shared with the Holocaust Memorial Museum in Washington, D.C. She has written over a dozen plays which have won awards and have been produced all over the world.
Hoffman recently retired from her position as professor of Yiddish Language and Culture at Columbia University. She has published over 2,000 weekly columns in New York's Yiddish Forward Newspaper as a feature writer. Additionally, Miriam has written university textbooks and was the founder of the Joseph Papp Yiddish Theatre with the world-renowned Broadway impresario.
Avi Hoffman, son of Holocaust survivors Mendl and Professor Miriam Hoffman, is a world-renowned award-winning actor and Jewish cultural activist who strives to keep Jewish heritage alive through education and the arts. From a young age, he has engaged audiences through informed, humorous and highly acclaimed performances. His recent NY portrayal of Willy Loman in the Yiddish language production of Death of a Salesman garnered a Drama Desk nomination for Best Actor in a Play. Hoffman has played a pivotal role in many critically acclaimed productions and films that celebrate the global impact that Yiddish language and Jewish culture has on the world.
Lisa Gutkin is the Grammy Award-winning violinist, singer and songwriter of the Klezmatics, as well as co-composer, co-music director, actor and musician in Paula Vogel and Rebecca Taichman's Broadway hit INDECENT. She played in Sting's The Last Ship, had a cameo appearance in Sex and the City, and is a MacDowell Fellow. Lisa appears on hundreds of recordings including From Here On In, a CD of her original songs produced by John Lissauer (Leonard Cohen) and Play Klezmer Fiddle!, an instructional DVD. She has co-authored songs with Woody Guthrie, Anne Sexton, and Maggie Dubris, and composed for symphony orchestra, dance, and film.
Lisa's current work in progress is entitled "Why Don't You Play Something Jewish" or "Just Push Play" and explores her diverse artistic choices and the crazy life they have taken her to against the backdrop of Followers of the Trail, the hiking group/bungalow colony founded by her Yiddish speaking grandparents and their friends. Lisa credits her first published essay, written for Aaron Rezny's book Eating Delancey, and a concert at the Eldridge Street Museum dedicated to the Triangle Waist Shirt Factory workers and the union activism that followed, as early steps toward this work in progress.
Eleanor Reissa is a Tony nominated director, a Broadway actress, an Israel Prize nominee, an award-winning playwright and singer in Yiddish and English. She was on Broadway most recently in the Tony-winning play Indecent by Pulitzer Prize-winner Paula Vogel.  Just before that she starred and directed Sholem Asch's play God of Vengeance in Yiddish at New York's La Mama. She has been called the Yiddish Edith Piaf, and is one of the world's most renown interpreters of Yiddish music and just returned from a European tour with Frank London. An anthology of her plays, The Last Survivor and Other Modern Jewish Plays, has recently been published. She has received writing commissions including Yidl Mitn Fidl  for Yiddishpiel in Israel and Hershele Ostropolyer with Mike Burstyn for the Folksbiene, which she helmed from 1998-2003. www.eleanorreissa.com
RSVP
Bookings are closed for this event.