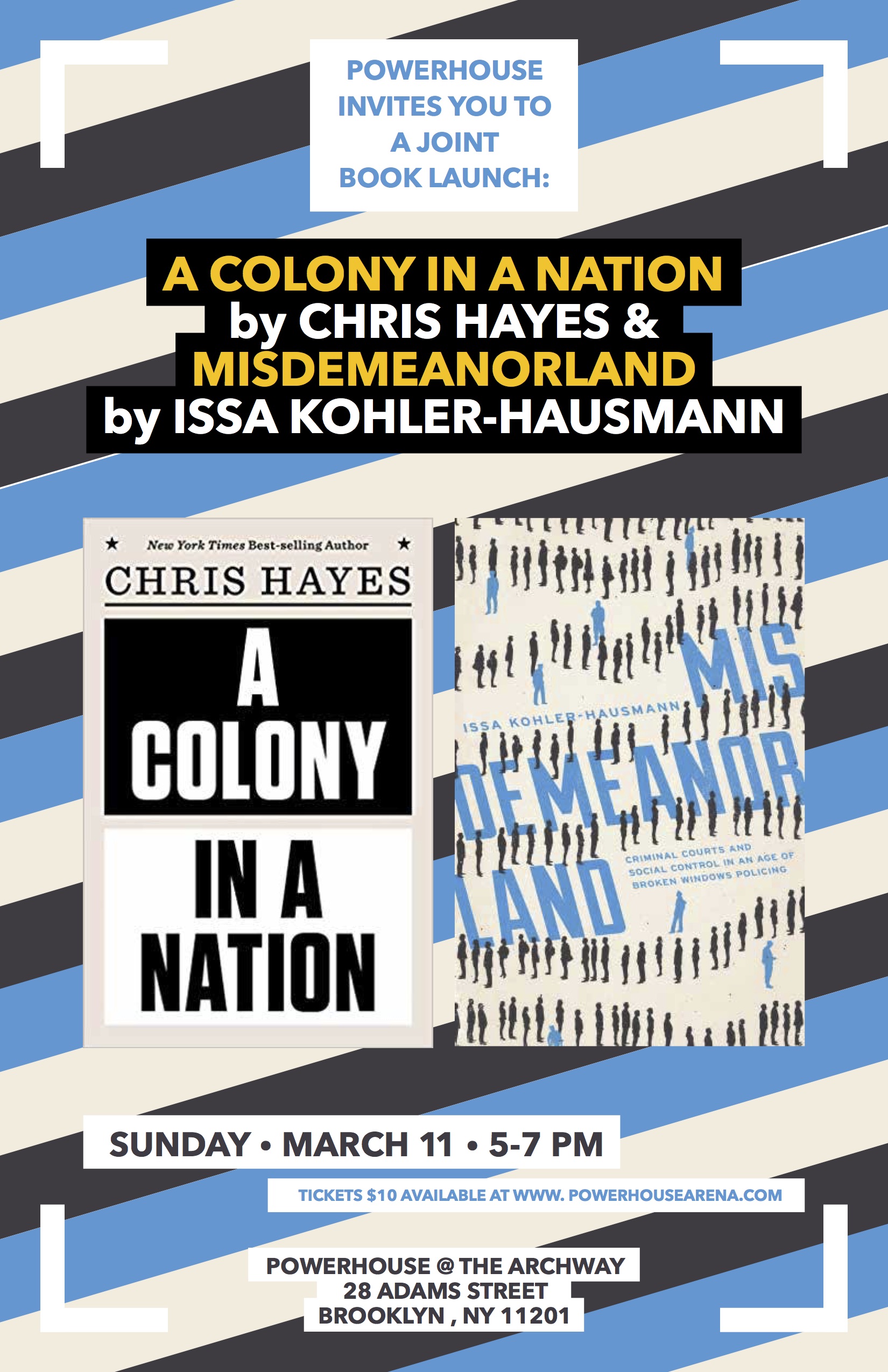 Sunday Mar 11, 2018
5:00 pm - 7:00 pm
POWERHOUSE @ the Archway
28 Adams Street (Corner of Adams & Water Street @ the Archway)
Brooklyn , NY 11201
Click here to purchase tickets
Entry to this event is $10. The cost of your ticket purchase can go toward purchase of either event book the evening of the launch.
---

"A Colony in a Nation is a highly original analysis of America's arbitrary and erratic criminal justice system. Indeed, by Hayes's lights, the system is not erratic at all—it treats one group of Americans as citizens and another as the colonized. This is an essential and ground-breaking text in the effort to understand how American criminal justice went so badly awry."
—Ta-Nehisi Coates
"A timely and impassioned argument for social justice."
—Kirkus Reviews
"Writing with clarity, intelligence, and compassion, Hayes deftly illuminates the complex state of affairs that has evolved since the 1960s civil rights protests, and resulted in the current backlash."
—Booklist
"Important, persuasive . . . [A Colony in a Nation] can help Americans begin to heal."
—Publishers Weekly
About A Colony in a Nation:
In his New York Times bestselling book A Colony in a Nation, journalist Chris Hayes argues that there are two Americas, a Colony and a Nation. These two countries operate under distinct criminal justice systems. The first of these systems protects affluent and middle-class citizens and defends their liberties. The second system is designed to manage and control a "dangerous class" of poor and working-class people through regular, demoralizing violations of civil liberties and the routine application of violence. White America lives in the Nation. Black America lives in the Colony. Combining his own reporting for his Emmy Award–winning television show All In with Chris Hayes with historical observation, current social research, and insights from the victims, officials, and beneficiaries of these systems, Hayes creates a stark portrait of two Americas, built on opposite sides of a brutal zone of injustice.
Hayes begins his exploration with a youthful misadventure: the time he accidentally brought marijuana to the 2000 Republican National Convention in Philadelphia and convention security discovered drugs in Hayes's bag. Despite the clear evidence of criminal activity, the police let Hayes go. One of the officers present even returned Hayes's marijuana. This is typical for citizens living the Nation: officers use the broad leeway given them to mitigate their impact on the population, they assume criminal incidents are outliers and not the norm, and they give the perpetrator the benefit of the doubt. In contrast to his own benignly comical experience, Hayes states that, in the Colony, police officers assume the worst and react with overwhelming force. He tells the story of Dayvon Love, a debate coach and activist in Baltimore, who was nearly swept into the system as a teen on the slimmest of suspicions. Things could easily have gone much differently, as they did for Sandra Bland or Freddie Gray, who died while in police custody for innocuous reasons and the vague infraction of "failure to comply." These two cases—one involving an overlooked crime and the other no crime at all—reveal the stark difference between our two Americas.
Seamlessly fusing together detail-rich reportage and firsthand observation with big-picture data and research that contextualize the issue, A Colony in a Nation is a compelling and timely portrait of a nation that cherishes the ideals of freedom and democracy while sustaining a savagely unjust and corrupt colony within its own borders. Hayes shines a clear light on this pressing moral danger that threatens democracy from within, and challenges readers with the unfinished work of establishing a more perfect and just life for all Americans.
About Chris Hayes:
Chris Hayes is the host of All In with Chris Hayes on MSNBC, the author of Twilight of the Elites, and an editor-at-large at The Nation.
---
"In this capacious book, criminal defense attorney, sociologist, and legal scholar Issa Kohler-Hausmann takes us inside New York City's lower criminal courts. She shows that, instead of deciding guilt and innocence and meting out appropriate sentences, misdemeanor courts largely manage people through record keeping and procedural hassle. As a result, people accused of minor crimes come to experience the justice system as arbitrary and dysfunctional. Novel and deeply researched, Misdemeanorland is a major contribution from a brilliant mind."
—Matthew Desmond, Pulitzer Prize–winning author of Evicted
"Rarely does a book come along that changes minds and transforms understandings. This is one of them. It is theoretically rich, methodologically sophisticated, and substantively challenging. Readers, whether experienced criminal justice practitioners or sophisticated scholars, will come away with new insights about what they thought they knew. Quite simply, Misdemeanorland is one of the best books ever written on courts, criminal or otherwise."
—Malcolm M. Feeley, author of The Process Is the Punishment: Handling Cases in a Lower Criminal Court
About Misdemeanorland:
Felony conviction and mass incarceration attract considerable media attention these days, yet the most common criminal-justice encounters are for misdemeanors, not felonies, and the most common outcome is not prison. In the early 1990s, New York City launched an initiative under the banner of Broken Windows policing to dramatically expand enforcement against low-level offenses. Misdemeanorland is the first book to document the fates of the hundreds of thousands of people hauled into lower criminal courts as part of this policing experiment.
Drawing on three years of fieldwork inside and outside of the courtroom, in-depth interviews, and analysis of trends in arrests and dispositions of misdemeanors going back three decades, Issa Kohler-Hausmann argues that lower courts have largely abandoned the adjudicative model of criminal law administration in which questions of factual guilt and legal punishment drive case outcomes. Due to the sheer volume of arrests, lower courts have adopted a managerial model–and the implications are troubling. Kohler-Hausmann shows how significant volumes of people are marked, tested, and subjected to surveillance and control even though about half the cases result in some form of legal dismissal. She describes in harrowing detail how the reach of America's penal state extends well beyond the shocking numbers of people incarcerated in prisons or stigmatized by a felony conviction.
Compelling and innovative, Misdemeanorland shows how the lower reaches of our criminal justice system operate as a form of social control and surveillance, often without adjudicating cases or imposing formal punishment.
About Issa Kohler-Hausmann:
Issa Kohler-Hausmann is an Associate Professor of Law at Yale Law School with a secondary appointment in Sociology. She joined the Yale Law School faculty in 2014. Her primary research interests are in criminal law, criminal procedure, empirical legal studies, tort law, sociology of law, and legal theory. Before Yale, she was a Law Research Fellow at Georgetown University. Admitted to the New York Bar in 2009, she previously worked in solo practice and has been an associate with Ilissa Browstein & Associates. In her practice work, she practiced in felony and misdemeanor criminal defense, New York State freedom of information litigation, and parole matters.