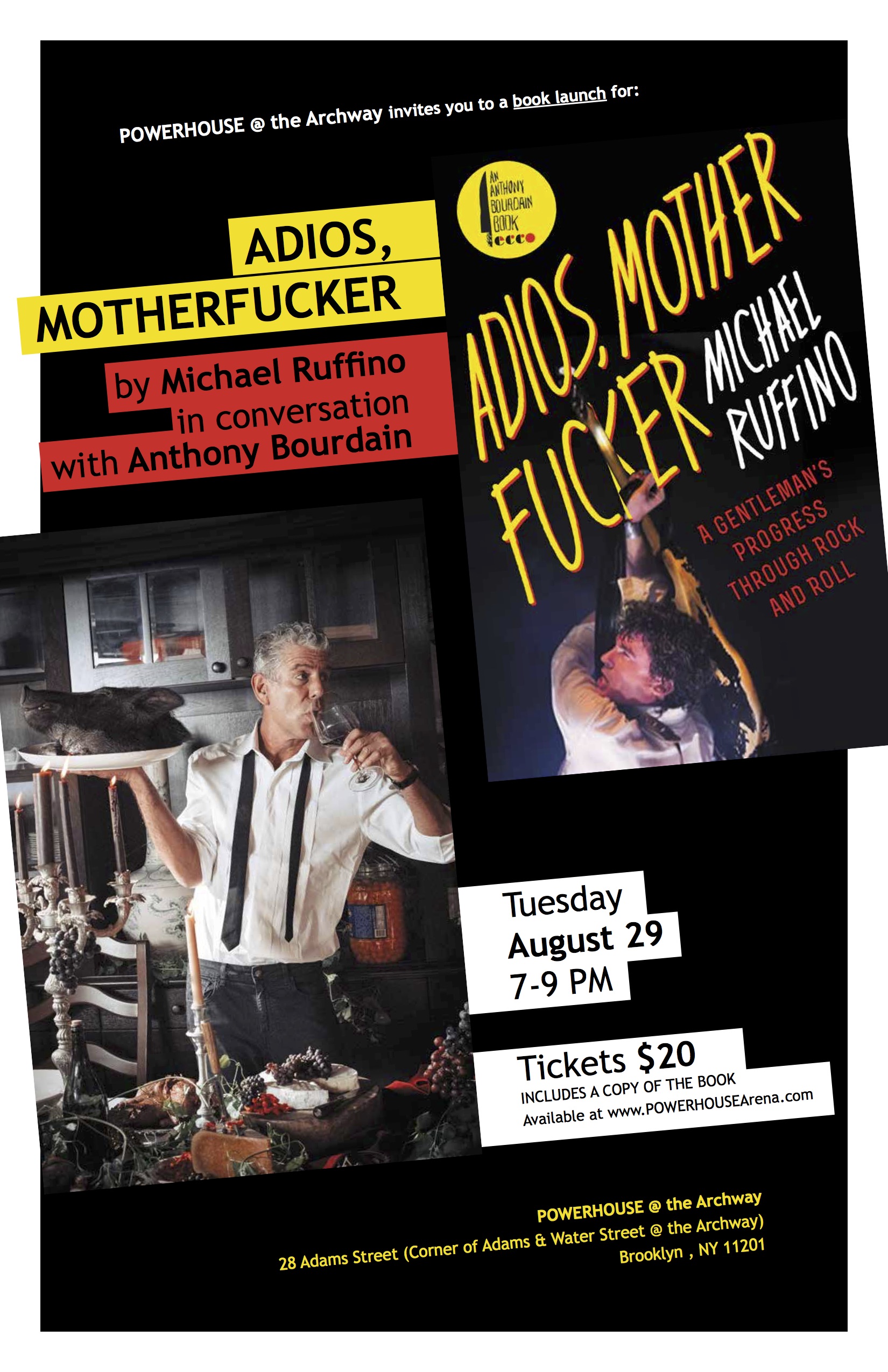 Tuesday Aug 29, 2017
7:00 pm - 9:00 pm
POWERHOUSE @ the Archway
28 Adams Street (Corner of Adams & Water Street @ the Archway)
Brooklyn , NY 11201
This is a ticketed event. Ticket purchase includes one (1) copy of Adios, Motherfucker by Michael Ruffino, available for pick-up the night of the event. Please click here to purchase tickets.
PLEASE NOTE: Seating is on a first come, first served basis, and is not guaranteed. Ticket holders who are unable to attend the reading will have 30 days to pickup their copy of Adios, Motherfucker at our retail location, after the date of the event. Books will be forfeited after these 30 days.
Can't make it to the event? Preorder a signed copy of Adios, Motherfucker here.
---
About the Book:
Emerging from the not-so-mean streets of suburban New England at the tail end of the 1980s, The Unband embraced everything reckless, unhealthy, and downright harebrained about rock and roll. After a decade on the booze-and-gas-soaked road to success, with the help of their dominatrix manager, a willful record executive or two, and dumb luck in spades, the hard-rocking, gleefully out-of-control Unband arrived at the threshold of the new century and got their shot at the big time—in a chaotic music industry where boy-band pop ruled supreme and rock music had been declared dead.
In this epic, intoxicated un-memoir, Unband bassist Michael Ruffino delves deeper into the story he originally told in 2004's Gentlemanly Repose, taking readers along on a raucous tear through the netherworld of heavy rock, populated with crack-smoking Girl Scouts, collegiate bedlamites, shotgun-toting barmaids, a rodent-chomping music CEO, a beer-drinking chimp, and headbangers by the horde, while on tour with giants of heavy metal including Dio, Motörhead, Anthrax, Def Leppard, and a Who Was Who of reunited '80s hair bands. Into that volatile mix, The Unband brought do-it-yourself pyrotechnics, a giant inflatable hand (for making giant inflat-able gestures), a high tolerance for substance abuse of all kinds, and an infectious love of rock and roll and everything it stands for.
Equal parts This Is Spinal Tap and Fear and Loathing in Las Vegas, Adios, Motherfucker is a riotous and unbridled testament to rock and roll being at its best on the brink of disaster.
About the Author:
Michael Ruffino is a musician and a writer. He lives in Los Angeles, California, the only way he knows how.
About the Moderator:
Anthony Bourdain is the author of the New York Times bestsellers Appetites, Kitchen Confidential and Medium Raw; A Cook's Tour; the collection The Nasty Bits; the novels Bone in the Throat and Gone Bamboo; and the biographyTyphoid Mary: An Urban Historical. He has written for the New York Times and The New Yorker, among many other publications. He is the host of the Emmy and Peabody Award–winning docuseries Anthony Bourdain: Parts Unknown on CNN, and the publisher of an eponymous imprint for Ecco. He lives in New York City.