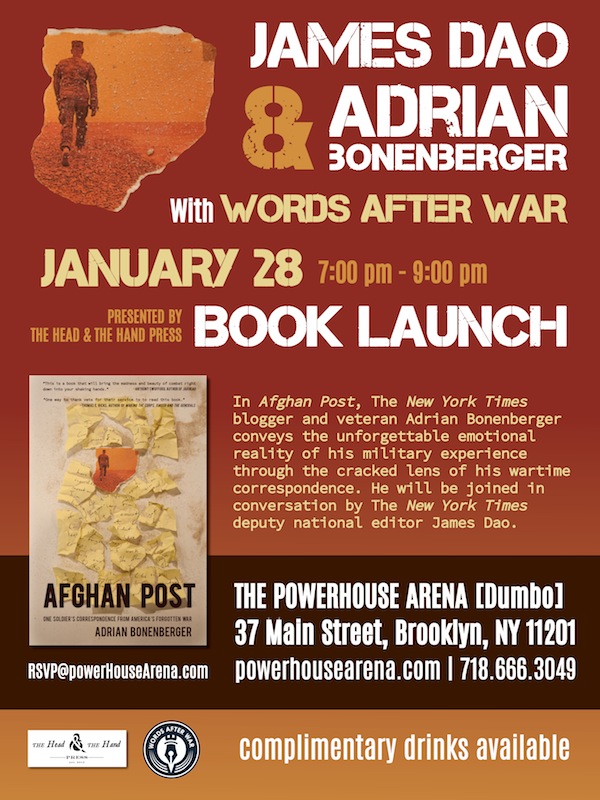 Tuesday Jan 28, 2014
7:00 pm - 9:00 pm
THE POWERHOUSE ARENA [Dumbo]
37 Main Street
Brooklyn, NY 11201
For more information, please call 718.666.3049
RSVP appreciated: RSVP@powerHouseArena.com
-or-
Please fill out the "Bookings" form at the bottom of this page.
---
The New York Times blogger and veteran conveys the unforgettable emotional reality of his military experience through the cracked lens of his wartime correspondence. The New York Times deputy national editor James Dao will join Bonenberger in conversation. This program is being co-sponsored by Words After War.
About AFGHAN POST:
Afghan Post begins in 2001 with the attack on the World Trade Center and follows Adrian Bonenberger's journey from Yale English major to U.S. Army captain in letters and journal entries. Over the course of the memoir, under the strain of war, Adrian's identity splits and splits again as he maintains different correspondences with friends and family, fellow veterans, and himself. The tectonic shifts in relationships, mental states, and levels of physical danger cause Adrian to reevaluate his rejection of the many paths that were available to him post-graduation in favor of volunteering for military service. He left the army as a decorated captain in 2012 after two tours.
About the Author, Contributor, and Co-Sponsor:
Adrian Bonenberger is a combat veteran who writes essays on military topics. He lives in Harlem with two roommates and a pet drone. Adrian has published with The New York Times "At War" blog, Doonesbury's "The Sandbox" blog, runs several blogs of his own, and has appeared on HuffPost Live to discuss emergent issues within the veteran community. He currently attends the Columbia Graduate School of Journalism.
James Dao is the deputy national editor for The New York Times. He is also a co-editor of The Times' military affairs blog, At War. He conceived and reported a series about an Army battalion's yearlong deployment to Afghanistan, "A Year at War," that received a 2011 Emmy. During the invasion of Iraq in 2003, he embedded with Special Operations Forces in the Persian Gulf and Diwaniya Province, and has embedded with American forces in Afghanistan five times. Mr. Dao has been with The Times since 1992. He was born in Buffalo, N.Y., and received a B.A. in history, cum laude, from Yale College.
Words After War is dedicated to building a community of thoughtful, engaged and skilled veteran writers. Through high-quality literary programming, we provide veterans, their families and civilian supporters with the tools they need to tell their stories.
---
For more information, please contact
Justin Levine
email: justin@powerhousearena.com
powerHouse Arena, 37 Main Street, Brooklyn, NY 11201
tel: 212-604-9074 x109
RSVP
Bookings are closed for this event.