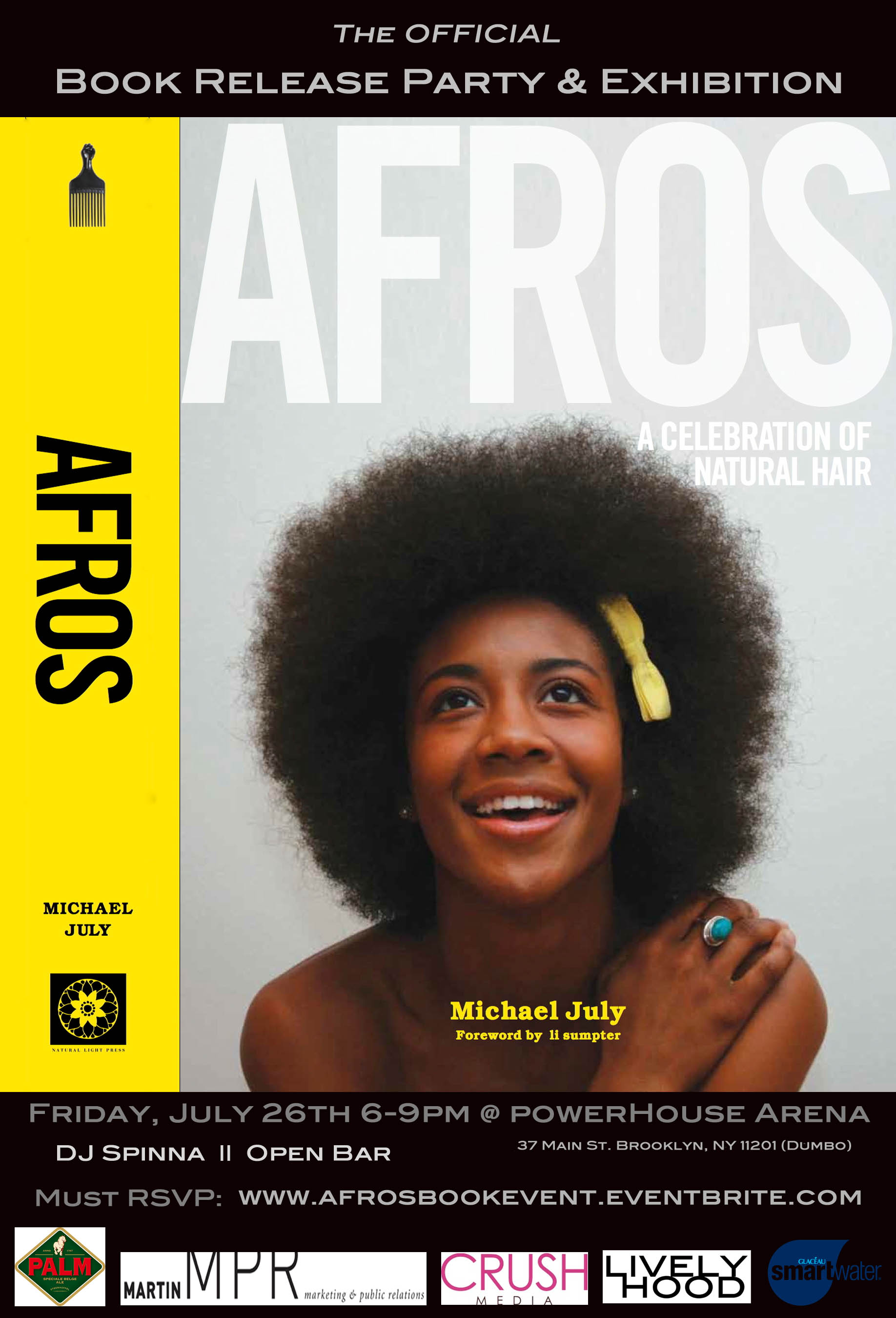 Friday Jul 26, 2013
6:00 pm - 9:00 pm
THE POWERHOUSE ARENA [Dumbo]
37 Main Street
Brooklyn, NY 11201
For more information, please call 718.666.3049
RSVP appreciated: https://www.afrosbookevent.eventbrite.com/
---
We hope you're as excited as we are for this Friday night's AFROS: A Celebration of Natural Hair OFFICIAL Book Release Party and Exhibition!
Line at 5:30/ Door at 6:00 
At powerHouse Arena, 37 Main Street in Dumbo
Due to an overwhelming response, RSVP does not guarantee entrance. We will allow guests in until we reach capacity and then will use the "one in one out" method. So we encourage you to come early. Thanks so much and see you all Friday!
The evening will feature:
A book sale and signing
·          An exhibition of photos from the book
·          Music by DJ Spinna
·          An open bar sponsored by Smart Water, Palm Breweries and Bed-Vyne
·          Gift bags sponsored by Eden BodyWorks, OUIDAD, Anu Essentials and Karen's Body Beautiful will be gifted to the first 150 people who purchase the book on site at the event.
The evening's hosts will include the book's author and photographer Michael July, Tamara Hood of LivelyHood, Renae Bluitt of Crush Media and Susan Martin of MartinMPR. A portion of the exhibition sales will benefit the Lil Raggamuffin Summer Camp.
Michael July's portraits of musicians, writers, activists, models, dancers, artists, poets, DJs, educators, designers, actors, students and kids, and moms and dads joyfully illustrate why natural hair continues to be an emblem of freedom, style and authenticity.
---
For more information, please contact
Craig Mathis
email: craig@powerhousearena.com
powerHouse Arena, 37 Main Street, Brooklyn, NY 11201
tel: 212-604-9074 x123
RSVP
Bookings are closed for this event.