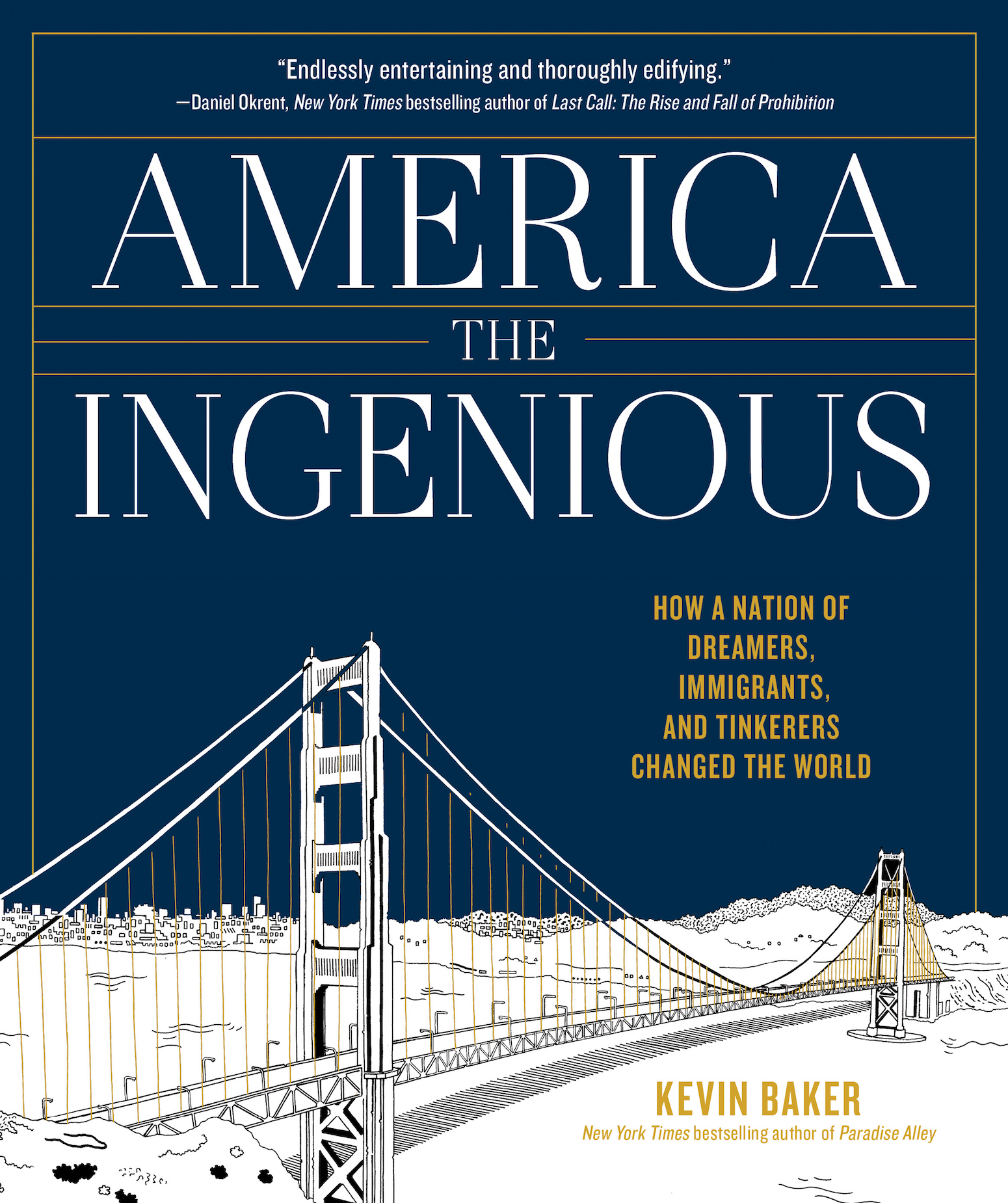 Sunday Oct 09, 2016
3:00 pm - 5:00 pm
POWERHOUSE @ the Archway
28 Adams Street (Corner of Adams & Water Street @ the Archway)
Brooklyn , NY 11201
For more information, please call 718.666.3049
Tickets are $30, includes signed copy of the book + walking tour. Click here to purchase your ticket.
---
Historical novelist, Kevin Baker celebrates America's innovation, invention and spirit in a book that details the many ways in which this nation's visionaries have impacted the world.
About the Walking Tour:
Kevin Baker, author of America The Ingenious, will take you on an interactive tour of the Brooklyn Bridge in which you will learn everything you want to know about the bridge and its environs. As you enjoy sweeping vistas of New York Harbor and the city, you will learn about some of the most amazing feats of human ingenuity featured in America the Ingenious, including how the bridge was built (and how a bit of political chicanery almost turned it into a death trap); how a poor tobacco trucker from North Carolina transformed the harbor before you—and every harbor in the world—and how it was that the most integrated workforce in America defied death to build New York's unrivaled network of bridges and tunnels.  You'll get to hear any number of fun facts to amaze your friends, including what Henry James and Walt Whitman thought of the bridge, how German saboteurs nearly blew up the Statue of Liberty, where New York's own pirate resided in splendor, and the house—still standing!—where the city's top rat-baiting pit was located.
About America the Ingenious:
America is a global leader of innovation and technology, built on the ingenuity and resourcefulness of a nation of immigrants and adventurers. The first country to exist entirely in the modern age, America is in a constant state of reinvention and discovery. In a fascinating new book, America the Ingenious: How a Nation of Dreamers, Immigrants, and Tinkerers Changed the World, acclaimed historian and bestselling author Kevin Baker captures the essence of the American genius by highlighting over 75 of the most influential inventions that have improved our lives and shaped our world.
In a fully illustrated format and through Kevin Baker's masterful storytelling, American the Ingenious celebrates illustrious minds and their remarkable creations, bringing to life the history behind each modern marvel. And perhaps the greatest of them all is the inception of our nation. It is through our hard-won freedoms, persistence, and collaboration that America has become known as an ideal incubator for creativity and inventiveness. Kevin Baker notes that, "It hasn't been an easy process. There were plenty of missteps and flaws in the design…Yet when we've made it work, ours has been as free and prosperous and diverse a society that ever existed on this earth—one that, uniquely, has been able to bring in masses of people from everywhere else to join in its success."
In a fully illustrated format, America the Ingenious immortalizes an eclectic collection of inventions that range from impressive feats of civil engineering and medical and technological advancements to the realm of entertainment and everyday necessities we likely take for granted. Baker cites some inventions that were revolutionary in their time but have since become obsolete, as well as technological breakthroughs today that will prove to be of great importance for our future. At a critical time in our nation's history, America the Ingenious pays tribute to the very best of it in a beautiful, highly giftable volume.
About the Author:

Kevin Baker is a novelist, historian, and journalist whose books include Dreamland and the New York Times bestseller Paradise Alley. Baker is a contributor to the New York Times, the Washington Post, the Guardian, Harper's Magazine, GQ, Newsweek, Politico, the Huffington Post, and other leading publications, and has appeared as a television commentator on History, CNN, and The Colbert Report. Baker lives in New York with his wife, Ellen, and their cat, Maisie. He is available for interviews and essays.