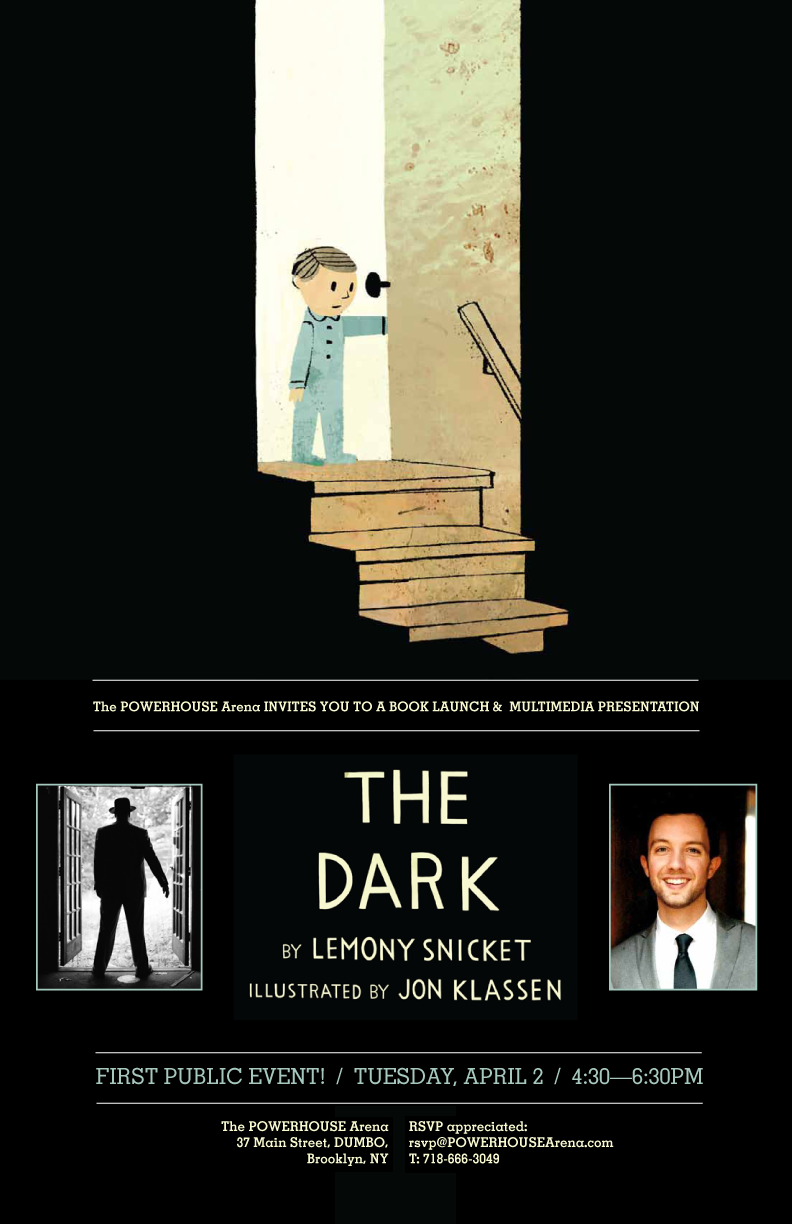 Tuesday Apr 02, 2013
4:30 pm - 6:30 pm
THE POWERHOUSE ARENA [Dumbo]
37 Main Street
Brooklyn, NY 11201
Category(ies)
For more information, please call 718.666.3049
RSVP appreciated: RSVP@powerHouseArena.com
-or-
Please fill out the "Bookings" form at the bottom of this page.
Hold onto your hats! Lemony Snicket (A Series of Unfortunate Events) and Caldecott winner Jon Klassen (I Want My Hat Back) visit the Arena to deliver a multimedia presentation (complete with live drawing) inspired by their collaborative book THE DARK, a spine-tingling take on everyone's worst childhood fear. This event is appropriate for ages 4 to 40, and for all fans of stories, original artwork, and things that go bump in the night.
Author will sign copies of THE DARK, purchased in store, and one additional backlist title of your choosing.
---
About THE DARK:
Lemony Snicket's words and Jon Klassen's illustrations have delighted critics, children, and parents. Together they have created THE DARK (Little, Brown Books for Young Readers; April 2, 2013; 978-0-316-18748-0), an affecting and eerie tale that echoes the spirits of Maurice Sendak and William Steig. THE DARK will show young readers that everyone can learn to live with the unknown.
The dark lives with Laszlo. Sometimes, it hides behind the shower or in the closet, but mostly, it spends its time in the basement. Except at night. And one night, the dark visits Laszlo in his room. And this is the night that Laszlo stops being afraid.
A legendary author who has sold over 60 million books to young readers and the Caldecott Honor–winning illustrator who has delighted children with his critically acclaimed New York Times bestsellers I Want My Hat Back and This Is Not My Hat join forces on a stunning, brilliant, and wholly original book. Readers of all ages will enjoy this book in print, enhanced eBook, or audiobook editions; the audio and enhanced eBook editions feature reading by the award-winning New York Times bestselling author Neil Gaiman.
About the Author:
Lemony Snicket has been accused of leaving his readers in the dark. He is the author of the new series All The Wrong Questions, which, upon its launch in October 2012 with the first title, "Who Could That Be at This Hour?", was an immediate #1 New York Times bestseller, much to Mr. Snicket's disdain. He is also the author of A Series of Unfortunate Events, which has sold over 60 million copies worldwide and has been translated into thirty-nine languages, resulting in a grim pandemic. Snicket is also the author of several picture books, including 13 Words, illustrated by Maira Kalman, and The Composer Is Dead, illustrated by Carson Ellis. Mr. Snicket's longtime representative, Daniel Handler, is the author of the Printz Honor–winning Why We Broke Up, The Basic Eight, and Adverbs.
About the Illustrator:
Jon Klassen is the creator of the 2012 Theodor Seuss Geisel Honor book and New York Times Best Illustrated Children's Book I Want My Hat Back, and its recent New York Times bestselling sequel, This Is Not My Hat. He is also the illustrator of Caroline Stutson's Cats' Night Out, winner of the prestigious Governor General's Award for Children's Illustration, and Extra Yarn, written by Mac Barnett. Jon Klassen has worked as an illustrator for feature animated films, music videos, and editorial pieces. Originally from Winnipeg
RSVP
Bookings are closed for this event.