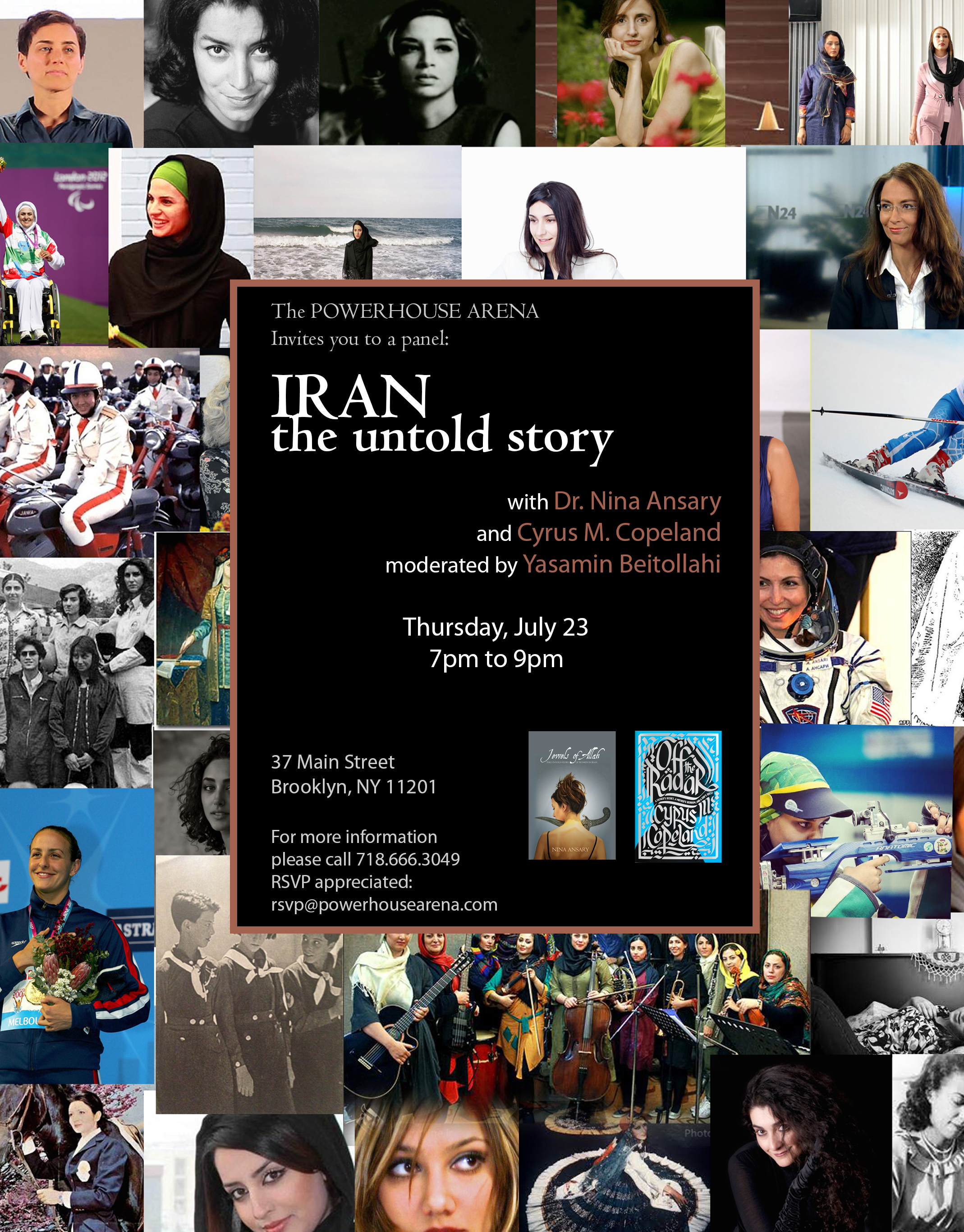 Thursday Jul 23, 2015
7:00 pm - 9:00 pm
THE POWERHOUSE ARENA [Dumbo]
37 Main Street
Brooklyn, NY 11201
For more information, please call 718.666.3049 RSVP appreciated: RSVP@powerHouseArena.com -or- Please fill out the "Bookings" form at the bottom of this page.
---
Dr. Nina Ansary and Cyrus M. Copeland team up to launch their new books, Jewels of Allah and Off the Radar. Huffington Post journalist Yasamin Beitollahi joins them in a discussion to debunk stereotypes associated with Iranian women.
About the panel:
What if you looked beyond the images of Iran that flicker past on the nightly news?
What if you knew that Iran was the birthplace of the revered Persian poet, Rumi, and the first charter of human rights?
What if you put aside your preconceptions to glimpse inside the intimate struggles of people trying to live authentic lives in spite of oppression?
Join Dr. Nina Ansary and Cyrus M. Copeland in an intimate conversation about "Iran – The Untold Story" – from Iran's rich cultural history to present day Iran. The authors will engage the audience – through personal experience, scholarly research, and a short video presentation, in an intimate discussion centered around shattering common stereotypes and bridging the cultural divide between Iran and the U.S.
About Jewels of Allah: The Untold Story of Women in Iran:
The popular narrative about women's lives in Iran over the last forty years goes something like this:
"During the Pahlavi Monarchy, women were on an upward trajectory. In a nation on the cusp of modernity, women actively participated. They were given the right to vote and were free to be in public without veils; they wore miniskirts on university campuses. Then came the Islamic Revolution in 1979, with Ayatollah Khomeini at the helm. The burgeoning freedoms for women were extinguished. The veil was required and institutions were segregated by gender. The Islamic Republic had thus achieved its goal of resurrecting the image of the traditional Muslim woman."
The problem with popular narratives is that, despite their convenient half-truths, the real story is more complicated, unexpected, and less tidy.
Inspired by author Nina Ansary's scholarly journey, Jewels of Allah is a provocative roller coaster ride that shatters the stereotypical assumptions and the often misunderstood story of women in Iran today. Highlighting many courageous female leaders and advocates throughout Iran's history, the book illuminates the unanticipated consequences of the Islamic Revolution and the unexpected twists and turns leading to a full-blown feminist movement within a post-revolutionary patriarchal society.
Jewels of Allah is dedicated to every individual oppressed by discriminatory ideology. 100% of all proceeds from the sale of the book will go to charitable organizations and institutions, with the primary recipient being the OMID Foundation, a 501(c)(3) registered organization that has been empowering disadvantaged young women in Iran for over 10 years. For more information on the OMID Foundation, please visit: https://www.omidfoundation.com.
About Off the Radar: A Father's Secret, a Mother's Heroism, and a Son's Quest:
As a young boy living in Tehran in 1979, Cyrus Copeland—child of an American father and Iranian mother—never dreamed that his dad, an employee of Westinghouse, would be in danger for his life. That is, until the moment his father was arrested on espionage charges and put on trial in a Revolutionary Court. Almost simultaneously, more than fifty other Americans were taken hostage at the U.S. Embassy by Islamist militants, an event that has recently captivated the world again with the success of the book and film Argo. With the hostage crisis receiving most of the attention from the media and White House, it was largely left to Copeland's mother and family to negotiate his father's reprieve from the firing squad. Now, more than thirty years later, Copeland sets out to find the truth about his father and his role in the Iranian hostage crisis. Was he in fact an intelligence operative—a weapons-system expert—caught red-handed by the Iranian regime, or was he innocent all along? Part mystery, part reportage, and part detective work, Copeland's brilliantly original family epic is a powerful memoir and adventure.
About the Authors and Moderator:
Born in Tehran, Dr. Nina Ansary is a historian, scholar, and human rights advocate. She left her country at the onset of the '79 Islamic revolution and has not returned since. Inspired by her scholarly research at Columbia University, her book, Jewels of Allah: The Untold Story of Women in Iran, shatters the stereotypical assumptions and the often misunderstood story of women in Iran today. Visit: ninaansary.com
---
Cyrus M. Copeland was born in Washington D.C. The son of an American father and Iranian mother, he moved to Iran with his family at age 10. At the dawn of the Islamic revolution, his father Max Copeland was imprisoned and accused of being a CIA agent. His Iranian wife represented him before the revolutionary tribunals. Thirty-five years later, Cyrus embarked on a quest to discover if the charges against his father were true, a quest that has shaped his own perceptions of Iran, detailed in his memoir, Off The Radar (Penguin, 2015). Visit: cyruscopeland.com
---
Yasamin Beitollahi is a marketing professional and contributor for The Huffington Post. She runs a marketing firm and has advised members of the Fortune 500, including AT&T and PayPal. She has also advised numerous nonprofits, including TEDGlobal and Habitat for Humanity. Yasamin was born in Shiraz, Iran. She left in 1979, and has not returned since.
RSVP
Bookings are closed for this event.