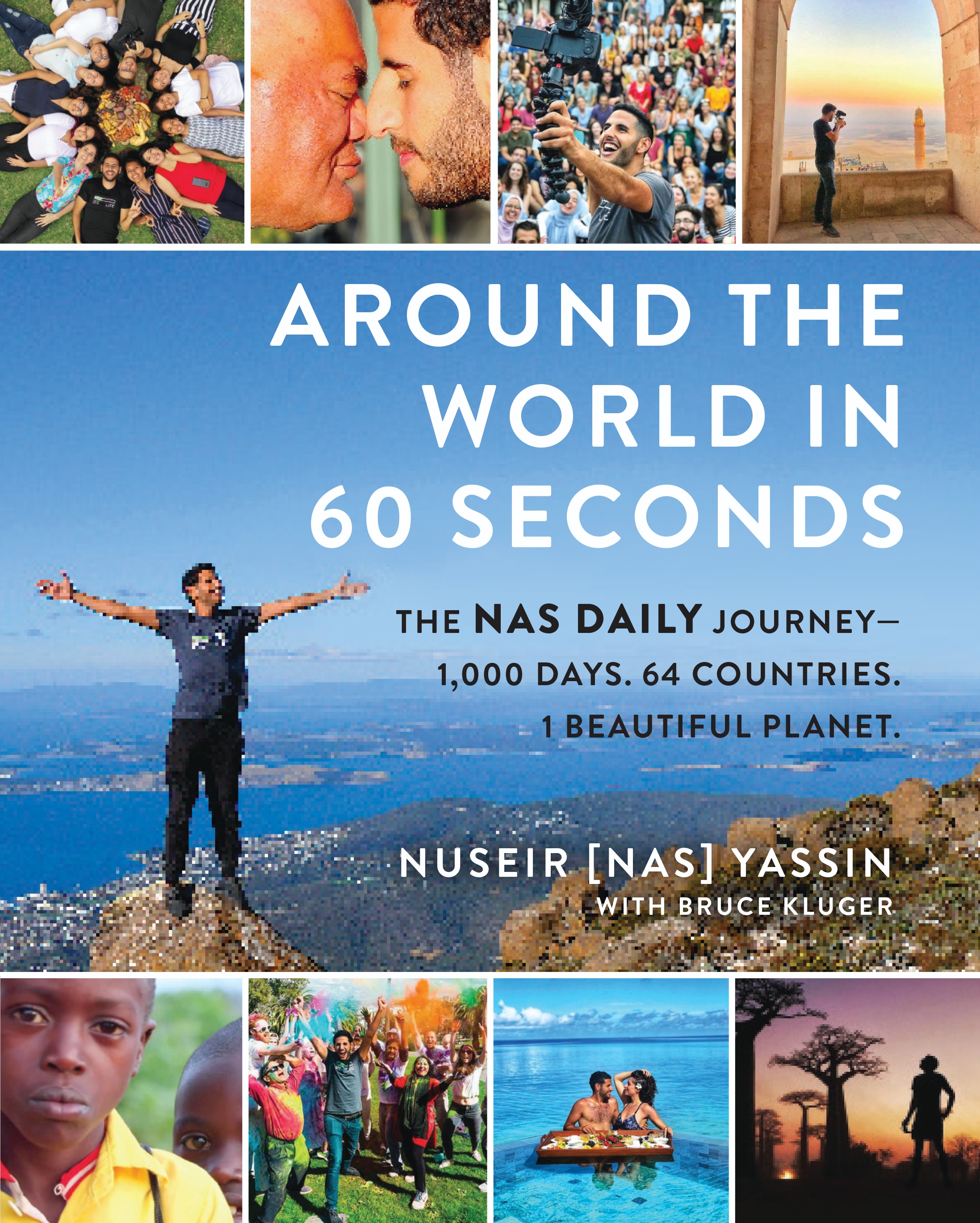 Wednesday Nov 06, 2019
7:00 pm - 9:00 pm
POWERHOUSE @ the Archway
28 Adams Street (Corner of Adams & Water Street @ the Archway)
Brooklyn , NY 11201
RSVP encouraged & appreciated.
Please fill out the form at the bottom of this page if you plan on attending. Facebook event found here.
PLEASE NOTE: Submitting an RSVP for this event DOES NOT guarantee entrance. This is a free-access event — entrance will be on a first-come, first-served basis.
---
About the Book.
On April 10, 2016 Nuseir "Nas" Yassin bought a one-way ticket to Nairobi, Kenya. His plan was simple: cover as much ground as he could and chronicle his travels on Facebook by creating a one-minute video to share with his friends and followers each day.
In the end, Nas traveled for 1,000 consecutive days, posting a 60 second video every day without fail. It didn't take long for Nas to realize that he didn't want his videos to feature only scenery and tourist traps—he wanted to meet people and see the places they call home. From Zimbabwe to Cyprus and Iceland to Australia, Nas journeyed from country to country, sharing videos that highlighted the amazing, terrifying, inspiring and downright surprising sh*t happening all over the world. Over 13 million followers later, the "Nas Daily" Facebook page has become the most immersive travel experience ever captured, and finally shows us what we've all been looking for: each other.
"Throughout it all, no matter the country, I continued to witness up-close the indestructibility of the human spirit and the overwhelming power of the human heart," writes Nas in AROUND THE WORLD IN 60 SECONDS: The Nas Daily Journey – 1,000 Days. 64 Countries. 1 Beautiful Planet. "In Arabic, Nas means people, and on this wild adventure, it's the people I've cared about the most."
Nas' true affection for the people in his videos shows. His warmth has garnered him unfathomable support, both online and on the ground. On day 1 of his journey, Nas shared his first video with 150 Facebook followers. By day 500, 2 million people were following his page. By day 1,000? 11.8 million. As he visited each new place, Nas was amazed by the support and enthusiasm that met him. In India, for example, a Nas Daily follower saw online that Nas was in the country and had fallen ill. The young man tracked Nas down and invited him into his home so that his family could nurse him back to health.
AROUND THE WORLD IN 60 SECONDS is Nas' moving, totally unpredictable 1,000-day world tour in book form. At times a striking portrait of the most uncharted places in the world, and at others a touching exploration of the human experience, this collection of life-affirming stories and breathtaking photographs changes how we think about humanity and invites us all on a journey to see the world, and each other, anew.
About The Author.
NUSEIR "NAS" YASSIN is a Palestinian-Israeli who grew up in the tiny village of Arraba in the country's northern district. Fluent in Arabic, Hebrew and English, he left Israel in 2010 to attend Harvard University on a full scholarship, where he graduated in 2014 with degrees in economics and computer science. Twenty months into his first post-college job as a software coder for Venmo, Nas made the decision that would change his life: to quit his job, gather his savings and travel the world, sharing his adventures and discoveries on his dedicated Facebook page, Nas Daily. On January 5, 2019, Nas reached Day 1,000 of Nas Daily, having garnered an international audience of 13 million followers and 4.5 billion video impressions. He continues to post weekly videos on Nas Daily, and has relocated to Singapore, where he is launching a media and video company with his best friends.
RSVP
Bookings are closed for this event.