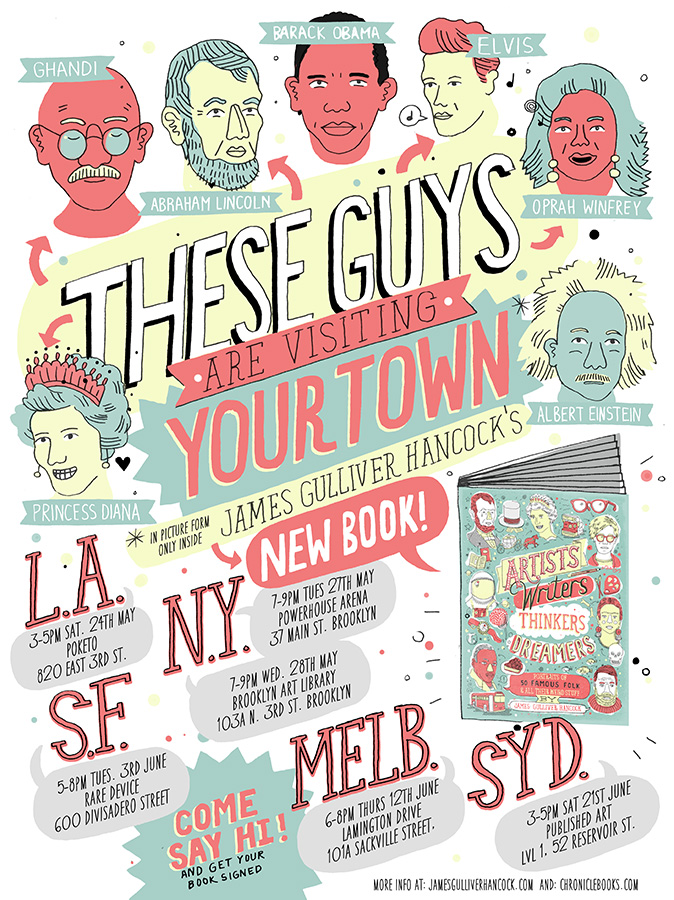 Tuesday May 27, 2014
7:00 pm - 9:00 pm
THE POWERHOUSE ARENA [Dumbo]
37 Main Street
Brooklyn, NY 11201
For more information, please call 718.666.3049
RSVP appreciated: RSVP@powerHouseArena.com
-or-
Please fill out the "Bookings" form at the bottom of this page.
---
The Brooklyn-based illustrator provides quirky annotated portraits for 50 famous figures, from Leonardo da Vinci to Coco Chanel. Josh Zepps joins Hancock in conversation.
About Artists, Writers, Thinkers, Dreamers:
This cultural who's-who illuminates 50 famous figures, from Leonardo Da Vinci to Coco Chanel, through the fascinating trivia of their lives. Artist James Gulliver Hancock depicts historical icons in quirky annotated portraits surrounded by their associated possessions, baggage, and foibles. Madonna's first job, Amelia Earhart's preferred dessert, Martin Luther King Jr.'s favorite TV show—each portrait reveals the ordinary quirks of these extraordinary people and captures their personalities in the process. An exquisitely illustrated almanac and cultural literacy cheat sheet all in one, this fun and informative collection offers both history buffs and art lovers a treasure trove of strange and fascinating facts about beloved artists, writers, thinkers, and dreamers.
About the Author and Moderator:
James Gulliver Hancock is an artist and illustrator based in Brooklyn, New York and Sydney, Australia.
Josh Zepps has hosted shows on Bloomberg TV, Nick at Night, the Style Network, Discovery Channel, and on the forty-foot tall Reuters video billboards above Times Square. He helped create Discovery Science Channel's weekly show, Brink, and was an anchor and correspondent on CBS News Productions' Peabody-winning Channel One News. He's performed live on the Las Vegas Strip, at the Melbourne International Comedy Festival, and with Amy Poehler at the Upright Citizens' Brigade Theater. Like everyone else in the world, he has a podcast, Point of Inquiry. Josh is currently a founding host and producer of HuffPost Live, the Huffington Post's award-winning streaming talk network. He lives in Brooklyn.
---
For more information, please contact
Justin Levine
email: justin@powerhousearena.com
powerHouse Arena, 37 Main Street, Brooklyn, NY 11201
tel: 212-604-9074 x109
RSVP
Bookings are closed for this event.