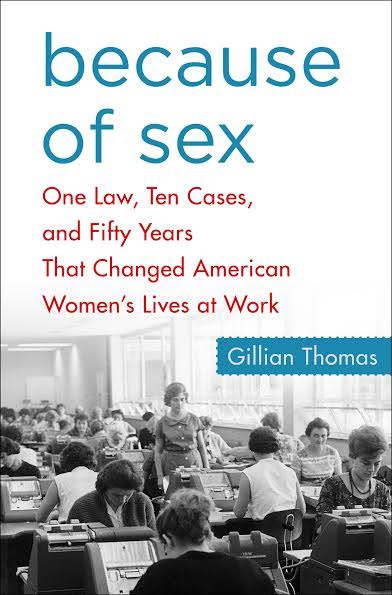 Wednesday Mar 09, 2016
7:00 pm - 9:00 pm
THE POWERHOUSE ARENA [Dumbo]
37 Main Street
Brooklyn, NY 11201
For more information, please call 718.666.3049
RSVP appreciated: RSVP@powerHouseArena.com
-or-
Please fill out the "Bookings" form at the bottom of this page.
---
American Civil Liberties Union's Women's Rights Project Senior Staff Attorney Gillian Thomas presents a compelling look at ten of the most important Supreme Court cases defining women's rights on the job.
About Because of Sex:
"A compelling, readable narrative about a law that changed everything, and the people who worked to spearhead that revolution."
—Dahlia Lithwick, Senior Editor and Legal Correspondent for Slate
Best known as a monumental achievement of the civil rights movement, the 1964 Civil Rights Act also revolutionized the lives of America's working women. Title VII of the law made it illegal to discriminate "because of sex." But that simple phrase didn't mean much until ordinary women began using the law to get justice on the job—and some took their fights all the way to the Supreme Court. Among them were Ida Phillips, denied an assembly line job because she had a preschool-age child; Kim Rawlinson, who fought to become a prison guard—a "man's job"; Mechelle Vinson, who brought a lawsuit for sexual abuse before "sexual harassment" even had a name; Ann Hopkins, denied partnership at a Big Eight accounting firm because the men in charge thought she needed "a course at charm school"; and most recently, Peggy Young, UPS truck driver, forced to take an unpaid leave while pregnant because she asked for a temporary reprieve from heavy lifting.

These unsung heroines' victories, and those of the other women profiled in Because of Sex, dismantled a "Mad Men" world where women could only hope to play supporting roles; where sexual harassment was "just the way things are"; and where pregnancy meant getting a pink slip.

Through first-person accounts and vivid narrative, Because of Sex tells the story of how one law, our highest court, and a few tenacious women changed the American workplace forever.
About the Author and Moderator:
Gillian Thomas is a Senior Staff Attorney with the American Civil Liberties Union's (ACLU) Women's Rights Project.  She previously litigated sex discrimination cases at the U.S. Equal Employment Opportunity Commission and Legal Momentum (formerly NOW Legal Defense and Education Fund).  Her work has appeared in publications including Slate and The Atlantic, and she has been interviewed by NPR, The New York Times, and The Wall Street Journal, among others.  She lives in Brooklyn.
Clara Bingham is an award winning journalist and author of the upcoming book, Witness to the Revolution: Radicals, Resisters, Vets, Hippies, and the Year America Lost its Mind and Found its Soul (Random House May 2016). She is a former Newsweek White House correspondent, and the author (with Laura Leedy Gansler) of Class Action: The Landmark Case that Changed Sexual Harassment Law. Her book was adapted into the 2005 film North Country, starring Charlize Theron and Frances McDormand.  Class Action was a Los Angeles Times best book of the year and won the AAUW Speaking Out For Justice Award.  Bingham is also the author of Women on the Hill: Challenging the Culture of Congress, and she has written for many publications including Vanity Fair, Vogue, Harper's Bazaar, Talk, The Washington Monthly, Ms., and United Press International.
RSVP
Bookings are closed for this event.