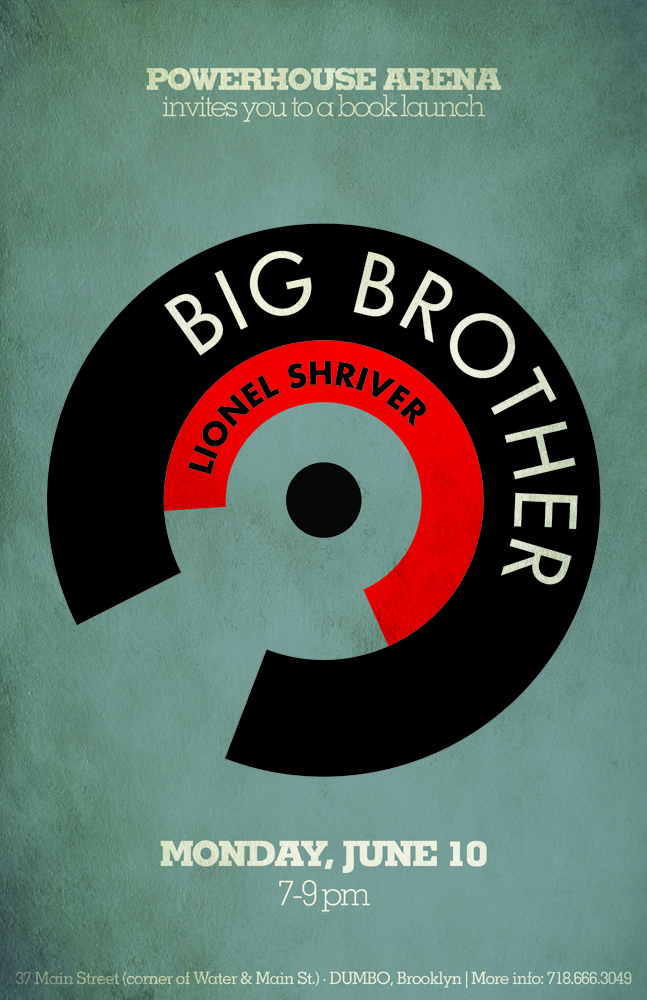 Monday Jun 10, 2013
7:00 pm - 9:00 pm
THE POWERHOUSE ARENA [Dumbo]
37 Main Street
Brooklyn, NY 11201
For more information, please call 718.666.3049
RSVP appreciated: RSVP@powerHouseArena.com
-or-
Please fill out the "Bookings" form at the bottom of this page.
---
Lionel Shriver's unflinching prose has won her readers the world over. Her latest novel is signature Shriver—a bold, absorbing, and ultimately devastating story of obesity and guilt. A.M. Homes joins Shriver in conversation.
About BIG BROTHER:
BIG BROTHER (Harper; June 6, 2013; $26.99), the new novel from National Book Award finalist and New York Times bestselling author Lionel Shriver, uses the hot-button issue of obesity to explore the complexity of sibling dynamics and familial love. As she has done in such acclaimed books as So Much for That and the international bestselling Orange Prize winner We Need to Talk About Kevin, this ingenious and provocative writer once again taps into the contemporary zeitgeist, fashioning a wholly human story from larger cultural concerns.
A refugee from a Hollywood childhood, Pandora has carved some semblance of an ordinary life for herself in the small town of New Holland, Iowa. Married to Fletcher, a high-end cabinetmaker with all too few customers, and helping raise his two teenage children, Tanner and Cody, Pandora finds herself the unlikely family breadwinner when a quirky business making custom-made pull-string dolls spawns a lucrative national fad. The only member of her childhood family whom Pandora truly cares about is her older brother, Edison, a jazz pianist in New York. So, when she hears from one of Edison's friends that her brother has hit hard times, Pandora doesn't hesitate to send him a ticket to Cedar Rapids.
When she meets Edison's plane, Pandora literally does not recognize him. In the few years since she last saw him, this one-time heartthrob and former track star has grown morbidly obese. Having admired him all her life, for the first time Pandora feels sorry for her brother, and "the pity is horrible."  When it becomes clear that Edison plans on staying for two months, Pandora's loyalties are torn between her brother and her own family, on whom a motor-mouth gourmand exercises a dubious influence.  Fletcher is an ascetic with little patience for his self-aggrandizing brother-in-law. Tanner disdains his uncle, even while hanging on his half-baked advice to forego college and launch a screenwriting career. Only tenderhearted Cody still looks up to Edison with a measure of past adoration.
Despite household tensions—and the burgeoning grocery bills—Pandora enjoys having her brother around to wallow in stories of their wacky childhood, rehearsing age-old rivalries with the fictional kids on their self-absorbed father's 1970s TV drama.  Yet sibling camaraderie drives a wedge between Pandora and Fletcher. As Edison's departure date looms, Fletcher looks forward to life returning to normal.  No such luck.
At the last minute—and over her husband's dead body—Pandora decides to set up house with Edison in a nearby apartment to help him lose weight, and to come to some understanding of why he gained it in the first place.  But given the self-indulgent hedonist her brother has become, how could the plan ever succeed?  If the well-meaning sabbatical from her family costs Pandora her marriage, is any sibling worth that degree of sacrifice?  And even after successful crash diets, don't most people gain the weight right back?
As she crafts this convincing and timely story with her trademark intensity and wit, Shriver raises challenging questions about weight, body image, and whether you can ever save people from themselves. "The fellowship of Lionel Shriver fanatics is about to grow larger, so to speak," says Gary Shteyngart, author of Super Sad True Love Story. "BIG BROTHER, a tragicomic meditation on family and food, may be her best book yet."
About LIONEL SHRIVER:
Lionel Shriver's novels include The New Republic, the National Book Award Finalist So Much for That, New York Times bestseller The Post-Birthday World, and the international bestseller We Need to Talk About Kevin. Her journalism has appeared in The Guardian, The New York Times, The Wall Street Journal, and many other publications. She lives in London and Brooklyn, NY.
About A.M. HOMES:
A.M. Homes is the author of the memoir The Mistress's Daughter and the novels May We Be Forgiven, This Book Will Change Your Life, Music for Torching, The End of Alice, In a Country of Mothers, and Jack, as well as the story collections The Safety of Objects and Things You Should Know and the travel book Los Angeles:  People, Places, and the Castle on the Hill. Her books have been translated into twenty-two languages. The recipient of numerous awards, she has published fiction and essays in The New Yorker, Granta, Harpers, McSweeney's, One Story, The New York Times and Vanity Fair, where she is a Contributing Editor. She lives in New York City.
---
For more information, please contact
Julie Buntin, Events Coordinator
email: julie@powerhousearena.com
powerHouse Arena, 37 Main Street, Brooklyn, NY 11201
tel: 212-604-9074 x109
RSVP
Bookings are closed for this event.