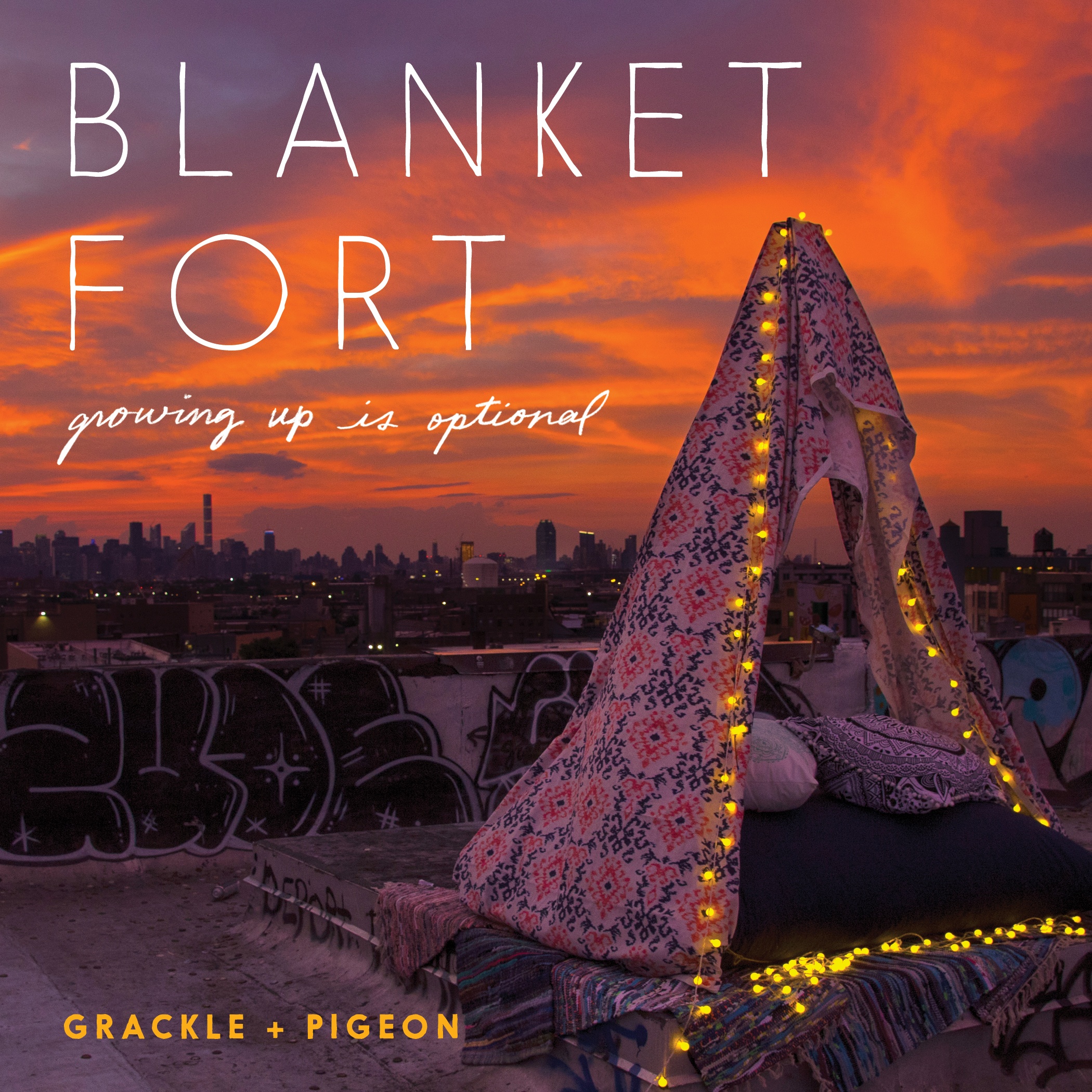 Sunday Oct 07, 2018
1:30 pm - 3:00 pm
POWERHOUSE @ the Archway
28 Adams Street (Corner of Adams & Water Street @ the Archway)
Brooklyn , NY 11201
RSVP encouraged & appreciated.
Please fill out the form at the bottom of this page if you plan on attending. Facebook event found here.
PLEASE NOTE: Submitting an RSVP for this event DOES NOT guarantee entrance. This is a free-access event — entrance will be on a first-come, first-served basis.
---
Join Grackle + Pigeon at POWERHOUSE Arena for an immersive book launch, signing, and book event for Blanket Fort: Growing Up is Optional!
Featuring an immersive fort installation unlike you've seen before. Don't miss your chance to get a copy of Blanket Fort signed by the Grackle + Pigeon team themselves!
About the Book.
At some point growing up, most of us threw a blanket over two chairs and declared it our club house. Artistic wife and husband Grackle + Pigeon have taken this timeless idea a step further—or, rather, they've taken the imagination we all had as kids and infused it into 25 creative and gorgeously photographed artisanal blanket forts. Blanket Fort: Growing Up is Optional is a fun, gifty, and absolutely stunning look at a wide range of DIY projects that will inspire readers to envision cozy hideouts in their living rooms, yards, yoga studios, and work spaces. Each project includes a mix of color photographs and charming pen-and- ink step-by-step instructional illustrations for making a home within or outside your actual home.
Forts like Bears Love Breakfast are as simple as a couple of blankets and sticks, for a rustic camping feel, cleverly turning your average tent into a cool and cozy fort. Then there's Ground Control, the David Bowie-themed fort for music lovers, whose moon-like glow will make you want to crawl inside and sing along to "Life on Mars." Om Shanti, the Yoga fort, is clean and simple, the perfect place to clear your busy mind and namaste from home. And the decadent Garden Party is a backyard piece de resistance worthy of a (tiny) wedding reception. Other signature blanket forts include Fireflies + Fairy Tales, a twinkly, hammock-based fort for the mystical among us; RPG OMG, the retro, throwback slumber party fort for your entire living room; Office Space, the fort to transform your home office into a pillow-forward, fluorescent-light-free work nook; and many more.
The book's frontmatter outlines the basic frames that are used to create the forts, and the instructional drawings throughout show the forts' bones, but Blanket Fort is more a lifestyle book than a craft book—one which invites people of any income or demographic to look and dream, the perfect gift for a couple moving in together or your best friend from childhood. And for that matter, new parents planning for a novel sleepover or looking for cheap thrills to entertain the kids and have some good, old-fashioned family fun!
Whether snuggling up to your boo or throwing a backyard fête with friends, rediscovering your secret, peaceful sanctuary or reclaiming your tired, overgrown space, Blanket Fort offers themes that will speak to any reader's individual tastes and allow them the comfort to be kids at heart—no matter their age. Get cozy in style with Blanket Fort!
About the Author.
Grackle + Pigeon is a wife-and-husband creative team based in Brooklyn. Together, they have worked across print, theater, video, and the web to bring artful concepts to fruition. Their work can also be found in the independently published novels Dahlia Cassandra and Concrete Fever. Their philosophy is that everyone needs a little magic in their realism.
RSVP
Bookings are closed for this event.