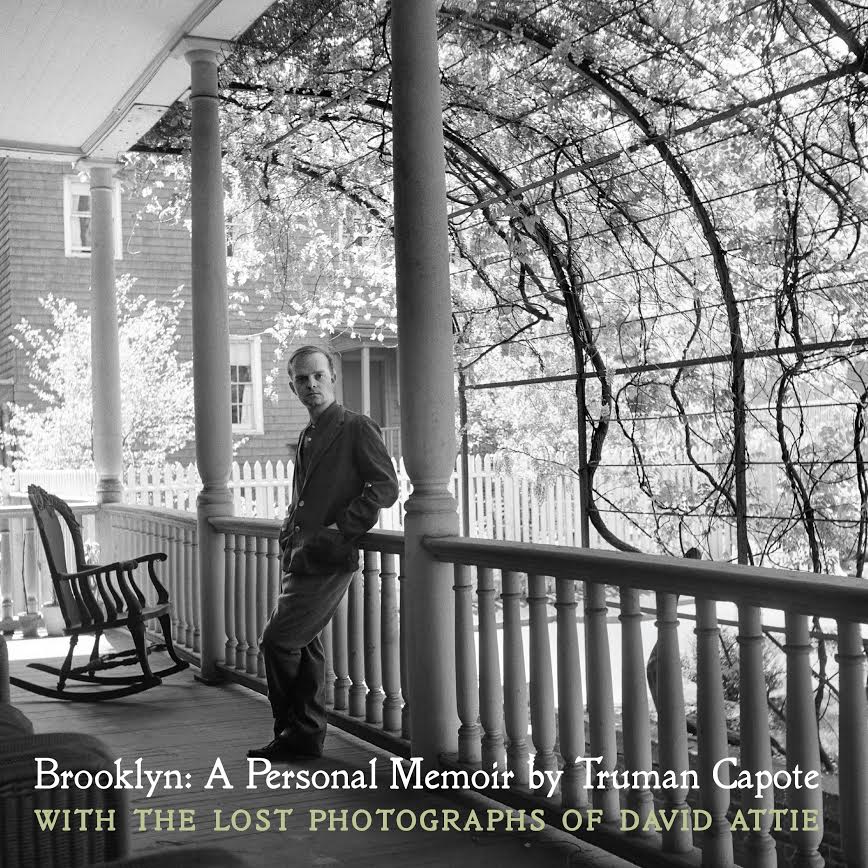 Wednesday Nov 11, 2015
7:00 pm - 9:00 pm
THE POWERHOUSE ARENA [Dumbo]
37 Main Street
Brooklyn, NY 11201
For more information, please call 718.666.3049
RSVP appreciated: RSVP@powerHouseArena.com
-or-
Please fill out the "Bookings" form at the bottom of this page.
---
With the publication of this book, Capote's words and Attie's photographs, commissioned to accompany the 1958 essay, are united for the first time.The evening will include remarks by David Attie's son Eil Attie and actor Mary Louise Parker will read from Truman Capote's essay about life in Brooklyn Heights.
About Brooklyn: A Personal Memoir:
"The long-lost photos…bring even more life to Capote's sparkling description of the history and spirit of the neighborhood, with its eccentric characters, back alleys and fine houses ('as elegant and other-era as formal calling cards')." —The New York Times
In 2001, Truman Capote's stylish essay in praise of Brooklyn was brought back into print, but not until 2014—more than fifty years after they were taken—were the original photographs commissioned to illustrate the piece discovered by the late photographer's son. Also found among the negatives were previously unknown portraits of Capote; none of the photos have ever been published. Now, in a new edition with a new title, Brooklyn: A Personal Memoir, the words and images are united for the first time.
Beloved by literary figures from Walt Whitman to Thomas Wolfe, Brooklyn cast its spell over Truman Capote, too. For a few tranquil years in the 50s and 60s he made his home on Willow Street, where he wrote the legendary essay "Brooklyn Heights, A Personal Memoir." In it, he vividly evokes the neighborhood he came to know well, bringing to life the landscape that was for him a world of grand homes and dimly recalled gentility, a garden overhung with wisteria, the famous Promenade, the sometimes menacing waterfront. This is his satisfying meander through a unique time and place.
David Attie's images provide a stunning and atmospheric parallel portrait of 1950s Brooklyn —its buildings, shops, lost moments—a city at once strangely familiar yet largely vanished. Horse-drawn wagons deliver produce to housewives, kids swim unsupervised in the East River and get into mischief on the docks, and life plays out on stoops and streets against a backdrop of period architecture, the spectacular bridge, and the skyline of Manhattan.
In attendance:
Eli Attie is an Emmy-winning television writer and producer, and former political operative. He served as a special assistant to President Bill Clinton, and then as Vice President Al Gore's chief White House and campaign speechwriter through Gore's concession after the 2000 Florida recount, which Gore and Attie co-wrote. Attie then became a longtime writer on the TV series The West Wingand House, MD, and is currently developing an original series for Fox network.  He grew up in Lower Manhattan, is a graduate of Harvard College, and considers himself a New Yorker but lives in LA for the work, the weather, and the sushi.
Mary Louise Parker is a Tony-, Emmy-, and Golden Globe-winning actress known for her leading roles on Weeds, The West Wing, the HBO production of Angels In America, and countless Broadway and off-Broadway plays including Proof, How I Learned To Drive,and this year's acclaimed Heisenberg.  Rightfully considered one of the best and most respected actors of her generation, she is also a writer, and her first collection of essays, the widely-anticipated Dear Mr. You, will be published by Scribner on November 10th.
RSVP
Bookings are closed for this event.