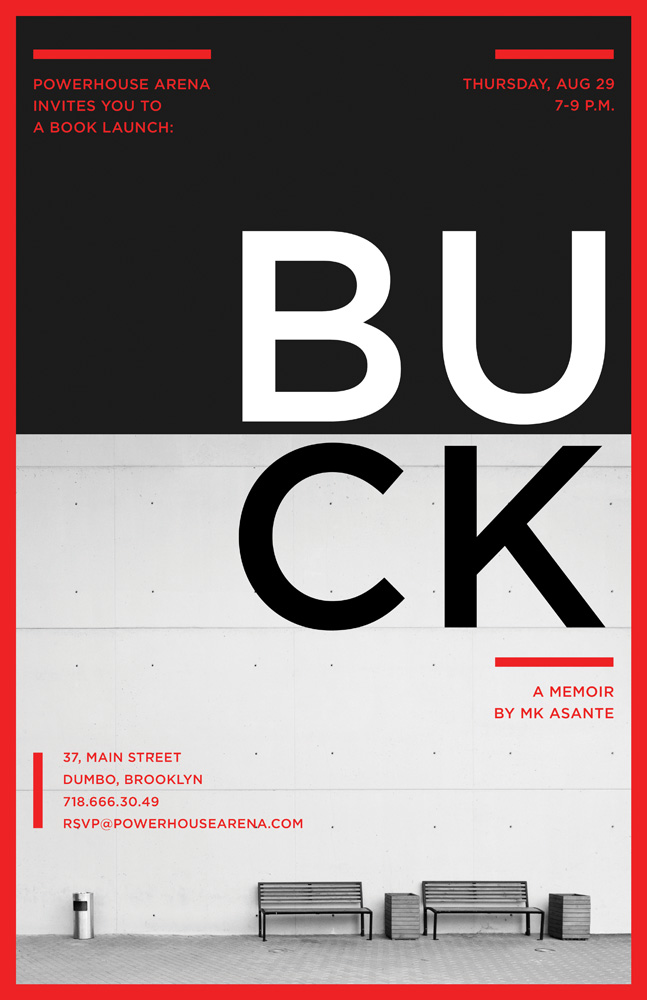 Thursday Aug 29, 2013
7:00 pm - 9:00 pm
THE POWERHOUSE ARENA [Dumbo]
37 Main Street
Brooklyn, NY 11201
For more information, please call 718.666.3049
RSVP appreciated: RSVP@powerHouseArena.com
-or-
Please fill out the "Bookings" form at the bottom of this page.
Drinks will be served.
---
MK Asante recounts his journey from rebellious delinquent to writer, filmmaker, poet, and professor in this riveting story. Writer Kiese Laymon joins Asante in conversation.
About BUCK:

MK Asante was born in Zimbabwe to American parents: a mother who led the new nation's dance company and a father who would soon become a revered pioneer in Black Studies. A little more than a decade later MK found himself alone in North Philadelphia—his mother in a mental hospital, his father gone, his older brother locked up in a prison on the other side of the country—forced to find his own way to survive physically, mentally, and spiritually, by any means necessary.
A teenager lost in a fog of drugs, sex, and violence on the streets of Killadelphia, Asante sought refuge in the poetry of hip-hop giants—from Tupac, to Jay-Z, to Nas—and later, in the words of Kerouac, Whitman, Orwell, and even the diary of his own mother. BUCK: A Memoir is the unforgettable story of MK Asante's rise from dealer and delinquent to writer, filmmaker, poet, and professor.  It is a powerful memoir of how a precocious kid educated himself with the most unconventional of teachers—outlaws and eccentrics, rappers and mystic strangers, ghetto philosophers and strippers, and, eventually, an alternative school that transformed his life with a single blank sheet of paper.
BUCK is a one-of-a-kind story about finding your purpose in life and an inspiring tribute to the power of education, art, and literature to heal the broken pieces that exist inside all of us.  A rebellious boy's journey through the wilds of urban America and the shrapnel of a self-destructing family, BUCK is the riveting story of a generation—told through Asante's dazzlingly poetic voice.  The Philadelphia Inquirer called Asante "a rare, remarkable talent that brings to mind the great artists of the Harlem Renaissance."
About the Author:
MK Asante is an award-winning writer, filmmaker, hip-hop artist, and professor of creative writing and film at Morgan State University. He received the Langston Hughes Award in 2009, and won the Jean Corrie Prize from the Academy of American Poets for his poetry collection Like Water Running Off My Back. Asante directed The Black Candle, a film he co-wrote with Maya Angelou, and he directed and produced the award-winning film 500 Years Later.
Kiese Laymon is a black southern writer, born and raised in Jackson, Mississippi. Laymon attended Millsaps College and Jackson State University before graduating from Oberlin College. He earned an MFA from Indiana University and is the author of the forthcoming novel, Long Division in June 2013 and a collection of essays, How to Slowly Kill Yourself and Others in America in August 2013. Laymon has written essays and stories for numerous publications including Gawker, ESPN.com, Esquire.com, Longman's Hip Hop Reader, the journal, "Politics and Culture" and Mythium. He is a contributing editor at Gawker and frequently blogs at kieselaymon.com. Laymon is currently an Associate Professor of English and co-director of Africana Studies at Vassar College.
---
For more information, please contact
Justin Levine
email: justin@powerhousearena.com
powerHouse Arena, 37 Main Street, Brooklyn, NY 11201
tel: 212-604-9074 x109
RSVP
Bookings are closed for this event.