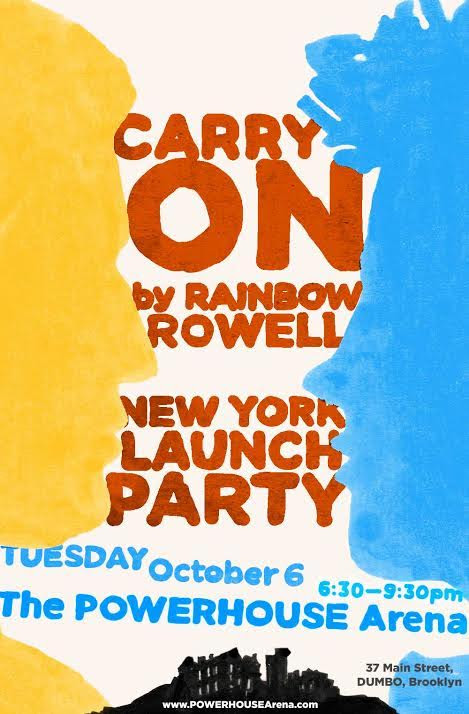 Tuesday Oct 06, 2015
6:30 pm - 9:30 pm
THE POWERHOUSE ARENA [Dumbo]
37 Main Street
Brooklyn, NY 11201
For more information, please call 718.666.3049
RSVP appreciated: RSVP@powerHouseArena.com
-or-
Please fill out the "Bookings" form at the bottom of this page.
---
New York Times bestselling author Rainbow Rowell writes books about misfits and nerds, or people who feel like misfits and nerds, and how find their way through life — cracking each other up and falling in love.
About Carry On:
She first touched readers' hearts with her stunning and emotional debut young adult novel, Eleanor & Park, which received the prestigious Michael L. Printz Honor for excellence young adult literature. Rowell then continued to her blockbuster success with the critically acclaimed novels Fangirl (2013) and Landline (2014).
Now, making her highly-anticipated return to young adult fiction, Rainbow continues to break boundaries with Carry On an epic fantasy following the triumphs and heartaches of Simon and Baz from her beloved bestseller Fangirl.
Simon Snow just wants to relax and savor his last year at the Watford School of Magicks, but no one will let him. His girlfriend broke up with him, his best friend is a pest, and his mentor keeps trying to hide him away in the mountains where maybe he'll be safe. Simon can't even enjoy the fact that his roommate and longtime nemesis is missing, because he can't stop worrying about the evil git. Plus there are ghosts. And vampires. And actual evil things trying to shut Simon down. When you're the most powerful magician the world has ever known, you never get to relax and savor anything.
Carry On is a ghost story, a love story, a mystery and a melodrama. It has just as much kissing and talking as you'd expect from a Rainbow Rowell story — but far, far more monsters.
About the Author:
Rainbow Rowell writes books. Sometimes she writes about adults (Attachments and Landline). Sometimes she writes about teenagers (Eleanor & Park, Fangirl and Carry On). But she always writes about people who talk a lot. And people who feel like they're screwing up. And people who fall in love.  When she's not writing, Rainbow is reading comic books, planning Disney World trips and arguing about things that don't really matter in the big scheme of things. She lives in Nebraska with her husband and two sons. You can learn more on her website: www.RainbowRowell.com
Lev Grossman is a novelist and journalist, notably the author of the novels Warp, Codex, and The Magicians trilogy, which includes The Magicians, The Magician King, and The Magician's Land. He is a senior writer and book critic for TIME.  He has also written for The Believer, the Village Voice, the Wall Street Journal, the New York Times, Salon, Slate, Wired,Entertainment Weekly,  the Week, Lingua Franca and many other places.
RSVP
Bookings are closed for this event.