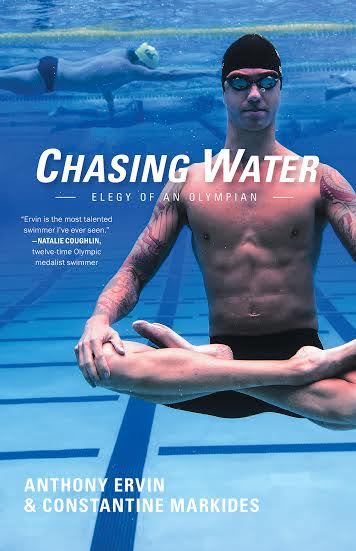 Saturday Apr 02, 2016
6:00 pm - 8:00 pm
THE POWERHOUSE ARENA [Dumbo]
37 Main Street
Brooklyn, NY 11201
For more information, please call 718.666.3049
RSVP appreciated: RSVP@powerHouseArena.com
-or-
Please fill out the "Bookings" form at the bottom of this page.
---
Get ready for the 2016 Olympics with the release of Chasing Water, Olympic gold medalist Anthony Ervin's captivating memoir.  This event is co-sponsored by Imagine Swimming and Platinum Performance.
About Chasing Water:
Every four years in the Olympic cycle the surge of national interest in swimming grows, and with it a desire to be captivated by its stars. This book tells the dramatic, surprising, and sometimes provocative path that Anthony Ervin has taken to become one of those captivating Olympic heroes. Not your typical sports memoir, Chasing Water also contains arresting black-and-white drawings and a graphic story extra, as well as an inventive and mercurial narrative style that morphs chapter by chapter to reflect Ervin's restless, multifaceted life. Ervin won a gold medal at the 2000 Sydney Olympic Games at the age of nineteen. He is an athlete branded with a slew of titles including being the first US Olympic swimmer of African American descent, along with Jewish heritage, who also grew up with Tourette's syndrome. He shocked the sporting world by retiring soon after claiming two world titles following the 2000 Olympics. Auctioning off his gold medal for charity, he set off on a part spiritual quest, part self-destructive bender that involved Zen temples, fast motorcycles, tattoo parlors, and rock 'n' roll bands. Then Ervin resurfaced in 2012 to not only make the US Olympic team twelve years after his first appearance, but to continue his career by swimming faster than ever before, and faster than anyone else. He is currently training for the 2016 Olympics in Rio.
About the Authors and Moderator:

Anthony Ervin is an American Olympian who resides in Los Angeles, where he continues to pursue his career as a professional swimmer, speaker, and coach. As the oldest competitor at the 2014 national championships, he won the title in the men's 50-meter freestyle. He is currently training for the 2016 Olympic team.
Constantine Markides is a New York–based swim trainer and former correspondent for the international daily newspaper Cyprus Mail. He has worked with CNN's Anderson Cooper and was featured on CBC and NPR's Marketplace. His essays and fiction have been published in various magazines and journals, including Rolling Stone. A high school state champion swimmer, Markides also swam for Columbia University.
Dave Zirin is the sports editor for the Nation magazine. He is host of Sirius XM Radio's popular weekly show, Edge of Sports Radio. He also cohosts the radio program The Collision: Sports and Politics, alongside Etan Thomas. Zirin is the the author of eight books on the politics of sports most recently Brazil's Dance with the Devil: The World Cup, the Olympics & the Fight for Democracy. He is the recipient of a 2015 New York Press Club Award for Journalism in sportswriting.
RSVP
Bookings are closed for this event.