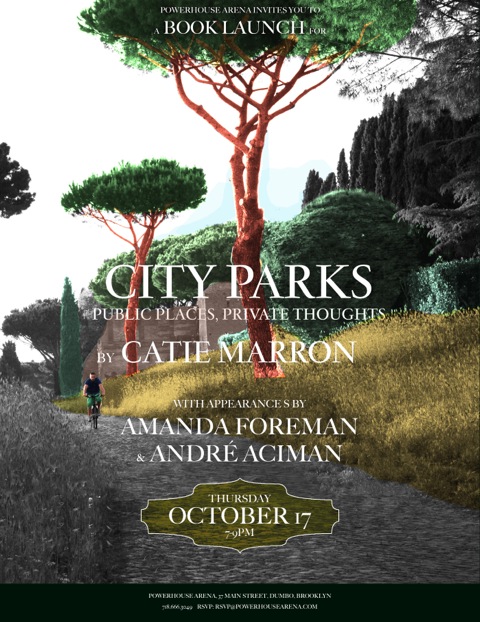 Thursday Oct 17, 2013
7:00 pm - 9:00 pm
THE POWERHOUSE ARENA [Dumbo]
37 Main Street
Brooklyn, NY 11201
For more information, please call 718.666.3049
RSVP appreciated: RSVP@powerHouseArena.com
-or-
Please fill out the "Bookings" form at the bottom of this page.
---
Eighteen writers and influential figures reflect on the world's most loved city parks and share their personal moments associated with them. Writers Amanda Foreman and André Aciman join Marron.
About CITY PARKS:
"Parks are of the earth, they are of the people, and they give the best possible glimpse of the sky and stars amid the high-rises and rooftops of crowded urban life," Catie Marron writes in the introduction of CITY PARKS: Public Spaces, Private Thoughts, a collection of personal essays by celebrated writers and figures, combined with breathtaking photographs by Oberto Gili, that evokes the essential spirit and character of the world's most loved city parks. As Marron writes, "Each park has its own soul, one that has profoundly influenced the culture of its surroundings and the multitudes who enjoy it. . . . They are, first and foremost, free."
In these pages, writers and public figures—from Zadie Smith to President Bill Clinton, Norman Foster to André Aciman—reflect on the various parks around the world that hold significance in their lives. Oberto Gili's color and black-and white photographs unify the writers' unique and personal voices. Taken around the world over the course of a year, in every season, his pictures capture the inherent mood of each place.
Zadie Smith poignantly tells the story of the visits she made to two Italian parks with her father, emphasizing the value of the freedom afforded by such public spaces; Andrew Sean Greer paints a portrait of first love in the Presidio; André Aciman muses on time's fleeting nature and the changing face of New York viewed from the High Line; Pico Iyer explores hidden places and privacy in Kyoto; Jonathan Alter takes readers from the 1968 race riots to Obama's 2008 victory speech in Chicago's Grant Park; Simon Winchester invites us along on his adventures in the Maidan; and Bill Clinton writes of his affection for Dumbarton Oaks.
Fusing images and text, CITY PARKS is an extraordinary and unique project: through personal reflection and intimate detail it taps into collective memory and our sense of time's passage. Beautifully illustrated, CITY PARKS is at once a literary anthology and a collector's item, one that illuminates our personal histories and public experiences.
About the Editor and Contributors:
Catie Marron's career has included investment banking, magazine journalism, and public service. She is currently co-chair of the board of directors of Friends of the High Line; a trustee of The New York Public Library, where she was chairman of the board for seven years; and a contributing editor of Vogue magazine, along with other involvements.
Amanda Foreman is a Visiting Research Fellow at Queen Mary, University of London. She won the Whitbread Prize for Georgiana: Duchess of Devonshire, which was adapted for the screen as The Duchess. Educated as an undergraduate at Sarah Lawrence College and with master's and doctorate degrees in history from Oxford University, she is now married with five children and lives in New York. Here most recent book is A World on Fire.
André Aciman is the author of the novels Harvard Square, Call Me by Your Name, and Eight White Nights, the memoir Out of Egypt, and two books of essays. He is also the editor of The Proust Project. He teaches comparative literature at the Graduate Center of the City University of New York, where he directs the Writers' Institute. Aciman lives with his wife and family in New York City.
---
For more information, please contact
Justin Levine
email: justin@powerhousearena.com
powerHouse Arena, 37 Main Street, Brooklyn, NY 11201
tel: 212-604-9074 x109
RSVP
Bookings are closed for this event.