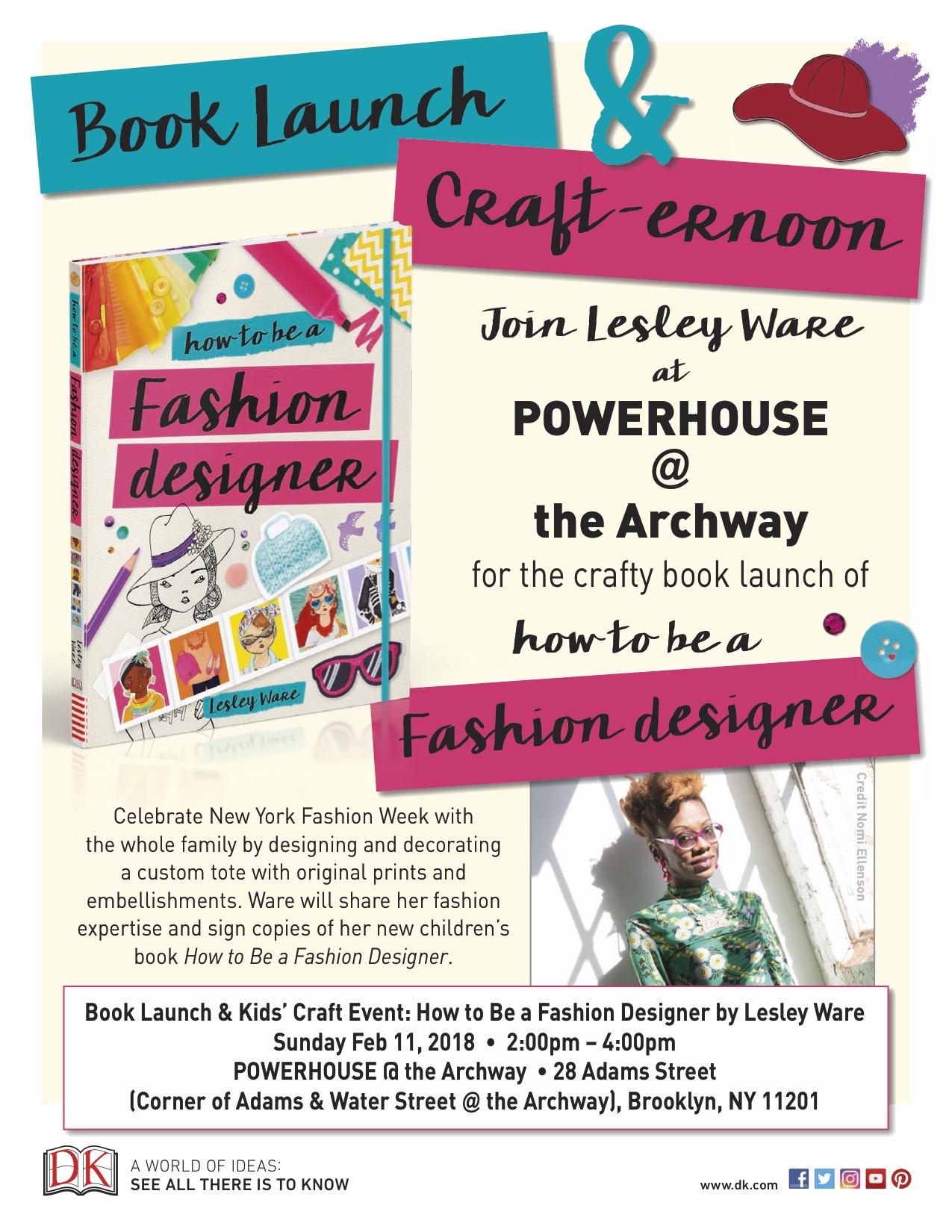 Sunday Feb 11, 2018
2:00 pm - 4:00 pm
POWERHOUSE @ the Archway
28 Adams Street (Corner of Adams & Water Street @ the Archway)
Brooklyn , NY 11201
RSVP appreciated. Please fill out the form at the bottom of this page if you plan on attending.
PLEASE NOTE: Submitting an RSVP for this event DOES NOT guarantee entrance. This is a free-access event — entrance will be on a first-come, first-served basis.
---
Just as excitement begins to build for New York Fashion Week, author Lesley Ware hosts an afternoon of fashion design crafts for children and families. Ware will show kids and parents how to personalize tote bags with their own original prints and embellishments. She will also be signing copies of her latest book, How to Be a Fashion Designer, and will share her advice on how to design, style, and accessorize clothes as a form of personal expression.
About the Book.
Design, style, and accessorize clothes with this fun guide full of practical fashion design ideas for kids.
Draw and color creations, choose materials, and learn to design through drawing your own fashion. Packed with practical tips and inspiration, children can enjoy experimenting with new ideas. Illustrations mixed with photography show kids how to choose gorgeous colors, design dress shapes, customize T-shirts, design a bag, pick a color palette, design with texture, and add sparkle to their accessories in simple, easy-to-follow design tasks and simple practical projects. Using inspiration from the natural world, everyday life, and their own imagination, children can design outfits from scratch and learn how to put together the clothes and accessories they already own in fun, stylish ways. Content support the STEAM (Science, Technology, Engineering, Art, Math) approach to cross-curricular learning.
About the Author.


Lesley Ware is an author and fashion expert. Lesley helps fashionistas of all stripes, including teens and tweens, discover their personal style and talents through fun and creativity.
Lesley's passion for inspiring youth began when she earned her degree in Elementary Education, and continued when she orchestrated a national program for Girl Scouts of the USA. She has previously written two books on style and fashion design for girls, Sew Fab: Sewing and Style for Young Fashionistas and My Fab Fashion Style File.
Lesley contributes to MarthaStewart.com and teaches at The Parsons School of Design, The Metropolitan Museum, Museum of the City of New York and other arts institutions in New York. Her sewing studio is based in Brooklyn where she is designing a capsule collection based on a recent road trip with her dad.
About the Illustrator.
Tiki Papier is drawn to adventure. An avid illustrator and amateur fashionista, she travels the world with her sidekick, The World's Most Fashionable Paper Doll. On each trip, Tiki packs an enormous box of pens and a pair of tiny scissors, to make new outfits for the ever-changing, ever-stylish paper doll. From Mexico City to Paris to the corner shop, Tiki finds a world of inspiration!
RSVP
Bookings are closed for this event.