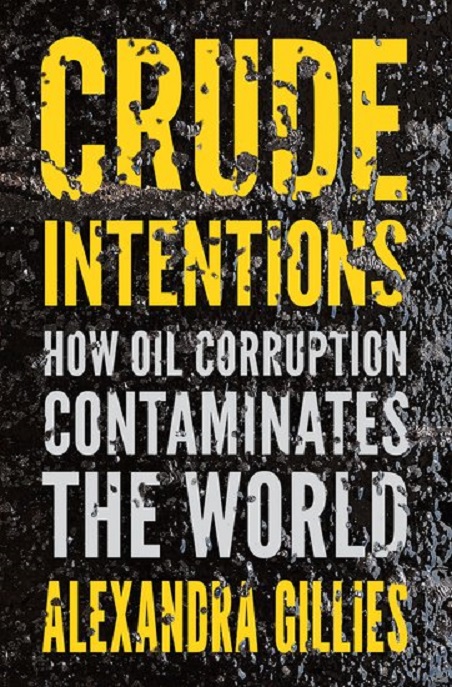 Monday Mar 09, 2020
7:00 pm - 9:00 pm
POWERHOUSE @ the Archway
28 Adams Street (Corner of Adams & Water Street @ the Archway)
Brooklyn , NY 11201
RSVP encouraged & appreciated.
Please fill out the form at the bottom of this page if you plan on attending. Facebook event found here.
PLEASE NOTE: Submitting an RSVP for this event DOES NOT guarantee entrance. This is a free-access event — entrance will be on a first-come, first-served basis.
---
About the Book.
Billions of stolen dollars are circling the globe, enriching powerful individuals, altering political outcomes, and disadvantaging everyday people. In her new book, CRUDE INTENTIONS: How Oil Corruption Contaminates the World, Alexandra Gillies examines the corruption crisis that erupted during the recent oil boom.
From 2008 to 2014, oil prices shot through the roof and, motivated by more than nine trillion dollars in new oil money, corruption soon followed. Company bosses signed off on risky schemes to snap up choice oil blocks. Politicians in Brazil and Nigeria stole billions to build up their election war chests. Kleptocrats in Angola, Azerbaijan, and Russia seized upon the oil wealth to cement their hold on power. And an army of bankers, accountants, and lawyers lined up to help these corrupt players stash their loot in the global system of shell companies and tax havens that serve today's super-rich. The money then bought yachts, mansions, and even a few foreign politicians.
Drawing on information exposed by intrepid journalists, prosecutors, and whistle blowers, CRUDE INTENTIONS tells jaw-dropping stories of corruption and asks what we can learn from them. The cases reveal common tactics, but also vulnerabilities in this web of fraud. These are the starting points for building a smarter fight against corruption, in the oil sector and well beyond.
"Alexandra Gillies has written an essential primer on the new world order, in which kleptocrats are hijacking the global economy. From Goldman Sachs to Goodluck Jonathan, Rosneft to the Republican Party, Gillies shows us how the corruption pandemic has spread worldwide. Her book pulses with a spirit not of despair but of action: don't let them get away with it." —Tom Burgis, Financial Times investigative correspondent and author of The Looting Machine
About The Author.
Alexandra Gillies is an advisor at the Natural Resource Governance Institute, a not-for-profit group. She has worked to promote transparency and combat corruption in the oil sector for more than ten years. Gillies holds a PhD in international relations from the University of Cambridge, where she researched the politics of Nigeria's oil sector. She lives in New York City.
About The Moderator.
John van Schaik is the New York bureau chief for Energy Intelligence.
RSVP
Bookings are closed for this event.