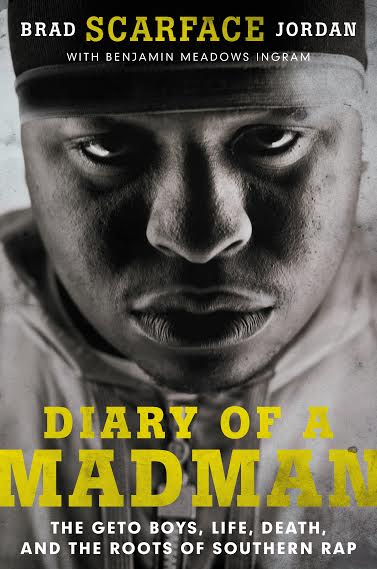 Wednesday Apr 22, 2015
7:00 pm - 9:00 pm
THE POWERHOUSE ARENA [Dumbo]
37 Main Street
Brooklyn, NY 11201
For more information, please call 718.666.3049
RSVP appreciated: RSVP@powerHouseArena.com
-or-
Please fill out the "Bookings" form at the bottom of this page.
---
Legendary rapper and music tycoon Scarface recounts his rise to fame from his roots selling drugs in the South Side of Houston Texas to his groundbreaking music, which has debuted at No. 1 on the Billboard charts.
About Diary of a Madman:
Diary of a Madman is the passionately told story of how Scarface's world changed when he heard Run DMC for the first time; how he dropped out of school in the ninth grade and started selling crack; and how he began rapping as the new form of music made its way out of New York and across the country. It is the account of his rise to the heights of the rap world, as well as his battles with his own demons, and depression.  For fans of Jay Z's Decoded and DMX's E.A.R.L., comes this eloquent, heart-felt, and insightful memoir from the legendary godfather of Southern rap about the roots and influences of Southern hip-hop, and how he rose to the top of the burgeoning rap scene. Featuring 20-40 photos, Diary of a Madman is the story of hip-hop—the music, the business, the streets, and life on the south side of Houston, Texas.
About the Author:
Brad "Scarface" Jordan has released eleven solo albums and seven albums with gangsta rap pioneers the Geto Boys. Six of his albums debuted in the Top 10 on the Billboard charts, and his fourth album, The Untouchable, debuted at No. 1 in 1997. He is a producer and record executive, former president of Def Jam South (where he signed the now-multi platinum Ludacris), and for years, the face of Rap-A-Lot Records, which was one of the most successful independent rap labels of all time. Rap-A-Lot Records opened the door for a flood of blockbuster southern-based acts and labels. Scarface lives in Houston, Texas.
About the Moderator:
Elliot Wilson is a journalist, television producer, and the founder and CEO of the popular website Rap Radar and also the former editor-in-chief of XXL Magazine. While there, he became known for his editorials under the nickname "YN".  Elliot has interviewed and profiled artists including Jay-Z, the Notorious B.I.G, Eminem, Drake, Tyler, The Creator, A Tribe Called Quest, Ja Rule, every member of the Wu-Tang Clan, and more.
RSVP
Bookings are closed for this event.