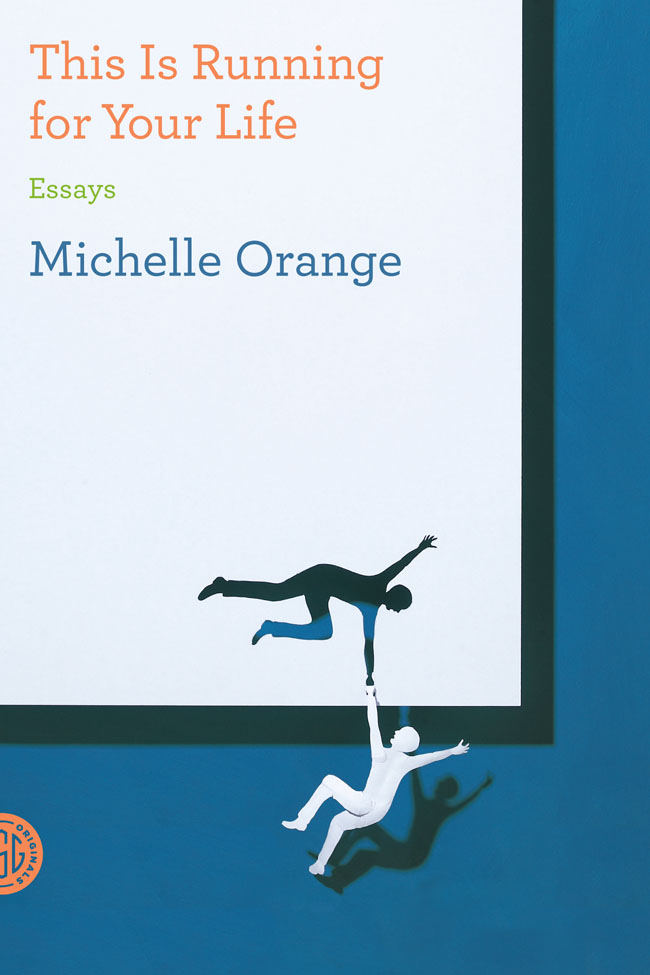 Wednesday Feb 27, 2013
7:00 pm - 9:00 pm
THE POWERHOUSE ARENA [Dumbo]
37 Main Street
Brooklyn, NY 11201
For more information, please call 718.666.3049
RSVP appreciated: RSVP@powerHouseArena.com
-or-
Please fill out the "Bookings" form at the bottom of this page.
---
Michelle Orange, contributing editor at The Rumpus, launches her first essay collection. She takes the stage with James Lasdun, who will also discuss his latest, Give Me Everything You Have: On Being Stalked. 
About the Books:
In This Is Running for Your Life, essayist Michelle Orange uses the lens of popular culture to reflect both inward and outward, and the result is the story of her generation. Blending elements of criticism, travel writing, and journalism, Orange explores the cultural, political, and social paradigm shifts of the last fifteen to twenty years, and the way that they have changed how we live, create identities, communicate, and consume art and information. An impressive integration of memoir, lyric essay, and incisive critical analysis, This Is Running for Your Life is a book about longing and loneliness and what it's like to be alive today.
Give Me Everything You Have documents a very new personal threat—online verbal terrorism on a career-wrecking, life-threatening scale. Lasdun explores how easy it might be for a student to permanently and widely destroy an academic's reputation. By email and on various websites, one of Lasdun's former students, an Iranian woman, waged a full-scale and ever-escalating online assault on Lasdun, accusing him of everything from harassment, sexual misconduct, and racism to plagiarism and, finally, orchestrating her rape. She altered his bio on Wikipedia; wrote nasty reviews of his books on Amazon and Goodreads; and widened her net of slander to include the comments sections of a review he'd written for The Guardian, before emailing accusations of sexual misconduct to his new boss at another college and professional misconduct to his agent and colleagues.
Lasdun delves into internet ethics, online stalking, and verbal terrorism, as well as issues of race, education, gender, and religion. Give Me Everything You Have reads like a chilling game of one-upmanship between Michael Haneke and David Mamet. As Joyce Carol Oates writes, "Here is a chilling account of what it is to experience 'verbal terrorism' in the age of email and the Internet—a riveting memoir of James Lasdun's nightmare experience of having been stalked for five years by a deranged former student who is also a virulent anti-Semite. This must be the most informative, the most insightful, and the most beautifully written of any account from the victim's perspective of what has come to be called 'cyberbullying.'"
About the Authors:
Michelle Orange is the author of This Is Running For Your Life, The Sicily Papers, and the editor of From the Notebook: The Unwritten Stories of F. Scott Fitzgerald. Her fiction, essays, criticism, and journalism have appeared in The New York Times, The Nation, The Virginia Quarterly, The Village Voice, The Globe and Mail, Movieline.com, and McSweeney's, among other publications. She is a founding contributing editor of The Rumpus.
James Lasdun was born in London. He now lives in upstate New York with his wife Pia Davis, with whom he wrote the non-fiction book, Walking and Eating in Tuscany and Umbria, and their two children, Violet and Leo. He is a poet, fiction and screen writer, and has taught poetry and fiction at The New School, Princeton, NYU, and Columbia. He currently teaches at The Writers Institute. Lasdun's last novel, Seven Lies, was long-listed for the Booker Prize, and his short story "An Anxious Man" (included in It's Beginning to Hurt) won the inaugural UK National Short Story Competition.
---
For more information, please contact
Julie Buntin, Events Coordinator
email: julie@powerhousearena.com
powerHouse Arena, 37 Main Street, Brooklyn, NY 11201
tel: 212-604-9074 x109
RSVP
Bookings are closed for this event.