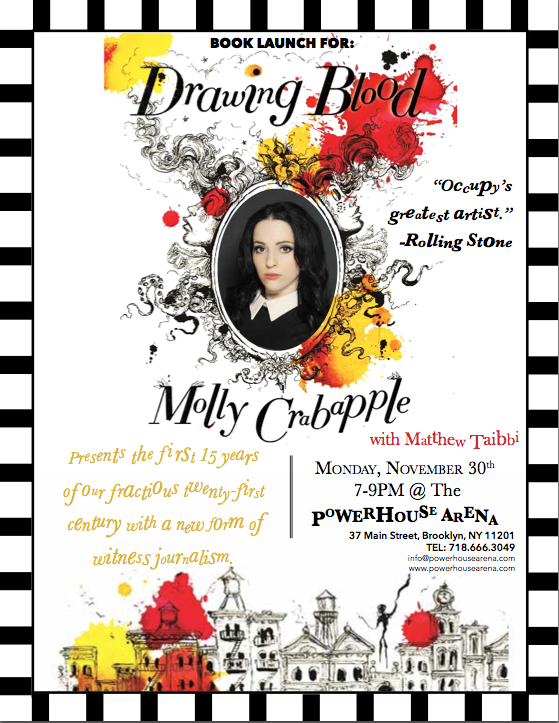 Monday Nov 30, 2015
7:00 pm - 9:00 pm
THE POWERHOUSE ARENA [Dumbo]
37 Main Street
Brooklyn, NY 11201
For more information, please call 718.666.3049
RSVP appreciated: RSVP@powerHouseArena.com
-or-
Please fill out the "Bookings" form at the bottom of this page.
---
"Occupy's greatest artist" (Rolling Stone) presents illustrations that chronicle the first fifteen years of our fractious twenty-first century with a new form of witness journalism.
About Drawing Blood:
Drawing Blood will change the way you think about art, sex, politics and survival in our times. An acclaimed artist and journalist whose work has appeared in The New York Times, Vanity Fair, and The Paris Review, and in her regular column in Vice (among many other venues), Crabapple has swiftly become one of the most provocative—and most-watched—voices at work today. Now, in a book that weaves together fresh, deeply moving language and dazzling, irreverent illustrations, this singular artist traces how the power of art, which gripped her from childhood, has given her a vehicle for understanding—perhaps even for changing—the world. "Art is hope against cynicism, creation against entropy," she writes. "To make art is an act of both love and defiance."
From a young age, Molly Crabapple had the eye of an artist and the spirit of a radical. After a restless childhood on Long Island, she left America to see Europe and the Near East, a young artist plunging into unfamiliar cultures, notebook always in hand, drawing what she observed.
Returning to New York shortly before 9/11 to study art, she posed nude for sketch artists and sketchy photographers, danced burlesque, and modeled for the world famous Suicide Girls. Frustrated with the academy and the conventional art world, she eventually landed a post as house artist at Simon Hammerstein's legendary nightclub The Box, the epicenter of decadent Manhattan nightlife before the financial crisis of 2008. There she had a ringside seat for the pitched battle between the bankers of Wall Street and the entertainers who walked among them—a scandalous, drug-fueled circus of mutual exploitation that she captured in her tart and knowing illustrations. Then, after the crash, a wave of protest movements—from student demonstrations in London to Occupy Wall Street in her own backyard—led Molly to turn her talents to a new form of witness journalism. Dubbed "Occupy's greatest artist" by Rolling Stone, she went on to write and illustrate stories from Guantanamo to Syria to Rikers Island to the labor camps of Abu Dhabi.
Now, Molly brings her story—and the first fifteen years of our fractious twenty-first century—to life in a book that captures art and life in our times as viscerally as Patti Smith captured hers in Just Kids.
About the Author:
Molly Crabapple is an artist and writer in New York. She is a contributing editor for Vice, and has written for publications including the New York Times, The Paris Review, and The Guardian. Her work is in the permanent collection of the Museum of Modern Art. She lives in New York City.
Matt Taibbi has reported on politics, media, finance, and sports, and has authored several books, including The Divide: American Injustice in the Age of the Wealth Gap, Griftopia: Bubble Machines, Vampire Squids, and the Long Con That Is Breaking America, and The Great Derangement: A Terrifying True Story of War, Politics, and Religion.
RSVP
Bookings are closed for this event.