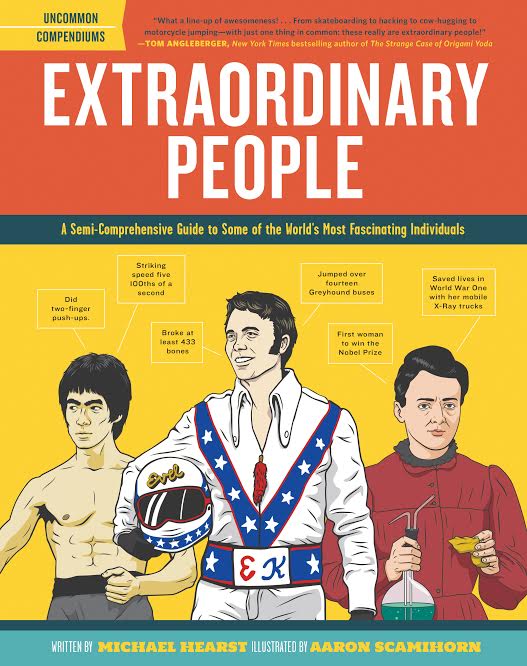 Saturday May 16, 2015
2:00 pm - 3:30 pm
THE POWERHOUSE ARENA [Dumbo]
37 Main Street
Brooklyn, NY 11201
For more information, please call 718.666.3049
RSVP appreciated: RSVP@powerHouseArena.com
-or-
Please fill out the "Bookings" form at the bottom of this page.
---
Join Hearst and his guitar as he shares 50 tales of extraordinary characters who defied the odds and made history.  Book themed snacks such as Nestle Toll House Cookies (as invented by Ruth Wakefield) will be served.
About Extraordinary People:
Extraordinary People is a decidedly incomplete compendium of excellence from all fields of endeavor. In brief bios, fascinating facts and illustrious illustrations, young readers will learn about 50 of history's heroes and heroines, both unsung and sung, including:
• Evel Knievel, who jumped his motorcycle over 14 Greyhound buses
• The Iceman, the most well preserved human, found in the ice after 5,300 years
• Sam Patch, who jumped Niagara Falls for $75
• Helen Thayer, who walked to the North Pole alone
• Roy Sullivan, who was struck by lightning 7 times
These intriguing facts and hundreds more await curious readers, amateur historians, and anyone who aspires to the altogether extraordinary!
About the Author:
Michael Hearst is a composer, multi-instrumentalist, and writer. He is a founding member of the band One Ring Zero, whose albums include Planets and As Smart As We Are, and his solo works include Songs for Ice Cream Trucks and the companion CD for this book, Songs for Unusual Creatures, which was praised by the New York Times for its "painterly inventiveness and lively humor." He lives in Brooklyn, New York.
RSVP
Bookings are closed for this event.