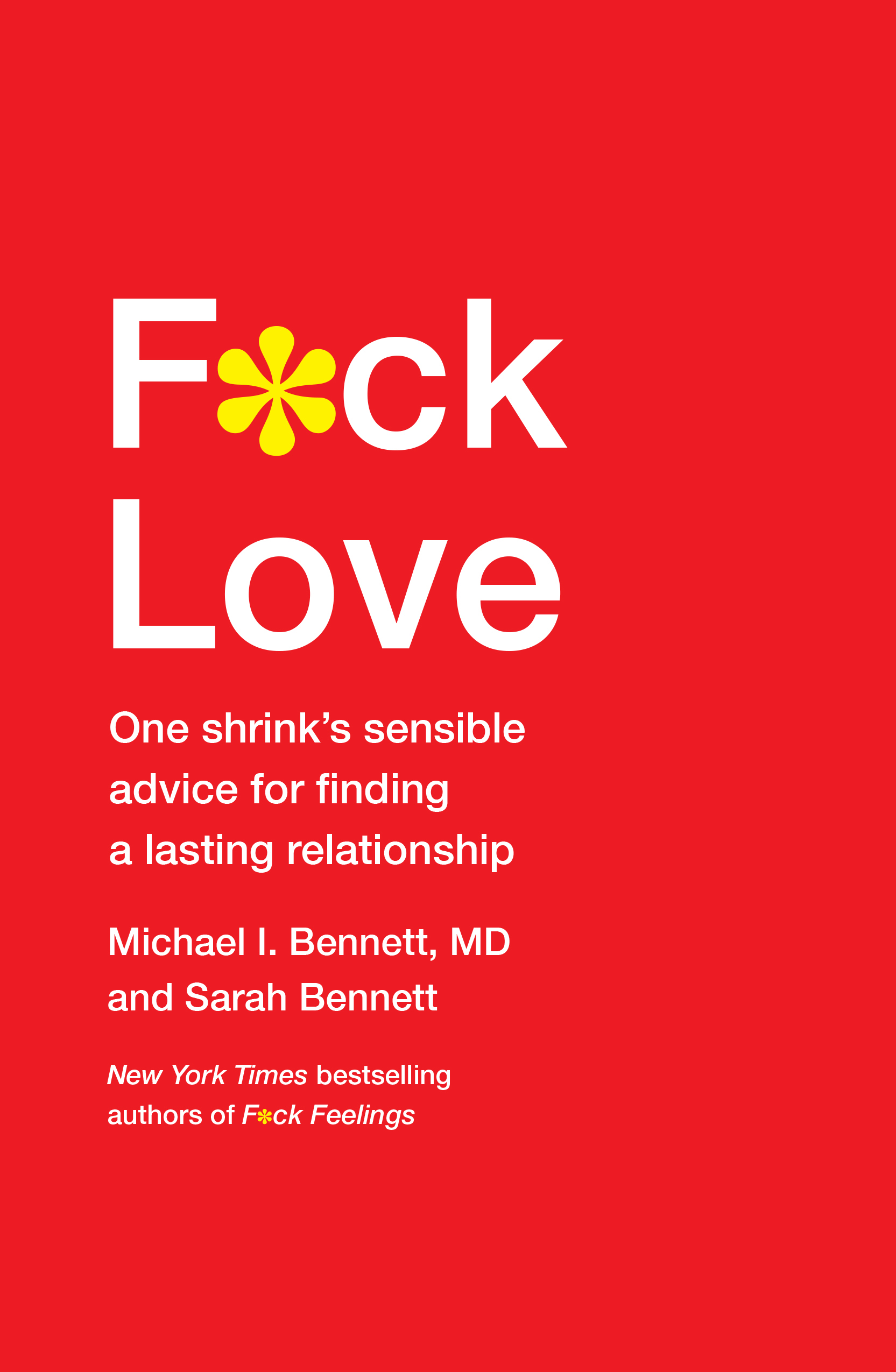 Thursday Feb 09, 2017
7:00 pm - 9:00 pm
POWERHOUSE @ the Archway
28 Adams Street (Corner of Adams & Water Street @ the Archway)
Brooklyn , NY 11201
For more information, please call 718.666.3049
RSVP appreciated: RSVP@powerHouseArena.com
-or-
Please fill out the "Bookings" form at the bottom of this page.
For more information, please call 718.666.3049
---
Join us for an anti-Valentine's Day event! Michael Bennett, MD and Sarah Bennett will be here to talk about their new book, F*CK LOVE, an irreverent roadmap that reveals the essentials to look for when you're done being suckered by the promise of true love and want help seeking a real, lasting relationship.
About F*CK LOVE:
In their groundbreaking New York Times bestseller, F*ck Feelings (2015), veteran psychiatrist and APA Distinguished Fellow Michael Bennett, MD and his comedy-writing daughter Sarah Bennett offered practical solutions for dealing with life's problems in a funny, straightforward, and a very un-self-help-like book.
Now they're bringing back their patented blunt and hilarious advice to talk about love and relationships—and thank goodness for that. In F*CK LOVE: One Shrink's Sensible Advice for Finding a Lasting Relationship, the Bennetts explain why we so often find ourselves in relationships that don't work. Most relationships that fail, it turns out, end because the two people were fundamentally wrong for each other in the first place. However, those incompatibilities were wrapped around a cocoon of excitement, lust, charisma…of feelings.
Outrageous, funny, and profoundly sensible, F*CK LOVE argues that finding a partner should be more like a business deal than a candlelit dinner. Chapter by chapter, it breaks down those traits that people tend to seek out: charisma, beauty, chemistry, communication, a sense of humor, family stability, intelligence, and wealth. Finding lasting love doesn't require ignoring these intense feelings, but rather understanding—and therefore mitigating—the influence they have. Each chapter offers entertaining (and useful) Cosmo-style quizzes to test how much you tend to focus on that quality, as well as funny flowcharts like "Should I Go On a Date with this Person I'm Interested In?" The authors also include some questions concerning relationship situations that Dr. Bennett has seen with his clients, and offer advice for both the person who, say, is only attracted to exciting, dangerous people and the person who is that exciting person, and wants to know how to find a relationship that's more than just passion.
The Bennetts use a brilliant and endearing collaborative technique in which Dr. Bennett offers the approach he has perfected over decades of experience, and Sarah uses her professional grade sense of humor to ground her dad's advice in real-life situations. F*CK LOVE is not a typical relationship book. As they say, it "might not help you find the person of your dreams, but it will provide you the roadmap to avoiding the kind of nightmare relationships that probably caused you to buy books like this in the first place."
About the Authors:
Dr. Michael I. Bennett, educated at both Harvard College and Harvard Medical School, is a board-certified psychiatrist, Canadian, and Red Sox fan. His first book, a New York Times bestseller, F*ck Feelings (2015) is co-authored with his daughter Sarah Bennett. He lives with his wife in Boston.
Sarah Bennett has written for magazines, the Internet, television, and books. She also spent two years writing for a monthly sketch comedy show at the Upright Citizens Brigade Theater in New York. Somehow, she lives in New Hampshire and works in New York. F*ck Feelings (2015), is written with her father, psychiatrist, Dr. Michael I. Bennett.
RSVP
Bookings are closed for this event.