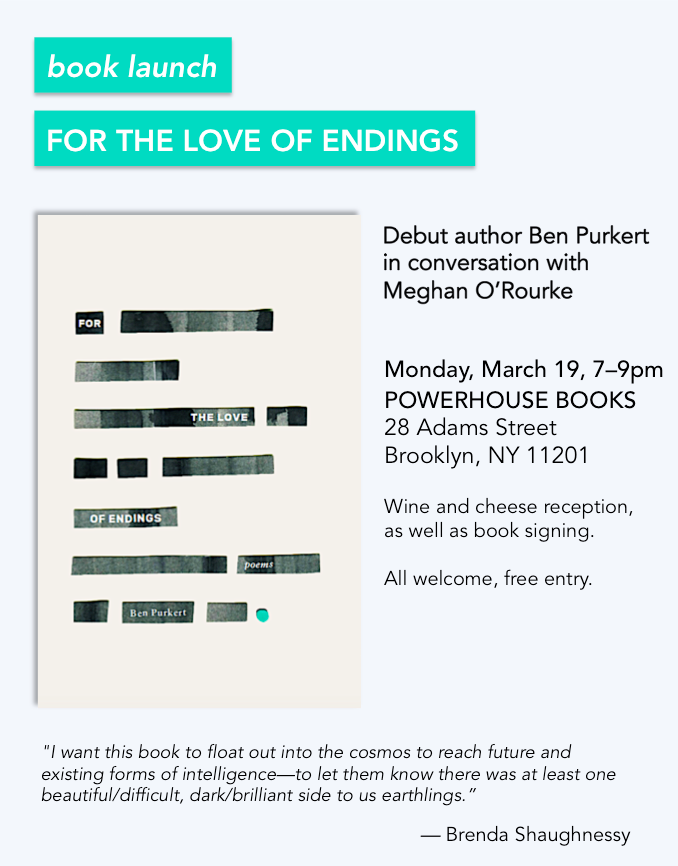 Monday Mar 19, 2018
7:00 pm - 9:00 pm
POWERHOUSE @ the Archway
28 Adams Street (Corner of Adams & Water Street @ the Archway)
Brooklyn , NY 11201
RSVP appreciated. Please fill out the form at the bottom of this page if you plan on attending.
PLEASE NOTE: Submitting an RSVP for this event DOES NOT guarantee entrance. This is a free-access event — entrance will be on a first-come, first-served basis.
---
". . . If human life becomes extinct on our planet, I want this book to float out into the cosmos to reach future and existing forms of intelligence—to let them know there was at least one beautiful/difficult, dark/brilliant side to us earthlings."
—Brenda Shaughnessy
"In his striking and inventive debut, Ben Purkert writes lyrical riffs about twenty-first century loneliness. His language is always striking sparks, alighting on both the poignant and the haunting . . . For the Love of Endings is a tremendous beginning.
It marks the arrival of a singular voice."
—Eduardo C. Corral
"For the Love of Endings is an arresting debut. Purkert is unembarrassed by the minor key, the mindbending yet subtle shift. . . . these are compact yet aerated poems, studded by the detritus of the contemporary—Coke labels, microwaves, computer screens, billboards—yet grounded in the breakable heart. . . ."
—Maureen N. McLane
---
Join BEN PURKERT at POWERHOUSE for the launch of his debut poetry collection, FOR THE LOVE OF ENDINGS. Ben will be reading from his book, answering audience questions, and signing copies of his book. Complimentary wine and cheese. Open to all.
About the Book.
How does it feel to lose your planet, your lover, yourself? Ben Purkert's debut collection, FOR THE LOVE OF ENDINGS, tests what connects us to this earth and to each other. His brilliantly crafted poems examine "the gap / between the world & how / people paint it: dark, distant, there / for the taking." He makes us look at our disintegrating world head on and see what we've done to it, and what it has done to us.
About the Author.

Ben Purkert teaches creative writing at Rutgers University – New Brunswick. His poems and essays have appeared in AGNI, Boston Review, Guernica, Kenyon Review, The New Yorker, Ploughshares, and elsewhere. He holds degrees from Harvard and NYU, where he was a New York Times Fellow. He lives in Brooklyn, New York.
About the Moderator.

Meghan O'Rourke is the author of the poetry collections Sun In Days, Once and Halflife, as well as the best-selling memoir The Long Goodbye, about the death of her mother. A former editor at The New Yorker, The Paris Review, and Slate, she writes for The New Yorker, the New York Times, the Atlantic Monthly, and others. She is the recipient of a 2014 Guggenheim Fellowship, the May Sarton Poetry Prize, the Whiting Award, the Union League Prize for Poetry from the Poetry Foundation, a Lannan Literary Fellowship, two Pushcart Prizes, and a Front Page Award for her cultural criticism, among other honors.

RSVP
Bookings are closed for this event.