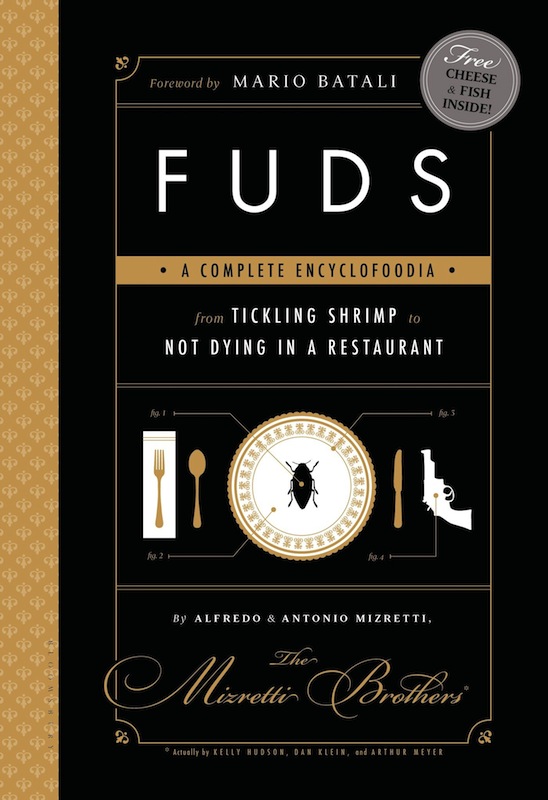 Wednesday Mar 11, 2015
7:00 pm - 9:00 pm
THE POWERHOUSE ARENA [Dumbo]
37 Main Street
Brooklyn, NY 11201
For more information, please call 718.666.3049
RSVP appreciated: RSVP@powerHouseArena.com
-or-
Please fill out the "Bookings" form at the bottom of this page.
---
Arthur Meyer shares his compendium of gag recipes that lampoon Brooklyn foodie culture with satisfying (and untasty!) results, with delicious treats for you included (thankfully, not from the cookbook)!
About FUDS: A Complete Encyclofoodia:
"Tear-jerkingly hilarious." —Gawker
In 2012, fueled with a love for both food and comedy, a group of friends launched a parody menu for an imaginary restaurant named FUDS. With nonsensical yet hilarious culinary offerings like "Mini-hrak Cuddles with Malonies" and "The Bill Clinton Sandwich," the menu created a stir at the Great GoogaMooga Festival in Brooklyn and quickly went viral from New York to Los Angeles and beyond.
Since then, people have been clamoring for more of the deliciously absurd humor that characterizes the FUDS brand which they can now find in the uproarious pages of FUDS: A Complete Encyclofoodia from Tickling Shrimp to Not Dying in a Restaurant.  The young comedians behind the imaginative menu have answered fans with this handsomely designed cookbook and field guide brimming with new material to delight and entertain. From tips on planning a seasonal menu that's likely to make your guests ill to kitchen safety tips that could leave your sous chefs badly charred, and a host of classics FUDS "recipes," this book is sure to be a hit with food-lovers and anti-foodies alike.
Designed and illustrated with a straight face and featuring a foreword by master chef Mario Batali—this off-beat cookbook strikes the perfect complementary balance.
About the Author and Moderator:
Arthur Meyer is a writer for The Tonight Show Starring Jimmy Fallon, and has also appeared on The Late Show with David Letterman.  His writing has been featured in The Onion. 
Mike Sacks is the author of And Here's the Kicker: Conversations with 21 Humor Writers About Their Craft and co-author of Sex: Our Bodies, Our Junk. His writing has appeared in Esquire, GQ, The New Yorker, The New York Times, The Washington Post, and many other places.  He is currently on the editorial staff of Vanity Fair.
RSVP
Bookings are closed for this event.