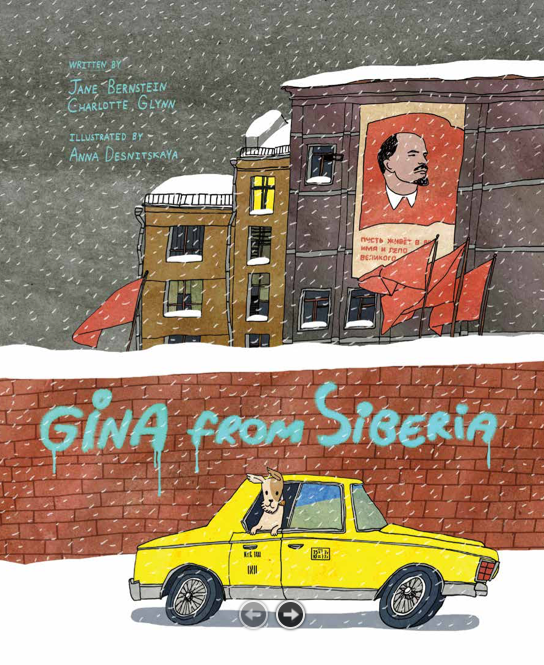 Wednesday Dec 12, 2018
7:00 pm - 8:30 pm
POWERHOUSE @ the Archway
28 Adams Street (Corner of Adams & Water Street @ the Archway)
Brooklyn , NY 11201
RSVP encouraged & appreciated.
Please fill out the form at the bottom of this page if you plan on attending. Facebook event found here.
PLEASE NOTE: Submitting an RSVP for this event DOES NOT guarantee entrance. This is a free-access event — entrance will be on a first-come, first-served basis.
---
About the Book.
Inspired by the true story of the Backers, a family of Russian immigrants who, in 1978, ferried their beloved miniature wire-haired fox terrier from the former Soviet Union to the United States, Gina from Siberia confronts the sometimes scary and often disorienting experiences of our pets as they move through life's changes and challenges with us.
About the Authors.
Jane Bernstein is the author of six books, among them the memoirs Bereft – A Sister's Story, and Rachel in the World.  She is a lapsed screenwriter, and an essayist whose short work has been published in such places at the New York Times, The Sun, Narrative and Creative Nonfiction.  Her recent story, "Still Running" was chosen for Best American Sports Writing 2018.  Her new novel, The Face Tells the Secret, will be published in 2019.
Debut author Charlotte Glynn is a filmmaker. Her first feature documentary, Rachel is, a film about her sister who is developmentally disabled, had its broadcast premiere on PBS America reFramed. Her most recent film, The Immaculate Reception, premiered at the 2014 Sundance Film Festival. It was a Vimeo Staff Pick, won the Hammer to Nail Short Film Contest and the Special Jury Award at the New Orleans Film Festival, among others. Filmmaker Magazine named Charlotte one of the 25 New Faces in Independent Film, in 2014.
RSVP
Bookings are closed for this event.