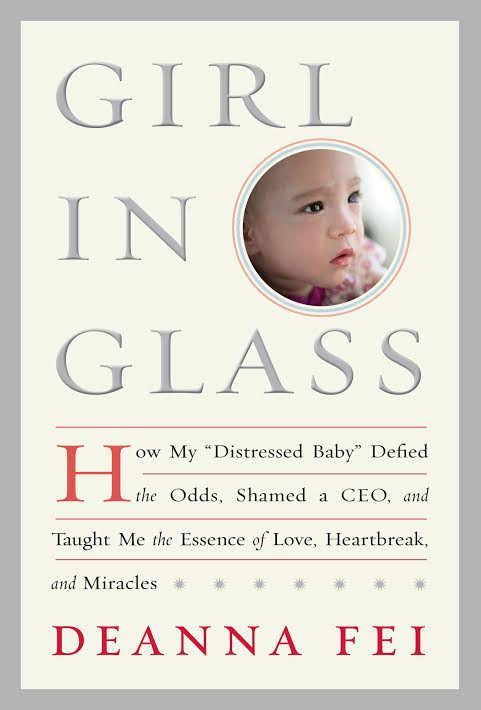 Wednesday Jul 15, 2015
7:00 pm - 9:00 pm
THE POWERHOUSE ARENA [Dumbo]
37 Main Street
Brooklyn, NY 11201
For more information, please call 718.666.3049 RSVP appreciated: RSVP@powerHouseArena.com
-or-
Please fill out the "Bookings" form at the bottom of this page.
---
More than just a personal memoir, Deanna Fei's Girl in Glass brings to light important issues such as medical privacy and employee rights to insurance and healthcare. It is an exploration of the value of human life and a testament to the strength of motherhood in spite of tragedy and uncertainty.
About Girl in Glass:
In 2012, acclaimed author Deanna Fei and her husband were blindsided by the extremely premature birth of their second child, Mila—the feisty little girl whom she thought would complete their family. At less than two pounds out of the womb, her daughter was encased in a glass box and her tiny, underdeveloped organs relied on a multitude of machines to sustain her life. Mila's physicians quoted her as having a one third chance of survival, leaving Fei to grapple with competing instincts to help her daughter fight for her life or to allow her go peacefully. But as Fei witnessed Mila's heroic struggle for survival, she discovered the power of the mother-child bond at its most elemental.
In February 2014, one year after her miraculous return home from the hospital, Mila—now healthy and jubilant—made headlines for a different, unfathomable reason. In an employee town hall meeting, AOL CEO Tim Armstrong labeled Mila as one of two "distressed babies" whose medical care costs were to blame for a company-wide cut in employee benefits. Amidst the resulting media firestorm, Fei wrote a compelling and widely-circulated piece speaking out for her young family.
Now, with powerful and luminous prose, Fei reveals the full story of her "catastrophic" premature birth, the difficult journey for both mother and baby, and how it all changed her life in Girl in Glass.
About the Author, Moderator and Panelists:
Author:
Deanna Fei is the author of the award-winning novel A Thread of Sky. A graduate of the Iowa Writers' Workshop, Fei has received a Fulbright Grant and a New York Foundation for the Arts fellowship. Her essays have appeared in the New York Times, Slate, Huffington Post, and other publications. She lives in Brooklyn with her husband and two children.
Moderator:
Susanna Schrobsdorff is an Assistant Managing Editor at TIME. Previously, she was the Editorial Director for Newsweek Digital, but she began her career at TIME magazine as an intern. She moved on to a five year stint as TIME's Newsdesk Editor in Paris and Brussels where she revamped bureau communications and covered everything from Olympic figure skating to global prostitution. She is the winner of a New York Press Club award for Outstanding Web Coverage and three Front Page Awards for cultural commentary and interactive journalism.
Panelists:
Deborah C. Peel, MD is the world's leading advocate for patients' rights to control the use of personal health information in electronic systems. She is also a practicing physician and Freudian psychoanalyst. In 2004, she formed Patient Privacy Rights (PPR), a non-profit organization, to educate Americans about the urgent need to restore patient control over health data. PPR is the world's leading advocate for health privacy, with over 20,000 members in all 50 states.
Mia Wechsler Doron, MD is a neonatologist, co-author of the book, Preemies: the Essential Guide for Parents of Premature Babies, and co-creator of the MyPreemie app. She is an Associate Professor of Pediatrics at the University of North Carolina at Chapel Hill where she has worked as an attending physician in the newborn intensive care unit; taught medical humanities; co-chaired the hospital-wide ethics committee; conducted clinical research on decision making for critically ill infants; and helped develop policies on the treatment of critically ill fetuses and infants. Dr. Doron received her medical degree from Duke Medical School and has a master's degree in theology from Harvard Divinity School.
Robert Marion, MD is a pediatrician, medical geneticist, and author. Currently professor of pediatrics and obstetrics and gynecology and women's health at the Albert Einstein College of Medicine, he has many administrative titles, including Director of the Rose F. Kennedy University Center for Excellence in Developmental Disabilities at Einstein, chief of the division of genetics and director of the Center for Congenital Disorders at the Children's Hospital at Montefiore. Dr. Marion is the author of seven books, including GENETIC ROUNDS: A DOCTOR'S LIFE IN THE FIELD THAT REVOLUTIONIZED MEDICINE. His book, THE BOY WHO FELT NO PAIN won a Christopher Award and THE INTERN BLUES is a cult classic.  His novel, BORN TOO SOON, is based on his first month of internship, working in a neonatal intensive care unit.
RSVP
Bookings are closed for this event.