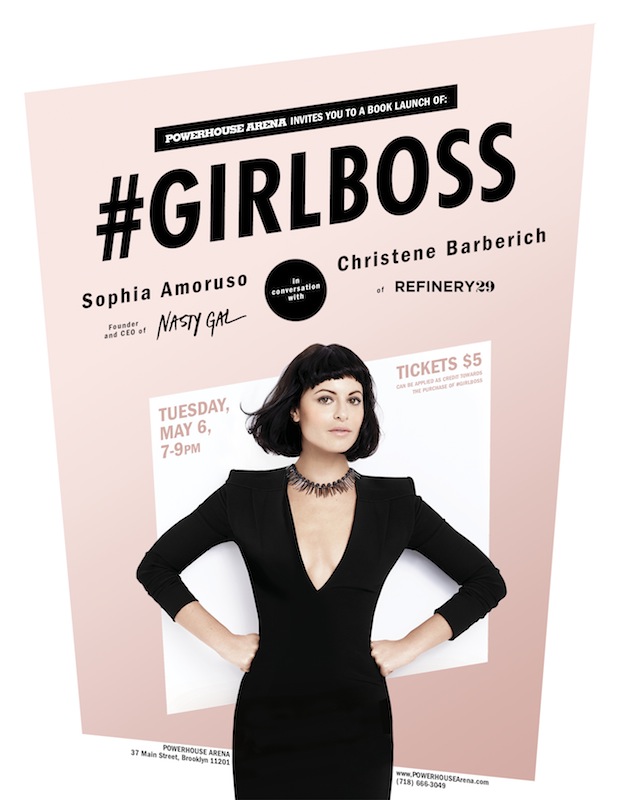 Tuesday May 06, 2014
7:00 pm - 9:00 pm
THE POWERHOUSE ARENA [Dumbo]
37 Main Street
Brooklyn, NY 11201
For more information, please call 718.666.3049
Tickets: $5 (can be applied as credit towards purchase of #GIRLBOSS)
Available for purchase here.
TICKETS ARE NOW SOLD OUT
If you were unable to get tickets and would like to pre-order a signed copy of the book, we'll be offering a limited number for purchase here.

Doors will open at 6:00pm and seating will be available on a first-come, first-serve basis – a receipt or photo ID is required for entry. Please note that Sophia will only sign copies of #GIRLBOSS purchased from The POWERHOUSE Arena.
---
A fascinating look at the journey from 17 year old dumpster diver to 29 year old CEO of Nasty Gal, a $100 million dollar etailer. Sophia Amoruso will be joined in conversation by Christene Barberich of Refinery29. Tickets are $5 and can be applied as credit towards the purchase of #GIRLBOSS.
About #GIRLBOSS:
In 2002, Sophia Amoruso was hitchhiking up and down the West Coast, dumpster diving for meals and dabbling in petty thievery.
Fast forward to 2014: Sophia Amoruso is the Founder and CEO of Nasty Gal, the fastest growing online fashion retailer in the country.  Amoruso's debut book, #GIRLBOSS, chronicles her adventurous rise to becoming one of today's most celebrated young entrepreneurs.
Part memoir and part business book with an edge, #GIRLBOSS is a sassy and irreverent look at Amoruso's extraordinary personal journey filled with insights on entrepreneurship and career advice for young women.
As Amoruso writes, "A #GIRLBOSS is someone who's in charge of her own life. She gets what she wants because she works for it. As a #GIRLBOSS, you take control and accept responsibility . . .You know where you're going, but can't do it without having some fun along the way…You're going to take over the world, and change it in the process. You're a badass . . ."
#GIRLBOSS is not a how-to manual to getting rich quick, breaking into the fashion industry, or starting a business. Instead, Amoruso teaches you how to learn from your own mistakes, play to your strengths, and know when to follow the rules and when to rewrite them. #GIRLBOSS is the millennial manifesto for harnessing creativity and leaving your mark on the world.
About the Author and Moderator:
Sophia Amoruso is Founder, CEO, and Chief Troublemaker at Nasty Gal, which launched in 2006. Named "Fastest Growing Retailer" by Inc. Magazine in 2012, Nasty Gal now has more than two million followers across social media and millions of fans around the world.  #GIRLBOSS is Amoruso's debut book. Follow Sophia on Instagram and Twitter: @sophia_amoruso and @nastygal.
Christene Barberich is the Editor-in-Chief and co-founder of Refinery29. She's also held posts at Gourmet magazine, The Daily, and, very early on, The New Yorker. Her fashion and design writing have appeared in T Magazine, Travel & Leisure, New York Magazine, Dwell, and Elle Decoration, among other cool titles. In addition to leading Refinery29 to world domination, she is relentlessly evangelizing the therapeutic properties of closet purging and hardcore thrifting. She lives in Brooklyn.
---
For more information, please contact
Justin Levine
email: justin@powerhousearena.com
powerHouse Arena, 37 Main Street, Brooklyn, NY 11201
tel: 212-604-9074 x109