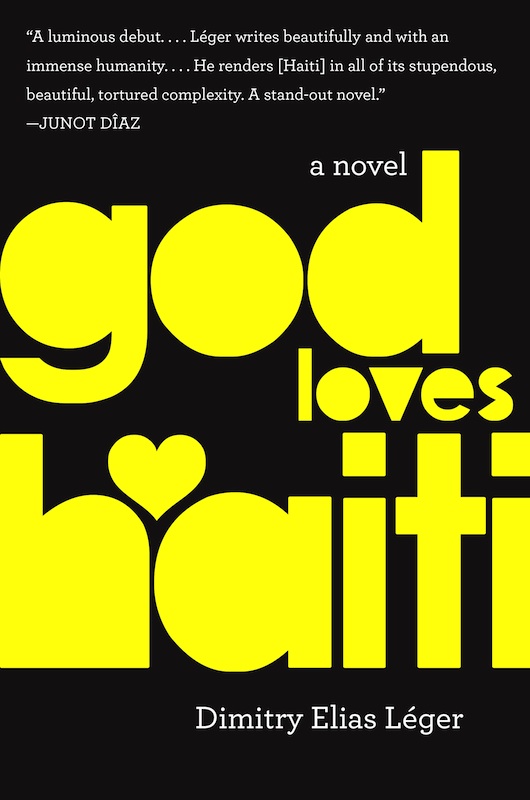 Thursday Jan 22, 2015
7:00 pm - 9:00 pm
THE POWERHOUSE ARENA [Dumbo]
37 Main Street
Brooklyn, NY 11201
For more information, please call 718.666.3049
RSVP appreciated: RSVP@powerHouseArena.com
-or-
Please fill out the "Bookings" form at the bottom of this page.
---
With comparisons to José Saramago and Roberto Bolaño, Dimitry Elias Léger's luminous new novel takes on the chaos and terror of the 2010 Haiti earthquake. Francisco Goldman (Say Her Name) joins him in conversation.
About God Loves Haiti:
"Funny, street-smart, and keenly observed, God Loves Haiti establishes Léger as one of contemporary fiction's most distinctive and irresistible new voices." – Edwidge Danticat, Claire of the Sea Light
Natasha Roberts has made a choice. She's going to leave her godforsaken island for the romantic, art-inspiring hills of Tuscany, and along with Haiti she will be leaving the love of her life, Alain Destiné. Young and brimming with potential, Alain, unlike many of his educated brethren who have taken their talents to the United States, is determined to stay in Haiti. His intelligence is undeniable, his business savvy obvious, and there is potential in his many business pursuits, but Natasha can wait no longer. After locking Alain in the closet of her room in the National Palace, Natasha is about to board a plane with her husband, the soon-to-be ex-President of Haiti. What she feels for this older, graying man is not yet love, but gratitude. He's agreed to give up his post to spend his remaining days in posh exile with his young bride. But just as Natasha boards the plane to her new future, a tremendous force throws her from her path.
God Loves Haiti depicts the lives of these three characters, seamlessly alternating between the before and after as Natasha sets out to reunite with her one true love Alain. Léger's descriptions of the earthquake and its aftermath are unforgettable—buildings "tumbling on people as if they were made of cards," the National Palace collapsing "like a wedding cake stepped on by an invisible giant toddler." He skillfully depicts the tragedy of this disaster: that the earthquake ravaged a country already plagued by poverty and poor infrastructure, and yet his characters are never simply victims. Instead, Haiti is lovingly depicted in all of its complexity—its prideful past as the first nation established by a successful slave revolt, its entangled politics with France and the United States, and its efforts to rise from the ruins to build anew.
About the Author and Moderator:
Dimitry Elias Léger was born in Port-au-Prince, Haiti and raised between there and Brooklyn. Educated at St. John's University and Harvard Kennedy School of Government, he is a former staff writer at the Miami Herald, Fortune, and The Source, and also a contributor to the New York Times, Newsweek, and The Face in the UK. In 2010, he worked as an advisor to the United Nations' disaster recovery operations in Haiti after the earthquake.
Francisco Goldman has published four novels and one book of non-fiction. He has written for The New Yorker, The New York Times Magazine, Harper's, The Believer, and many other publications. He lives in Mexico City.
RSVP
Bookings are closed for this event.