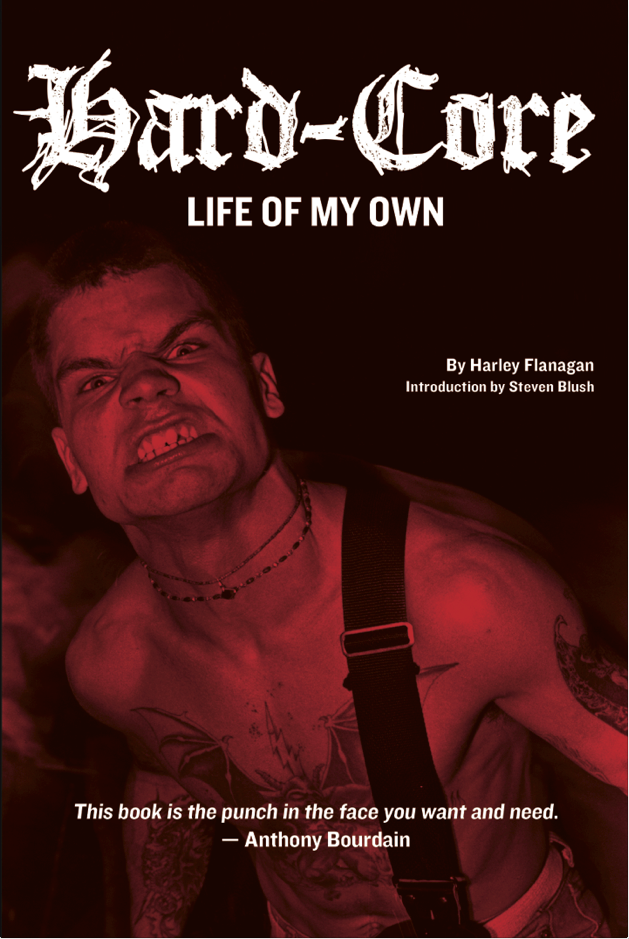 Tuesday Oct 04, 2016
7:00 pm - 9:00 pm
THE POWERHOUSE ARENA [Dumbo]
37 Main Street
Brooklyn, NY 11201
For more information, please call 718.666.3049
RSVP appreciated: RSVP@powerHouseArena.com
-or-
Please fill out the "Bookings" form at the bottom of this page.
---
Harley Flanagan, the founder and bassist of the hardcore punk band, The Cro-Mags, launches his new memoir, Hard-Core: Life of My Own, about his life in the early punk rock scene.
About Hard-Core:
Harley Flanagan provides a fascinating memoir: a homeless child prodigy and family friend of Andy Warhol and Allen Ginsberg, at a young age he became close to many stars of the early punk rock scene like Joe Strummer of The Clash and was taught to play bass by members of the famed black punk band Bad Brains. He went on to start the notorious hardcore band Cro-Mags.
From the memoir's introduction by American Hardcore's Steven Blush: "Harley Flanagan is not like you or me. Most of us grew up in relative safety and security. Harley came up like a feral animal, fending for himself in the '70s Lower East Side jungle of crime, drugs, abuse and poverty. By age 10 he was a downtown start at Max's Kansas City and CBGB, drumming in his aunt's punk band The Stimulators, and socializing with Blondie's Debbie Harry and Cleveland's Dead Boys. Everyone thought it was so cute, but it wasn't."
Harley was never shy: making friends with important figures like Lemmy Kilmister of Motörhead, defending himself in street battles, and, most recently, finding media play and court battles after former band members betrayed their one-time friend and bandmate.
"Harley Flanagan's incredible story is not just the history of New York hardcore, of which he is a founding father, but a history of New York itself.  It's all here, an amazing series of unlikely coincidences, catastrophes, accomplishments and associations.  Chances are if it happened in New York and it was important and interesting Harley Flanagan was somewhere in the room.  If you car anything about music history, punk rock, hardcore or just a ripping good story, this book is the punch in the face you want and need." ⎯ Anthony Bourdain
About the Author:
Harley Flanagan
According to the The New York Times, "Few bands were as energetic as the Cro-Mags during the heyday of the Lower East Side hard-core scene in the mid- to late 1980s.
Their first record, "The Age of Quarrel," featured an illustration of a mushroom cloud on the cover and driving songs with shouted lyrics about existential fear and the limits of anarchism. In many ways the songs were a reflection of the world as seen by Mr. Flanagan, who left school at an early age and began hanging out on the decaying streets of the Lower East Side, where rent was cheap, abandoned buildings proliferated and the drug trade flourished."
Age of Quarrel (1986) the Cro-Mags first album, ranks among the Top 20 Hardcore Albums in History (at #8). "Age of Quarrel  is the last great album of hardcore's first wave and the opening salvo of its second," said LA Weekly." There is no band that changed hardcore's direction more than the New York-based, Hare Krishna-influenced 'Mags.
"Led by kinetic frontman John "Bloodclot" Joseph and the inimitable Harley Flanagan … provided the template for post-1986 hardcore. They were also, notably, the first band to have a video on MTV featuring moshing and stage diving." 
Harley is a tough, "take no bullshit"-type of guy, according to LA Weekly. "But he's also the kind of person you wouldn't hesitate to let teach your child about chokeholds and joint locks.
Harley is known as "Professor Harley" to his students at Renzo Gracie Academy in New York City, where he teaches Brazilian Jiu-Jitsu. 
What is Jiu-Jitsu? "According to the last days of the 19th century," said Renzo Gracie, "Some Jiu-Jitsu masters emigrated from Japan to other continents, teaching the martial arts as well as taking part in fights and competitions. Mitsuyo Maeda was one such master.
Harley started training under Master Renzo Gracie in 1995 and trains his students at the Midtown academy on the techniques of Brazilian Jiu-Jitsu, grappling, self-defense, strength, and endurance.
 Harley's first book was a collection of illustrations and stories he created when he was seven years old, and published when he was nine, with an introduction by Allen Ginsberg.
RSVP
Bookings are closed for this event.