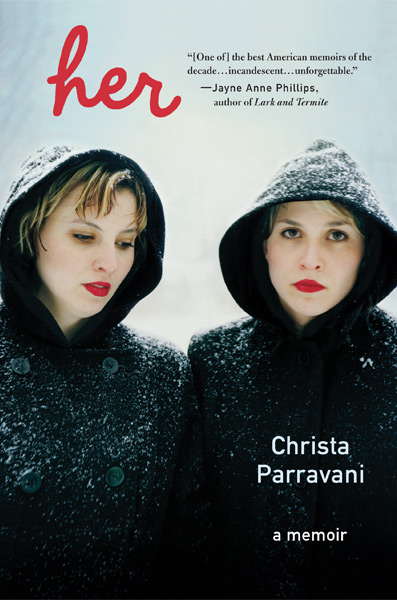 Tuesday Mar 05, 2013
7:00 pm - 9:00 pm
THE POWERHOUSE ARENA [Dumbo]
37 Main Street
Brooklyn, NY 11201
For more information, please call 718.666.3049
RSVP appreciated: RSVP@powerHouseArena.com
-or-
Please fill out the "Bookings" form at the bottom of this page.
---
Christa Parravani discusses her heartbreaking memoir with husband and fellow memoirist Anthony Swofford (Jarhead).
About the Book:
Cara, Christa's identical twin, used to call Christa "Her." So close were these sisters that they often had a hard time differentiating which memories belonged to the other and which experiences belonged to each alone. Their link went beyond siblinghood, beyond sisterhood, beyond friendship. Raised up from poverty by a determined single mother, the gifted and beautiful twins were able to create a private haven of splendor and merriment between themselves and then earn scholarships to a prestigious college, begin careers as artists (Christa, as a photographer; Cara, a writer), and find love in young marriages. But, when Cara was brutally raped at the age of twenty-four, she all but abandoned her robust and promising life and spiraled down into a deep depression, abusing both illegal and prescription drugs.
Over the next half dozen years, Christa fought to save Cara, often times risking her professional obligations, her relationship with her husband, and even her own sense of sanity. During this period Christa was also attending graduate school for an MFA in photography. She found a way to both care for her sister and finish her photography thesis by taking a series of photos featuring her and Cara entitled "Kindred." Clad in matching cloaks – a costume born out of necessity because Cara was too depressed to get out of her pajamas – Christa chose breathtaking backdrops to showcase their intimate relationship. Through images of herself and her sister standing hand-in-hand, kissing, or even positioned at different ends of the frame, Christa conveyed their intertwining souls and unbreakable bound.
When Cara lost her battle with drugs, Christa felt she had lost part of her soul. To restore her sister's presence, Christa began mimicking Cara's personality. Soon, she found herself in the same dire straits as her sister had been in prior to her death. As Christa writes in HER "I got ready to die. I starved. I lied, and I swallowed pills. I wet my marital bed. I cut my arms with a knife. I divorced."
Ultimately, though, Christa endured, and then made a conscience decision to live. She began to write, and through writing she further untangled her spirit from that of her sister. "It was my task in grieving her to unravel the tight, prickly braid of memory rope we'd woven – to unwind and unwind until I was able to take my strand and lay it out beside the length that was hers."
Exquisitely written, mesmerizingly rich and true, Christa Parravani's account of being left one half of a whole and, ultimately, of healing is informative, heart-wrenching, and unforgettably beautiful.
About the Author:

Christa Parravani is a writer and photographer. Her photographs have been exhibited internationally, and are represented by the Michael Foley Gallery in New York City and the Kopeikin gallery in Los Angeles. She has taught photography at Dartmouth College, Columbia University, and UMass, Amherst. She earned her MFA in Creative Writing from Rutgers. She lives in Brooklyn with her husband, writer Anthony Swofford, and their daughter.
About Anthony Swofford:
Anthony Swofford is the author of the memoirs Hotels, Hospitals, and Jails and Jarhead, and the novel Exit A. A film adaptation of Jarhead directed by Sam Mendes was released in 2005. Swofford's writing has appeared in Harper's, the New York Times Magazine, The Guardian, and Slate, among other places. He has taught at the University of Iowa Writers' Workshop and Lewis and Clark College. He lives in Brooklyn with his wife, Christa Parravani, and their daughter.
---
For more information, please contact
Julie Buntin, Events Coordinator
email: julie@powerhousearena.com
powerHouse Arena, 37 Main Street, Brooklyn, NY 11201
tel: 212-604-9074 x109
RSVP
Bookings are closed for this event.