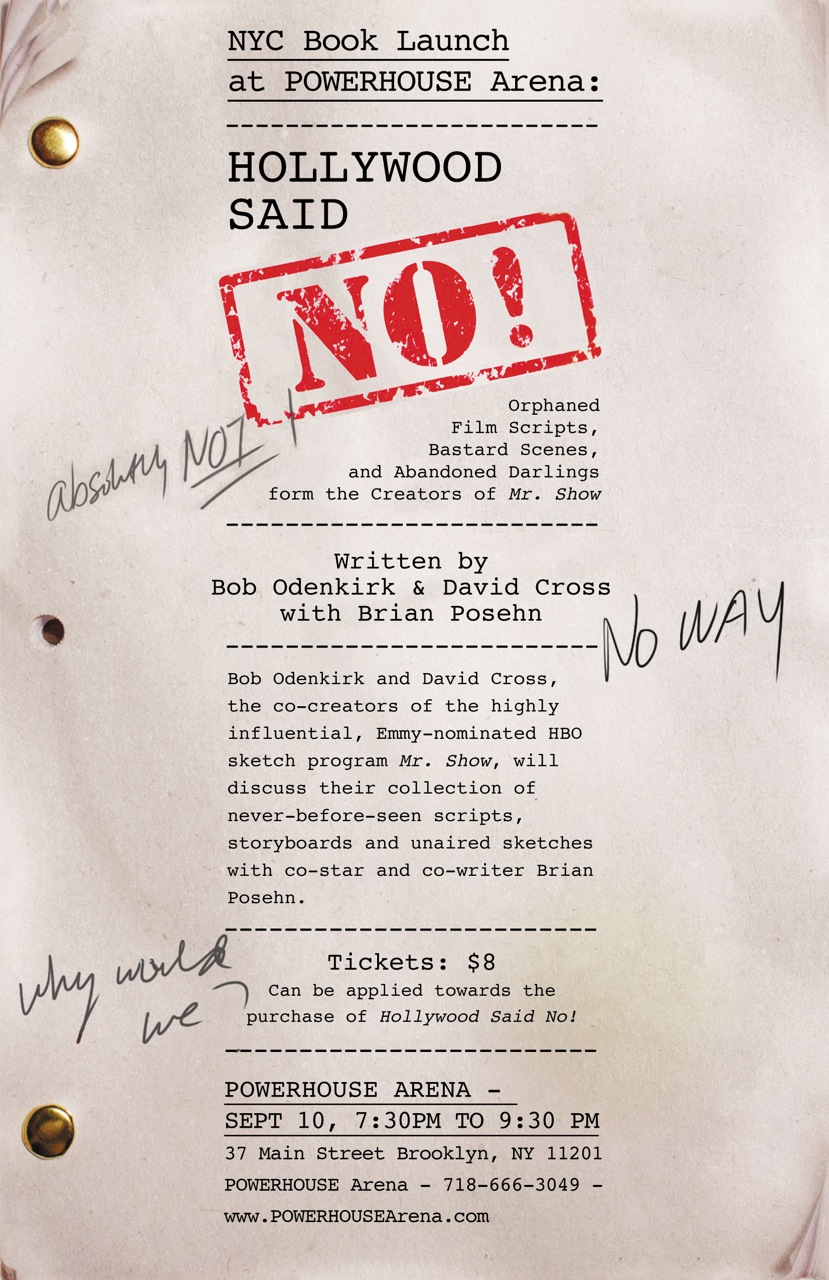 Tuesday Sep 10, 2013
7:30 pm - 9:30 pm
THE POWERHOUSE ARENA [Dumbo]
37 Main Street
Brooklyn, NY 11201
For more information, please call 718.666.3049
Tickets: $8 (can be applied towards purchase of Hollywood Said No!)
Available for purchase here.
TICKETS ARE NOW SOLD OUT
Doors will open at 6:00pm and seating will be available on a first-come, first-serve basis – a receipt or photo ID is required for entry. Please note the authors will not sign DVDs, posters, memorabilia, etc. Authors will only sign copies of Hollywood Said No! that are being purchased at the Arena; the ticket value of $8 can be applied to the purchase. We'll also have backlist titles from David and Brian available for purchase.
---
Bob Odenkirk and David Cross, the co-creators of the highly influential, Emmy-nominated HBO sketch program Mr. Show, will discuss their collection of never-before-seen scripts, storyboards and unaired sketches with co-star and co-writer Brian Posehn. Tickets are $8 and can be applied as credit towards the purchase of a copy of the book. The authors will not sign anything other than copies of HOLLYWOOD SAID NO!
About HOLLYWOOD SAID NO!:
This fall, Bob & David are finally back together after all these years (and embarking on their first official tour together since a sold-out national tour in 2002 following the end of Mr. Show, their highly influential, Emmy-nominated HBO sketch program) with a collection of never-before-seen scripts that were so funny they made Hollywood wet its ninny-pants. HOLLYWOOD SAID NO! reveals the amazing full-length scripts for Bob and David Make a Movie (fleshed out with brand-new storyboards by acclaimed artist Mike Mitchell) and Hooray For America!: a satirical power-house indictment of all that you hold dear.
And there's more! HOLLYWOOD SAID NO! will also include a section of "constructive" notes written by a "studio executive," a bonus section of orphaned sketch ideas from the Mr. Show days and beyond, suitable for performance by church groups that aren't all "koo-koo" about religion. And last but not least (well, possibly least), Bob & David provide a section of reminiscences to add context and back story on what went right and what went wrong. For the first time ever, take a peek at the scripts that didn't get the green light from Hollywood and ponder a world we can only dream about.
About the Authors:
Bob Odenkirk and David Cross created, wrote and starred in the highly influential, Emmy-nominated sketch program, Mr. Show, which aired for four seasons on HBO from 1995 to 1998.
Bob Odenkirk is an actor, writer, film director and comedian who wrote for Saturday Night Live and The Ben Stiller Show, amongst others. He writes humor pieces for The New Yorker and is currently starring on the Emmy award-winning show Breaking Bad.
David Cross is an actor, writer and comedian known for his stand-up comedy as well as roles in film and television, including the character of Tobias Fünke on Arrested Development.  David wrote, produced, directed and starred in the acclaimed IFC show The Increasingly Poor Decisions of Todd Margaret. He is also the New York Times bestselling author of I Drink for a Reason.
Brian Posehn has most recently been seen on Comedy Central's popular show, The Sarah Silverman Program and on tour as one of the original members of the "Comedians of Comedy." Besides writing and performing on HBO's acclaimed Mr. Show, he has appeared in sitcoms such as Just Shoot Me, Seinfeld, NewsRadio, Everybody Loves Raymond, and Friends.
---
For more information, please contact
Justin Levine
email: justin@powerhousearena.com
powerHouse Arena, 37 Main Street, Brooklyn, NY 11201
tel: 212-604-9074 x109