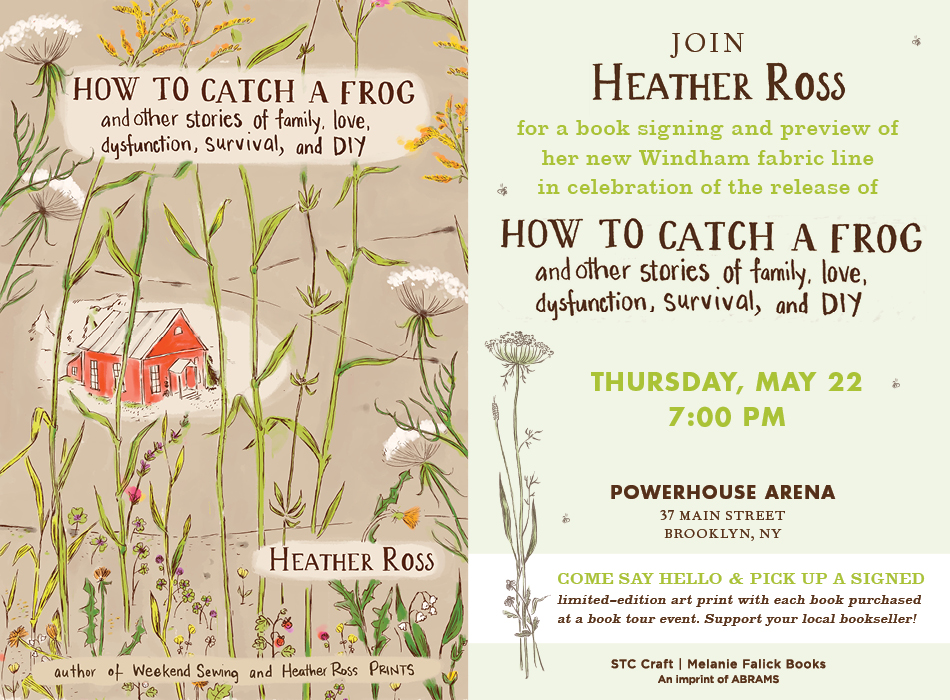 Thursday May 22, 2014
7:00 pm - 9:00 pm
THE POWERHOUSE ARENA [Dumbo]
37 Main Street
Brooklyn, NY 11201
For more information, please call 718.666.3049
RSVP appreciated: RSVP@powerHouseArena.com
-or-
Please fill out the "Bookings" form at the bottom of this page.
---
In her memoir, the fabric designer shares stories about her unconventional background and growing up with an eccentric family in rural Vermont. There will be a preview of her new Windham fabric line, and limited edition art prints will be given away with every book purchase!
About How to Catch a Frog:
Much of Heather Ross's creative work as a fabric designer, illustrator, and crafter has been inspired by having been born into but rarely actively supervised by, an eccentric family of artists and idealists in a rural corner of Vermont during the 1970s. Her environment was defined by stunning natural beauty, innovative living, and daily lessons in self-reliance. It also included equal parts of general dysfunction, a self- imposed but nearly inescapable poverty, and little exposure to basic life skills that would prepare her for The Real World.
In How to Catch a Frog, Ross looks back at her childhood and recounts how she found her own place in the adult world by depending on the unconventional set of life skills that her unique upbringing gave her.
With every essay, Ross includes her signature illustrations and with some she shares a corresponding DIY project or lesson: how to make coffee logs for the fire, how to build a teepee out of plastic flowers, how to fend off a bear, how to start a children's clothing line, how to not turn into your mother, and, of course, how to catch a frog.
Ross's lively, funny, and sometimes heartbreaking memoir is a testament to the richness and strength of the creative spirit. Readers are sure to fall in love with How to Catch a Frog and appreciate—and recognize—the lessons it shares about life, love, family, dysfunction, survival, and DIY.
About the Author:
Heather Ross is the author of Weekend Sewing and Heather Ross Prints, a fabric designer, and an illustrator of children's books. She lives in New York City and the Catskills.
---
For more information, please contact
Justin Levine
email: justin@powerhousearena.com
powerHouse Arena, 37 Main Street, Brooklyn, NY 11201
tel: 212-604-9074 x109
RSVP
Bookings are closed for this event.