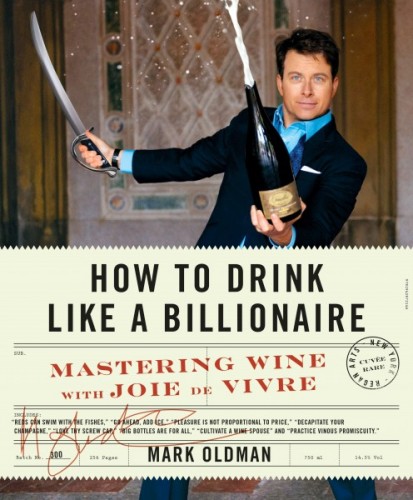 Tuesday Oct 18, 2016
7:00 pm - 9:00 pm
POWERHOUSE @ the Archway
28 Adams Street (Corner of Adams & Water Street @ the Archway)
Brooklyn , NY 11201
For more information, please call 718.666.3049
RSVP appreciated: RSVP@powerHouseArena.com
-or-
Please fill out the "Bookings" form at the bottom of this page.
---
Learn all the secrets of the rich, with this guide to drinking and enjoying wine by Mark Oldman, one of the leading wine personality. How do the 1% drink? Any way they want!
** PLEASE NOTE THAT THIS EVENT WILL BE HELD AT 28 ADAMS STREET CORNER OF WATER IN DUMBO**
About How to Drink Like a Billionaire:
Discover the mysteries of how the 1% drink. Mark Oldman, one of America's most popular wine experts, demystifies the secrets of the wine world, so you can drink, enjoy, and savor wine better—and cheaper.
REDS CAN SWIM WITH THE FISHES
CHOOSE THE CHEAPEST, (It may be the best!)
DECAPITATE YOUR CHAMPAGNE
ORDER A BOTTLE WHEN DINING ALONE
"How to Drink Like a Billionaire is not just the best guide for drinking wine stylishly, but Mark Oldman offers his readers a comprehensive yet fun approach to one of our favorite topics. It's colorful, charismatic and innovative from beginning to end!"
—Marcus Samuelsson
"Mark Oldman's How to Drink Like a Billionaire brilliantly demystifies wine like no book has before, teaching us all to drink passionately, drink smart, and drink with utter confidence. With his usual ease and wit, he has written a guide to wine (and life) for OUR generation. And we will all drink better for it!"
—Gail Simmons, Food Critic, TV Host and Author of Talking With My Mouth Full
Springing from the packed-to-the-rafters success of his "Drink Like a Billionaire" seminars at the nation's top food festivals, renowned wine personality and acclaimed author Mark Oldman—a two-time winner of the Georges Duboeuf Best Wine Book of the Year Award—reveals HOW TO DRINK LIKE A BILLIONAIRE without spending like one. Visit https://bit.ly/markoldman for a preview of the book.
In 132 fresh, funny, short, and scintillating chapters, Oldman—whom Publishers Weekly called "the ideal mix of wine connoisseur, showman, and everyday dude"—spills all on how to imbibe like an insider while avoiding the pretension, snobbishness, and geekiness that still surround so much of wine. From detailing little-known ways to hone in on the best values to the secret maneuvers you can make to master wine in restaurants, shops, and at home, HOW TO DRINK LIKE A BILLIONAIRE will have you approaching your wine life with the shrewdness and style of the one percent.
With Mark's insider eye, vivid visuals, and breezy, colorful prose, readers will learn:
How to zero in on moderately priced bottles that drink way above their cost.

Why the price of wine is not proportionate to quality

How to increase your drinking pleasure with, among other things, big bottles, a Breathalyzer, a Spanish porron, and more

Why red wine

can

"swim with the fishes"

Can't tell your Cabernet Franc from Carménère? In a first for a wine book, Oldman ranks the most satisfying alternatives to the major wine styles

Crave Margaux on a Merlot budget?  Oldman reveals delicious, affordable substitutes for the world's most iconic wine

How to swirl wine for maximum effect

Which wine flaws are fine to overlook

How to cultivate a "wine spouse"

Why you should giggle at overly specific food and wine matches

Techniques to guard against overzealous pourers and bottle stranders

How to avoid being a victim of wine trends

What to say about that glass of Pinot Noir: Oldman provides fascinating glossaries of insider lingo and French expressions that will help readers convey instant savoir-faire

The best (and worst) wines to give as a gift

And much more!
About the Author:

Mark Oldman is one the country's leading wine personalities—and, that rarity, a wine expert who is on the side of anyone who wants to enjoy wine more. Bon Appètit described his charismatic style as "winespeak without the geek." Twice the winner of the Georges Duboeuf Best Wine Book of the Year Award, his books—Oldman's Guide to Outsmarting Wine and Oldman's Brave New World of Wine —have been called the "perfect book" by the Wall Street Journal and the "perfect primer" by The New Yorker. Oldman's sold-out appearances at the country's top gastronomic festivals are considered must-see events in the world of food and wine. Aspen magazine, in fact, recently named him the third best speaker on food and wine in a ranking that included Jacques Pépin, Andrew Zimmern, and Marcus Samuelsson. He has been the wine expert for Pottery Barn, lead judge in the PBS television series "The Winemakers," and the wine correspondent for the Food Network. Keenly interested in innovating in the areas of education and consumer advocacy, Oldman also founded and ran the career portal Vault.com for a decade until its successful sale to a private equity firm. A licensed attorney and three-time Stanford graduate, he serves or has served on five major boards of the university, including its Board of Trustees. For more information, visit www.MarkOldman.com
RSVP
Bookings are closed for this event.