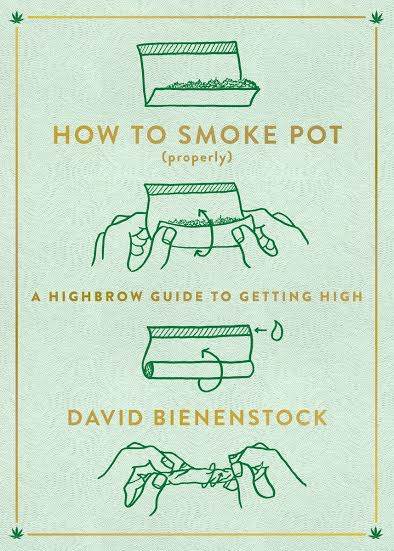 Wednesday Apr 20, 2016
7:00 pm - 9:00 pm
THE POWERHOUSE ARENA [Dumbo]
37 Main Street
Brooklyn, NY 11201
For more information, please call 718.666.3049
RSVP appreciated: RSVP@powerHouseArena.com
-or-
Please fill out the "Bookings" form at the bottom of this page.
---
Celebrate the holidaze with VICE columnist and former High Times editor David Bienenstock's new book, which charts the course for this bold, new, post-prohibition world.
About How to Smoke Pot (Properly):
Once demonized as "the Devil's lettuce" and linked to all manner of deviant behavior, cannabis sativa has lately been enjoying a long-overdue renaissance. So now, with the squares at long last ready to rethink pot's place in polite society, and eleven US states considering legalization in 2016, VICE columnist and former High Times editor David Bienenstock charts the course for this bold, new, post-prohibition world in How to Smoke Pot (Properly) — a highbrow guide to getting high.
With plenty of stops along the way for "pro tips" from his friends in high places, including cannabis celebrities and thought leaders of the marijuana movement, Bienenstock covers everything from the basics of blazing, to how Mary Jane makes humans more creative and collaborative, nurtures empathy, catalyzes epiphanies, enhances life's pleasures, promotes meaningful social bonds, facilitates cross-cultural understanding, and offers a far safer alternative to both alcohol and many pharmaceutical drugs. Plus, informative answers to burning questions ranging from "How can I land a legal pot job?" to "Should I eat a weed cookie before boarding the plane?"
The many hot topics explored in How to Smoke Pot (Properly) include:
Farm to Pipe

: cultivation and connoisseurship of the world's highest grade cannabis, concentrates, edibles, topicals, "dabs," and more, including how to identify, evaluate, appreciate, and ingest top strains like OG Kush and Sour Diesel.

Timeline of Marijuana History

: A closer look at the hidden history of how a highly beneficial plant ever ran afoul of the law, and how a century-long civil disobedience campaign is now set to re-legalize it worldwide.

Miracle Drug:  

A comprehensive guide to marijuana's unique medicinal compounds, known as cannabinoids, and the many serious and common ailments they can effectively treat, according to leading researchers and practitioners, including cancer, Alzheimer's, epilepsy, MS, PTSD, insomnia, anxiety, and chronic pain.

Munchies

: Expert advice on "How to Make Marijuana-Infused Food (Without Wasting Weed or Freaking Out)" including recipes for a classic pot brownie, Nonna Marijuana's Chicken Pot-Chiatori and an "elevated" version of the traditional Grateful Dead parking lot goo-ball.

Pot Etiquette

: Tips on pot etiquette and cannabis customs covering everything from "How to Throw a Weed-Themed Dinner Party" and "How to Get a Friend High (Properly) for the First Time," to "What to Do (And What Not to Do) When You're Too Damn High in Public."

The High Road:  

An entire chapter is devoted to marijuana travel in the age of legalization, including advice from PBS/NPR travel guru Rick Steves on how to get the most out of "flying the red eye" by seeing "high as a destination."

Couples who Blaze Together, Stay Together:  

Learn how getting high helps couples increase intimacy, foster communication and promote empathy. Plus, a lively investigation of whether or not marijuana is an aphrodisiac, and "Six Rules for Sexier Stoned Sex."
Pro Tips:

Sage council on proper pot smoking from Willie Nelson, Melissa Etheridge, Steve Martin, Sarah Silverman, Bill Maher, David Bowie, Dave Chappelle and other cannabis-friendly celebrities.
Weed by the Numbers:  

Colorado's first year of recreational marijuana sales brought in $60 million in tax revenue for the state. Since legalization, crime rates, unemployment, and traffic fatalities have all gone down.

Will Work for Weed:

An insider's guide to the rapidly emerging global cannabis industry, including tips for starting a cannabis career, and how marijuana could possibly transform capitalism.
Legalize It:  

Guidance on how to join the marijuana movement and help legalize the herb.
Written by a true insider with nearly fifteen years of experience as a dedicated marijuana reporter and a leading figure in cannabis culture, How to Smoke Pot (Properly) is irreverent and intelligent with a focus on pot's new post-prohibition paradigm. A perfect read or gift whether you've "been smoking tea longer than Willie Nelson or just took your first puff last week."
About the Author and Moderators:

David Bienenstock is the author of the bestselling Official High Times Cannabis Cookbook, and is the former West Coast editor of High Times magazine. He's recently grown a following as a frequent contributor and video host/producer for VICE Media, where he writes the Weed Eater column and produces the video series "Bong Appetit." The master of all things cannabis, he has appeared as an expert on NPR, Fox News, MSNBC, CNN, and HBO, and has been quoted in Salon, GQ, Fast Company, Adweek, Playboy and The Nation.
Krishna Andavolu is a correspondent and producer at VICE Media, as well as the host of the investigative marijuana series Weediquette, which will air on the new Viceland cable network starting in Spring 2016. He once smoked a joint while interviewing the president of Uruguay.
Abdullah Saeed is a video host/producer at VICE, where he's the star of Bong Appetit, which explores the intersection of cannabis and cuisine, and writes a regular weed column.
RSVP
Bookings are closed for this event.