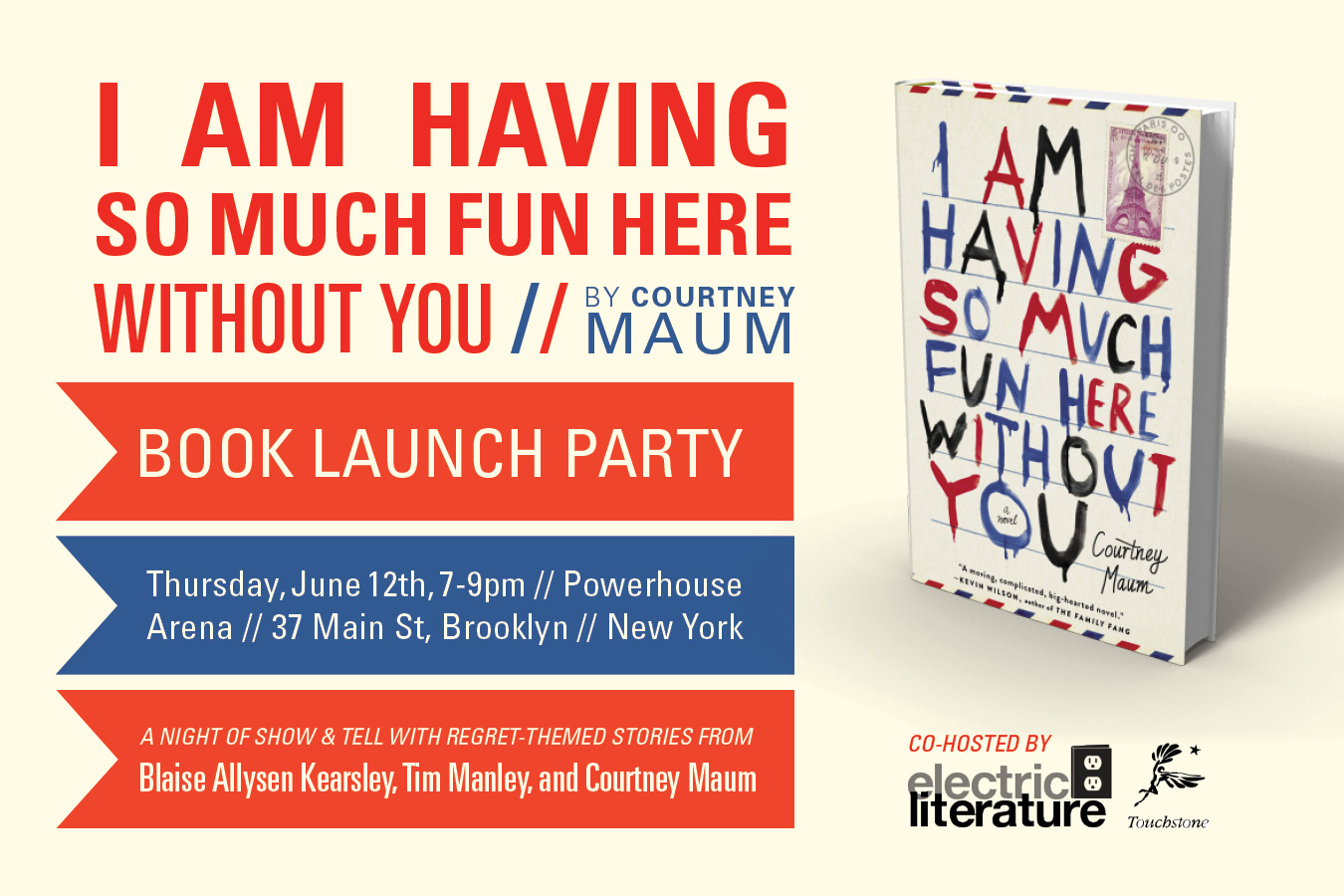 Thursday Jun 12, 2014
7:00 pm - 9:00 pm
THE POWERHOUSE ARENA [Dumbo]
37 Main Street
Brooklyn, NY 11201
For more information, please call 718.666.3049
RSVP appreciated: RSVP@powerHouseArena.com
-or-
Please fill out the "Bookings" form at the bottom of this page.
---
Where'd You Go, Bernadette meets Beautiful Ruins in Maum's reverse love story debut. Maum, Blaise Allysen Kearsley, and Tim Manley will all read regret-themed stories.
Co-hosted by Touchstone and Electric Literature.
Sponsored by H.I.P Reading Series and Nowhere Magazine.
About I Am Having So Much Fun Here Without You:
Once in a while, a writer comes along who has the rare ability to make us laugh, and cry.  Courtney Maum proves that she can do so in the same sentence with her stunning debut novel, I AM HAVING SO MUCH FUN HERE WITHOUT YOU.
Set in Paris, with side-trips to London and Rhode Island, Maum's novel is a reverse love story about a failed monogamist's attempts to earn his wife's forgiveness, while ultimately answering the question: Is it possible to fall back in love?
Despite the successful opening of his first solo show in Paris and the support of his brilliant, gorgeous French wife, Anne, British artist Richard Haddon is too busy mourning the sudden loss of his American mistress to appreciate his good fortune.  But when Richard learns that "The Blue Bear"—a painting he originally made for Anne while the deeply-in-love newlyweds anticipated the birth of their first child—has sold, it shocks him back to reality.  Rudderless and remorseful, he must reevaluate both the future of his marriage and the trajectory of a career that has recently devolved into the production of uninspired, commercial art.  Following a series of misguided and futile attempts to win Anne back, Richard focuses his creative energy on a provocative art installation to prove to her—and to himself—that he can still be the man she once loved.
Skillfully balancing biting wit with a deep emotional undercurrent, Maum has created the perfect portrait of an imperfect family—and a heartfelt exploration of marriage, love, fidelity, and forgiveness.
About the Author and Participants:
Courtney Maum graduated from Brown University with a degree in comparative literature.  She then lived in France for five years where she worked as a party promoter for Corona Extra, which had everything to do with getting a visa and nothing to do with her degree.  Today, Maum splits her time among the Berkshires, New York City, and Paris, working as a creative brand strategist, corporate namer, and humor columnist.
Blaise Allysen Kearsley is a Brooklyn-based writer, storyteller and photographer, as well as the creator, producer and host of The How I Learned Series. She has appeared on RISK!, The Rejection Show, The Soundtrack Series, The Liar Show, Real Characters, Cringe, Literary Death Match and many others. Between her writing and photography she has been published in The Nervous Breakdown, VICE Magazine, New York Magazine, The Morning News, Gawker, Gothamist, an-mag, two anthologies and several other places that are perhaps not worth mentioning by name. One time, in 2009, she was awarded a writing residency in Vermont where she got electrocuted and maybe almost killed a horse.
Tim Manley is the writer and illustrator of Alice in Tumblr-land: And Other Fairy Tales for a New Generation, out now from Penguin. He was a raconteur on the Unchained Tour, and his stories have been featured on the Moth Radio Hour and podcast. He is also a mentor with the PEN American Center's Prison Writing Program, a former high school English teacher, and a wedding officiant.
---
For more information, please contact
Justin Levine
email: justin@powerhousearena.com
powerHouse Arena, 37 Main Street, Brooklyn, NY 11201
tel: 212-604-9074 x109
RSVP
Bookings are closed for this event.