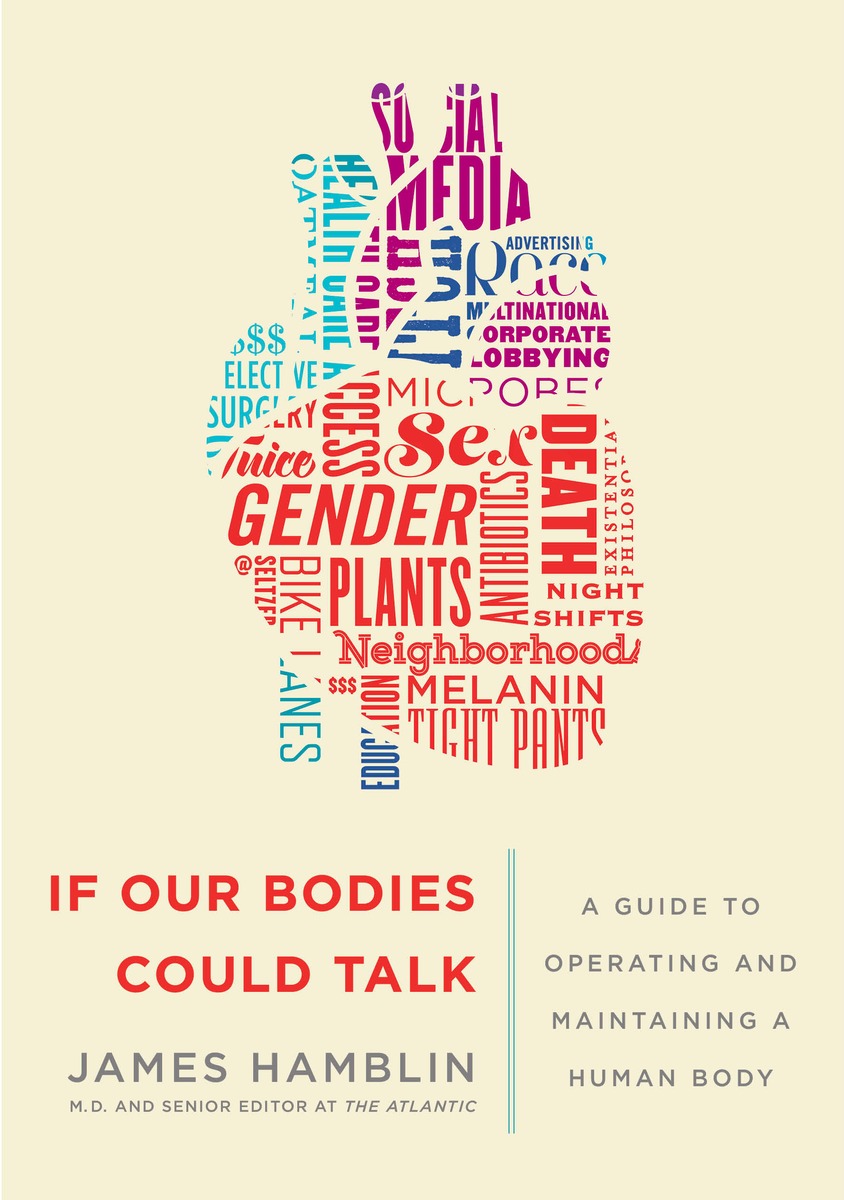 Thursday Jan 12, 2017
7:00 pm - 9:00 pm
POWERHOUSE @ the Archway
28 Adams Street (Corner of Adams & Water Street @ the Archway)
Brooklyn , NY 11201
For more information, please call 718.666.3049
RSVP appreciated: RSVP@powerHouseArena.com
-or-
Please fill out the "Bookings" form at the bottom of this page.
For more information, please call 718.666.3049
---
Offering advice that's both entertaining and enlightening, James Hamblin's IF OUR BODIES COULD TALK speaks to readers who are looking to learn quirky facts about themselves while also discovering the complex intersections between physiology, healthcare, and social justice.
About If Our Bodies Could Talk:
From Senior Atlantic editor James Hamblin, "the most delightful MD ever" (BuzzFeed), comes IF OUR BODIES COULD TALK: A Guide to Operating and Maintaining a Human Body — a witty and comprehensive illustrated handbook for tackling life's most pressing health concerns and curiosities, ranging from sex and aging to wellness and nutrition.
Many people would like to know more about their bodies. Not very many people, however, have the patience to read a medical textbook about human anatomy and physiology. That's where James Hamblin comes in. Hamblin is a doctor who works in media. After graduating from medical school at Indiana University in 2009, he completed three years of medical residency before joining The Atlantic to help develop their health section. He is a writer and senior editor there today, as well as the host of "If Our Bodies Could Talk," an original web series about offbeat topics in health and wellness.
In his role as a medical authority, Hamblin receives many questions. For instance — how much sleep do I need? Are we meant to eat meat? Or, is my cell phone going to kill me? IF OUR BODIES COULD TALK is structured around responses to those kinds of questions, with answers illustrated through stories drawn from years of original research as well as discussions and interviews with healthcare professionals, scientists, and medical practitioners around the country, culled from Hamblin's years of medical training and career as a journalist.
Through responses that address concerns both practical and paranoid, IF OUR BODIES COULD TALK offers an FAQ in six sections about human bodies that also examines the larger, often overlooked structural issues tangled in these topics, such as affordable healthcare, homelessness, and the environment. His responses examine not just how our bodies work, but also why these processes matter socially and why we think about them in particular ways. His approach informs a healthy lifestyle by quelling concerns — putting everything that's "toxic" or "killing us" into context so that readers can relax and enjoy their bodies.
Featuring original full-color illustrations from artist Hallie Bateman, IF OUR BODIES COULD TALK draws structural inspiration from Why Do Men Have Nipples, but delves more deeply into the nuances of human anatomy. ELLE praised the book, calling it "charming, engrossing, occasionally heartbreaking, and at times political … IF OUR BODIES COULD TALK does not set out to be comprehensive, and yet it feels holistically so — a testament to Hamblin's intelligence and humor."
About the Author:
JAMES HAMBLIN is a writer and senior editor at The Atlantic magazine. He was a 2015 Yale University Poynter Fellow in journalism, and his work has been featured by the New York Times, Politico, NPR, BBC, MSNBC, New York, and The Awl. He was a finalist for the 2015 Webby award for Best Web Personality, and Time has named him among the 140 people to follow on Twitter. He's based in Brooklyn, New York.
RSVP
Bookings are closed for this event.