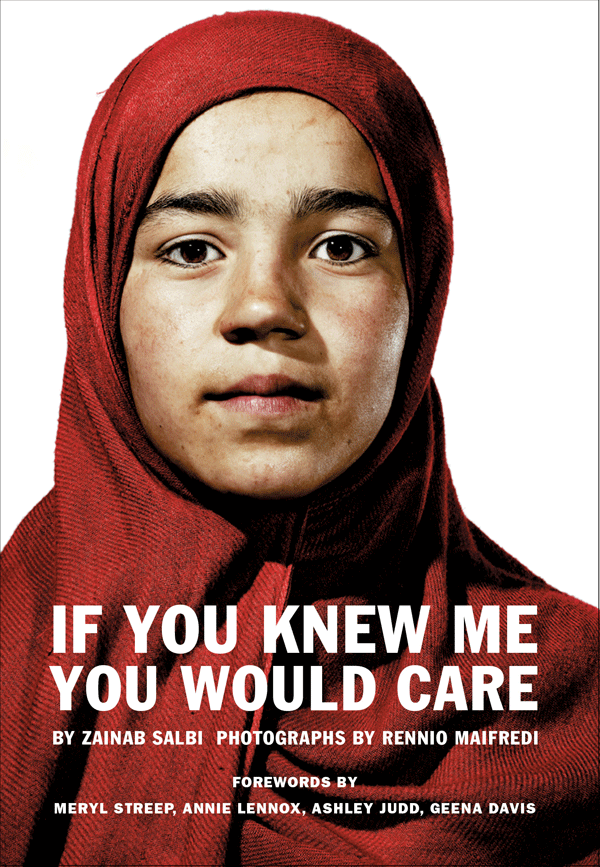 Thursday Feb 28, 2013
7:00 pm - 9:00 pm
THE POWERHOUSE ARENA [Dumbo]
37 Main Street
Brooklyn, NY 11201
For more information, please call 718.666.3049
RSVP appreciated: RSVP@powerHouseArena.com
---
Women's rights activist and Women for Women International founder Zainab Salbi and photographer Rennio Maifredi will lead a slideshow presentation highlighting their experiences traveling together to Afghanistan, the Democratic Republic of Congo, Rwanda, and Bosnia and Herzegovina to seek out women who overcame adversity after being subject to the worst trials individuals must ever face.
---
If You Knew Me You Would Care represents a journey taken to collect the first-person accounts of women who have survived wars, violence, and poverty. The stories go beyond tears and victimhood and reveal joy, love, and forgiveness. Alongside the compelling interviews conducted by Salbi and the photographs taken by Maifredi are forewords by Meryl Streep, Annie Lennox, Ashely Judd, and Geena Davis and a review by Angelina Jolie.
Please click here for more information about the book.
All women featured in the book have been served by Women for Women International. WfWI delivers a tiered, year-long program that begins with identifying those communities that are most socially marginalized and works with women to reach their full potential. Book proceeds will go to Women for Women International. For more information please visit Women for Women International's website: https://www.womenforwomen.org
Zainab Salbi is a women's rights activist, humanitarian, and writer. Salbi is the founder of Women for Women International, an organization providing women survivors of war, civil strife, and other conflicts with the tools and resources to move from crisis and poverty to stability and self-sufficiency. Salbi served as the organization's CEO from 1993-2011. She also authored the bestselling memoir, Between Two Worlds: Growing up in Tyranny; Escaping the Shadow of Saddam with Laurie Becklund (Gotham, 2005) and The Other Side of War: Women's Stories of Survival and Hope (National Geographic, 2006), with photographers Susan Meiselas, Sylvia Plachy, and Lekha Singh. Among her numerous honors, Salbi was named as a "21st Century Heroine" by Harper's Bazaar in 2010. Newsweek, The Guardian, and the Economist Intelligence Unit each named Salbi as one of the most influential and inspirational women in the world in 2011.
Rennio Maifredi is a photographer whose fashion work has been featured in Allure, Vogue, andMarie Claire. He has a particular passion for portrait photography and his work in that area has been featured in The New York Times Magazine, Time, and Wired among others. His work has been exhibited in private collections in New York City. Maifredi was born and raised in Italy and is currently based in New York.