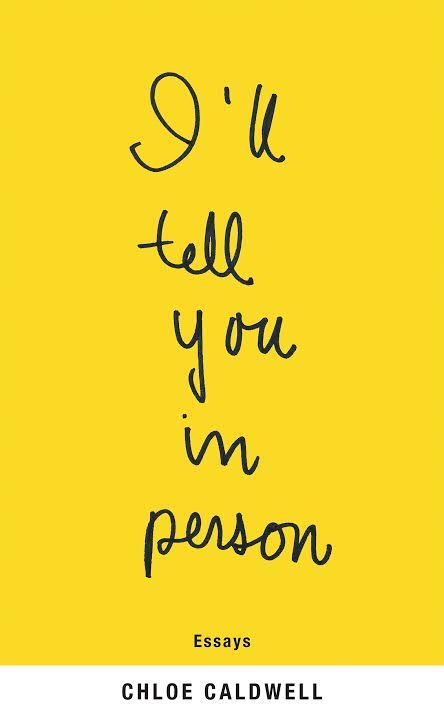 Thursday Oct 06, 2016
7:00 pm - 9:00 pm
POWERHOUSE @ the Archway
28 Adams Street (Corner of Adams & Water Street @ the Archway)
Brooklyn , NY 11201
For more information, please call 718.666.3049
RSVP appreciated: RSVP@powerHouseArena.com
-or-
Please fill out the "Bookings" form at the bottom of this page.
---
Caldwell presents a series of disarmingly frank essays on sexuality, celebrity, T.J. Maxx, acne, off-brand chocolate, almost-little-sisters, Craigslist, wanting to write, and the eternal what-should-I-do-with-my-life.  Writer Ashley Ford joins.
About I'll Tell You in Person:
"I'll read anything Chloe Caldwell writes. She's a rare bird: fearless, dark, prolific, unpretentious, and truly honest."—ELISA ALBERT
"The essays in this collection are as exuberant as they are sad. Her storytelling is as vulnerable as it is bombastic. These essays roll in gangsta, but wear freshly picked daisies in their hair."—ROOKIE
"Nothing's sexier than first love and first intimacies, and Caldwell's brave autobiographical tale twists the trope into a powerful story about unexpectedly falling in love with a woman and the discoveries, sexual and otherwise, that ensue."—TIME OUT NEW YORK
Flailing in jobs, failing at love, getting addicted and unaddicted to people, food, and drugs—I'll Tell You in Person is a is a candid and captivating account of attempts at adulthood and all the less-than-perfect ways we get there. Caldwell has an unsparing knack for looking within and reporting back what's really there, rather than what she'd like you to see.
About the Author and Moderator:

Chloe Caldwell is the author of the novella Women and the essay collection Legs Get Led Astray. Her work has appeared in The Sun, Salon, VICE, Hobart, Nylon, The Rumpus, Men's Health, and LENNY, among others. She teaches personal essay and memoir writing in New York City and lives in Hudson.
Ashley C. Ford lives in Brooklyn by way of Indianapolis, Indiana. She is a writer, editor, and public speaker. Currently, she is writing a memoir (among other things), and co-editing the anthology Not That Bad: Dispatches from Rape Culture with Roxane Gay. Ford has written or guest-edited for The Guardian, ELLE, BuzzFeed, Slate, I-D, Lenny Letter, Matter, Design*Sponge, and various other web and print publications. She's spoken at SXSW, Earlham College, Girls Write Now, and was a featured opening writer on Lena Dunham's Not That Kind of Girl book tour. Ford has been the recipient of a writing residency from Hedgebrook. She teaches writing at The New School and Catapult.Co.
RSVP
Bookings are closed for this event.