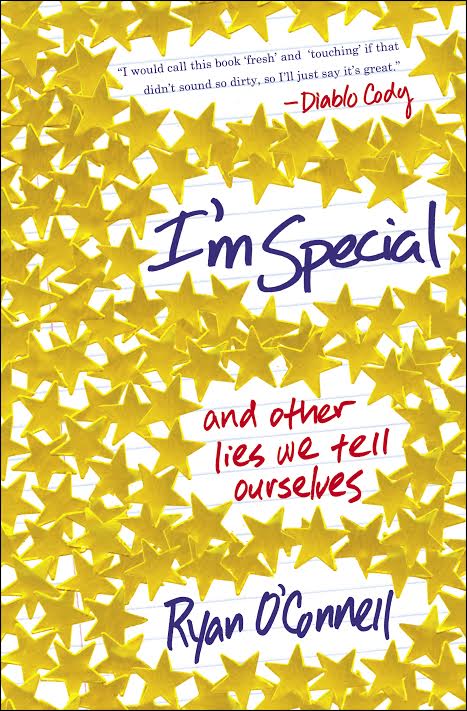 Monday Jun 15, 2015
7:00 pm - 9:00 pm
THE POWERHOUSE ARENA [Dumbo]
37 Main Street
Brooklyn, NY 11201
For more information, please call 718.666.3049
RSVP appreciated: RSVP@powerHouseArena.com
-or-
Please fill out the "Bookings" form at the bottom of this page.
---
In his hilariously candid memoir, Ryan recounts his experiences of just about every Millennial cliché imaginable before slowly limping towards adulthood and realizing what it really means to be special.  Ryan is joined by Big Bang Theory's Jim Parsons.
About I'm Special:
"[O'Connell] has an impressive writerly flow that is addictive and easy to read. … O'Connell's debut is [proves] that habits learned on Twitter and Tinder don't necessarily stunt maturity and can even lead to better understanding of oneself." —Publishers Weekly
Growing up, Ryan O'Connell always knew he was special. It wasn't because he had a pair of helicopter parents hovering over his every move, giving him hugs and kisses every time he breathed in oxygen. Nor was it because he went to a magnet high school that banned sports and only focused on the academic achievements of its extraordinarily gifted and talented student body. Hell, even becoming a blogger and having his whole self-worth be put in the hands of "likes" and retweets didn't have much to do with his uniqueness. No, Ryan always knew he was special because he drooled on people, wore leg braces, and couldn't figure out how to put a key in a door. Diagnosed with cerebral palsy at birth, Ryan was more "special needs" than "special snowflake." He was raised like the boy in the bubble, carefully shielded from the messy realities of life. It came as no surprise then when Ryan entered his twenties and realized he had no idea how to live his life.
What sets Ryan apart in a world full of bull$hit millennial advice is not only his frank and relatable voice, but also his honesty: he knows what it's like to rationalize blowing all your paycheck on a nice dinner and some lame throwaway outfit from For(NEVER) 21, to scroll through Instagram and feel like everyone has their s**t together more than you, to be obsessed with your parents, even though you're instantly annoyed whenever they try to talk to you on the phone. He knows what it's like to always feel like you're one step behind your friends and you're never going to get it.  With humor, he shares the ridiculous failures and hard-earned triumphs of his twenties and invites readers to laugh both with him and at him, and hopefully see a bit of themselves in him.
About the Author and Moderator:
Ryan O'Connell is a writer and professional feeler of emotions. He's written for Thought Catalog, Vice, The New York Times, Medium, and other publications, as well as for MTV's Awkward. He lives in Los Angeles.
Jim Parsons is a television and film actor best known for playing Sheldon Cooper on the CBS sitcom The Big Bang Theory, for which he won an Emmy Award.  He was also the recipient of the 2009 Television Critics Association award.
RSVP
Bookings are closed for this event.