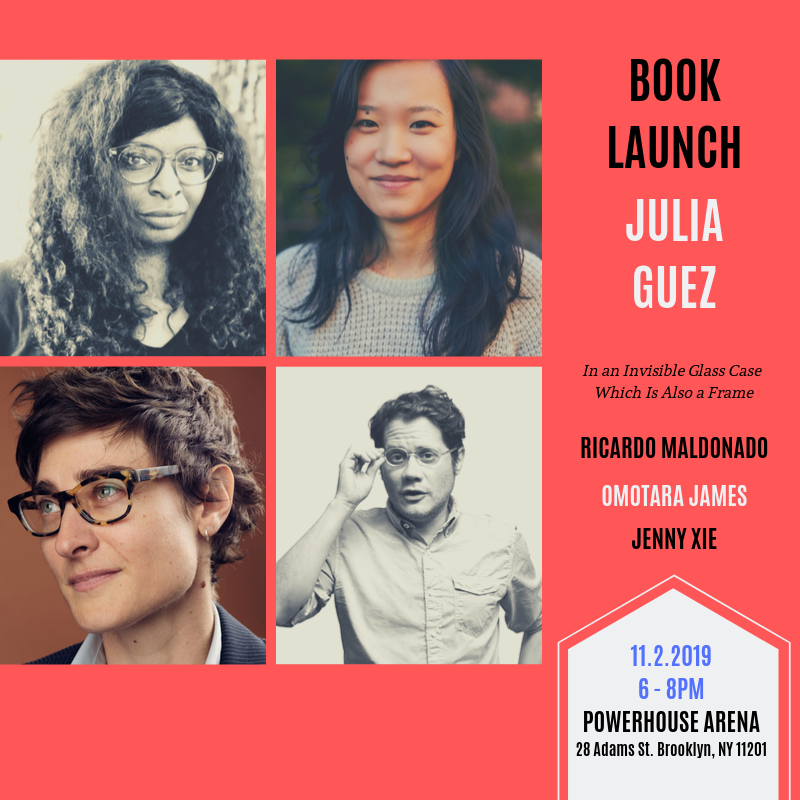 Saturday Nov 02, 2019
6:00 pm - 8:00 pm
POWERHOUSE @ the Archway
28 Adams Street (Corner of Adams & Water Street @ the Archway)
Brooklyn , NY 11201
RSVP encouraged & appreciated.
Please fill out the form at the bottom of this page if you plan on attending. Facebook event found here.
PLEASE NOTE: Submitting an RSVP for this event DOES NOT guarantee entrance. This is a free-access event — entrance will be on a first-come, first-served basis.
---
About the Book.
Julia Guez's In an Invisible Glass Case Which Is Also a Frame offers a glimpse of a post-9/11 America comprising binaries: at once bleak and hopeful, dark and light. It is an America of "Still Lives" with Vicodin, with opioid epidemic, with extreme weather—suggesting an ongoing journey fraught with peril for the most vulnerable among us. "Have we made it across the vast plain of night?" asks one poem. No, not quite. There is more night, but there is singing, too, and the sustenance of rituals to light the way.
Praise for In an Invisible Glass Case Which Is Also a Frame
"In this direct and imaginative debut, Guez weaves disparate images to grapple with the stages of modern life…. This expansive debut helps readers to see the world and the stages of life afresh."
—Publishers Weekly
"'Maybe there is no magic,' Julia Guez ponders early in In an Invisible Glass Case Which Is Also a Frame, but the book quickly shows: there is magic, and it's unmistakable. Guez's poems are fields readers will float through, lifted by a variety of forces—tectonic, narcotic, avian, bodily, cosmic. The effect is remarkable, incantatory, and deeply strange: 'From the moon whose many deaths meant only to console us // a faint promise . . .' Guez has built something remarkable here, a book that feels both totally unprecedented and absolutely inevitable."
—Kaveh Akbar
"To read In an Invisible Glass Case Which Is Also a Frame is to encounter 'trees which must bleed to speak' and 'the self above the body' and 'dust, algebra and fire.' With great precision, Julia Guez arranges the things of the world into richly imagined tableaux. Guez also beautifully arranges thinking and feeling. Her poems are uncannily tethered to interconnectedness and thresholds. This is a remarkable, keen debut."
—Eduardo C. Corral
About The Readers.
Julia Guez
is a poet, writer and translator.  Her debut collection of poetry, 
In an Invisible Glass Case Which Is Also a Frame
, is out this fall from Four Way Books.  Guez has received the "Discovery" / Boston Review Poetry Prize, a Fulbright Fellowship and The John Frederick Nims Memorial Prize in Translation.  She holds degrees from Rice and Columbia.  For the last decade, she has worked with Teach For America.  She also teaches creative writing at Rutgers.  Guez lives in Brooklyn and online at 
www.juliaguez.net
Jenny Xie is the author of Eye Level, which was a recipient of the Walt Whitman Award, and a finalist for the National Book Award, among other honors. She lives in New York.
Omotara James
is the author of the chapbook, "Daughter Tongue," selected by African Poetry Book Fund, in collaboration with 
Akashic Books
, for the 2018 New Generation African Poets Box Set. Born in Britain, she is the daughter of Nigerian and Trinidadian immigrants. A former social worker in the field of Harm Reduction, she has been awarded fellowships from Lambda Literary and Cave Canem Foundation. She is a recipient of the 2019 92Y / Discovery Poetry Prize and a recipient of the 2019 Bread Loaf Katharine Bakeless Nason Award in Poetry. In addition, her work has been recognized with the Nancy P. Schnader Academy of American Poets Prize, two Pushcart Prize nominations and one Best of the Net nomination. Recently, she was selected as a 2019 finalist for the Brunel International African Poetry Prize. Her poetry has appeared in The Paris Review, The Academy of American Poets, Literary Hub, Poetry Society of America, The Recluse, Nat.Brut, Winter Tangerine, No Tokens, Cosmonauts Avenue and elsewhere. She holds an MFA in Poetry from New York University and edits poetry for 
American Chordata
.
Ricardo Alberto Maldonado was born and raised in Puerto Rico. He is the translator of Dinapiera Di Donato's Colaterales/Collateral (Akashic Press/National Poetry Series, 2013) and author of The Life Assignment, forthcoming from Four Way Books in 2020. He has received fellowships from CantoMundo, Queer|Arts|Mentorship and the New York Foundation for the Arts. He lives in New York City.
RSVP
Bookings are closed for this event.