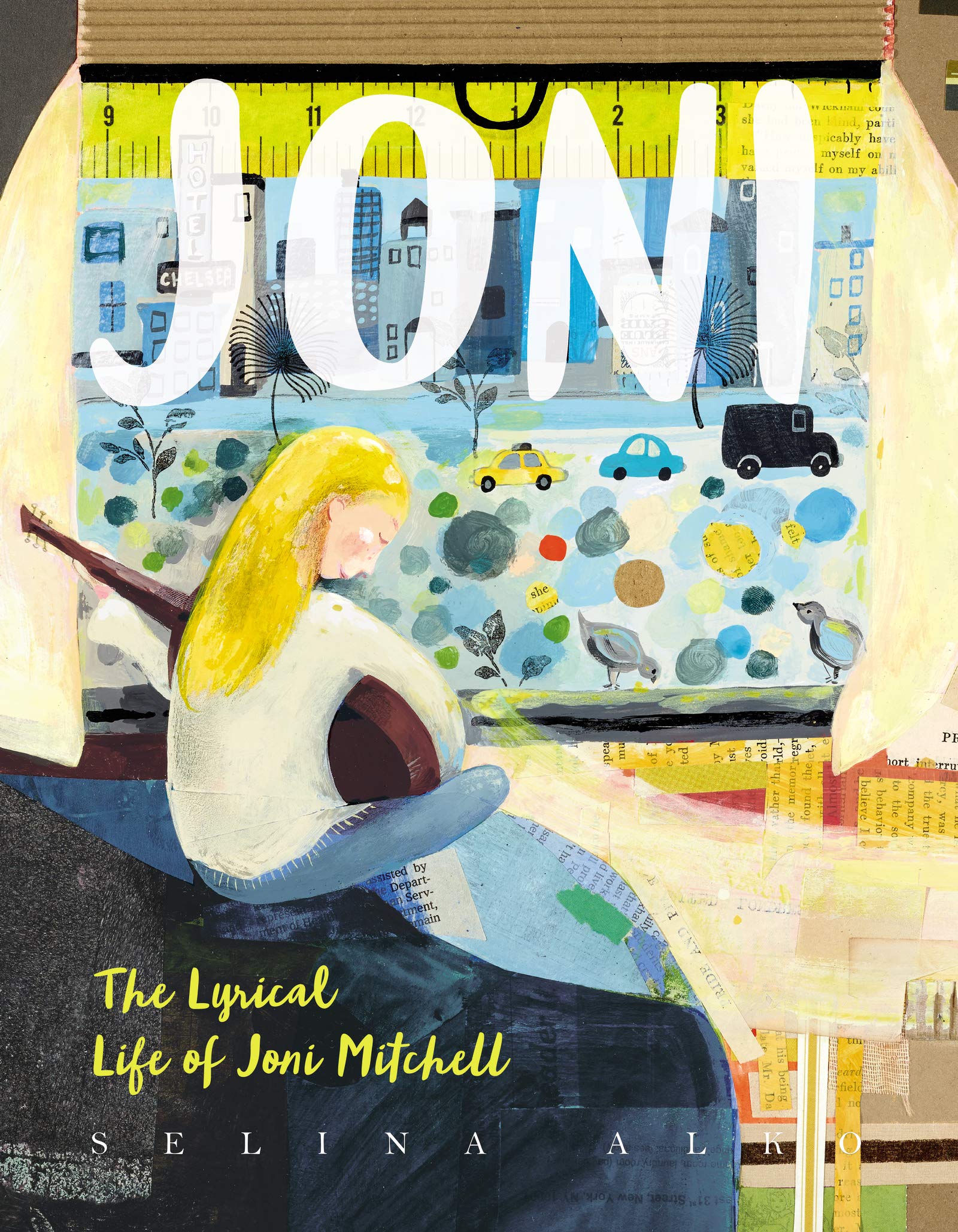 Friday Feb 28, 2020
7:00 pm - 9:00 pm
POWERHOUSE @ the Archway
28 Adams Street (Corner of Adams & Water Street @ the Archway)
Brooklyn , NY 11201
RSVP encouraged & appreciated.
Please fill out the form at the bottom of this page if you plan on attending. Facebook event found here.
PLEASE NOTE: Submitting an RSVP for this event DOES NOT guarantee entrance. This is a free-access event — entrance will be on a first-come, first-served basis.
---
About the Book.
Celebrate the captivating life of Joni Mitchell, the world-famous songbird who used her music to ignite and inspire an entire generation, in this stunning picture book biography from award-winning author and illustrator Selina Alko.
Joni Mitchell painted with words.
Sitting at her piano or strumming the guitar, she turned the words into songs.
The songs were like brushstrokes on a canvas, saying things that were not only happy or sad but true.
But before composing more than two hundred songs, Joni was a young girl from a town on the Canadian prairie, where she learned to love dancing, painting, birdsong, and piano. As she grew up into an artist, Joni took her strong feelings—feelings of love and frustration, and the turbulence that came with being a young woman—and wrote them into vivid songs.
Brought to life by Selina Alko's rainbow collages and lyrical language, this heartfelt portrait of a feminist and folk icon is perfect for parents, children, and music lovers everywhere.
Back matter includes a letter from the author and Joni's full discography.
"An inspired and creative ode to the inimitable Joni Mitchell."—Kirkus
"Layered mixed-media collages featuring cut paper, found images, and colorful smears of paint effectively evoke the richly rendered emotional landscapes of Mitchell's songwriting." —Publishers Weekly
Can't make it?  Pre-order a signed copy here!
About The Author.
Selina Alko grew up in Canada, like Joni Mitchell. And like Joni, Selina has been a painter since she was a child. She lives in Brooklyn, NY where she loves mixing materials together to create artwork for her award-winning children's books. Besides working in her studio, Selina likes to travel, be involved in her community, and spend time with her family. Some of her other books for children include B is for Brooklyn, Daddy Christmas & Hanukkah Mama and The Case for Loving: The Fight for Interracial Marriage.

RSVP
Bookings are closed for this event.