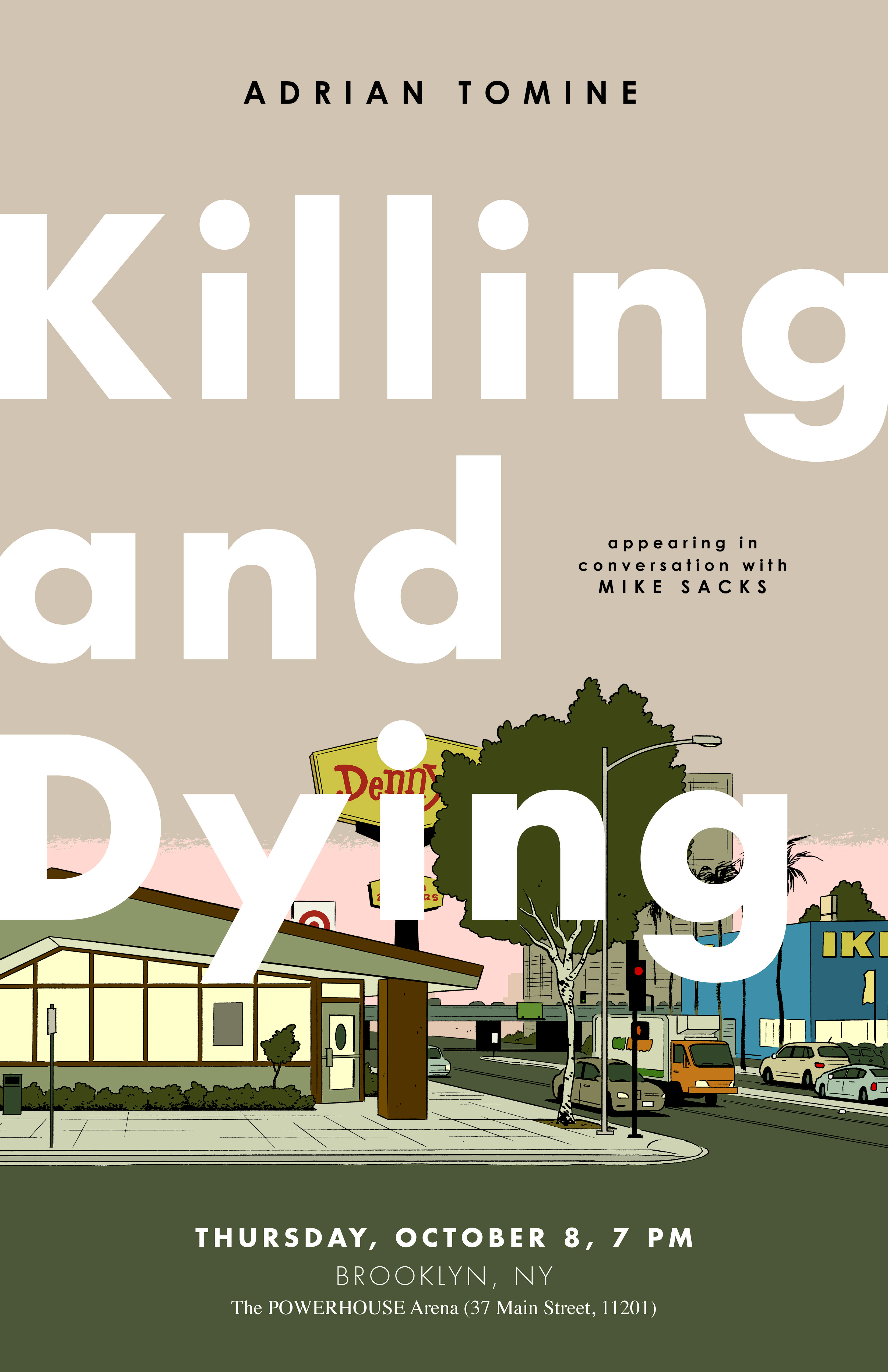 Thursday Oct 08, 2015
7:00 pm - 9:00 pm
THE POWERHOUSE ARENA [Dumbo]
37 Main Street
Brooklyn, NY 11201
For more information, please call 718.666.3049
RSVP appreciated: RSVP@powerHouseArena.com
-or-
Please fill out the "Bookings" form at the bottom of this page.
---
Long time New Yorker contributor and New York Times Notable Book winner brings us his new work a stunning showcase of the possibilities of the graphic novel medium and a wry exploration of loss, creative ambition, identity, and family dynamics.
About Killing and Dying:
"Adrian Tomine can draw, think, write and feel. He sees everything, he knows everything; he's in your apartment, he's on the subway, he's in your dreams. He knows about aging baseball fans and delusional horticulturists, he knows hapless fathers and awkward nerd-girl stand-ups, he knows the single and the married, the mad and the sane, knows when to use a speech a bubble and when silence is enough. He has more ideas in twenty panels than novelists have in a lifetime." —Zadie Smith, author of White Teeth and NW
With this work, Adrian Tomine (Shortcomings, Scenes from an Impending Marriage) reaffirms his place not only as one of the most significant creators of contemporary comics but as one of the great voices of modern American literature. His gift for capturing emotion and intellect resonates here: the weight of love and its absence, the pride and disappointment of family, the anxiety and hopefulness of being alive in the twenty-first century.  "Amber Sweet" shows the disastrous impact of mistaken identity in a hyper-connected world; "A Brief History of the Art Form Known as Hortisculpture" details the invention and destruction of a vital new art form in short comic strips; "Translated, from the Japanese" is a lush, full-color display of storytelling through still images; the title story, "Killing and Dying", centers on parenthood, mortality, and stand-up comedy. In six interconnected, darkly funny stories, Tomine forms a quietly moving portrait of contemporary life.
Tomine is a master of the small gesture, equally deft at signaling emotion via a subtle change of expression or writ large across landscapes illustrated in full color.  Killing and Dying is a fraught, realist masterpiece.
About the Author and Moderator:

Adrian Tomine was born in 1974 in Sacramento, California. He began self-publishing his comic book series Optic Nerve. His comics have been anthologized in publications such as McSweeney's, Best American Comics, and Best American Nonrequired Reading, and his graphic novel Shortcomings was a New York Times Notable Book of 2007. Since 1999, Tomine has been a regular contributor to The New Yorker. He lives in Brooklyn with his wife and daughters.
---
Mike Sacks is an author, humor writer, and magazine editor based in New York City. Sacks is currently an editor at Vanity Fair and formerly worked for The Washington Post.
RSVP
Bookings are closed for this event.