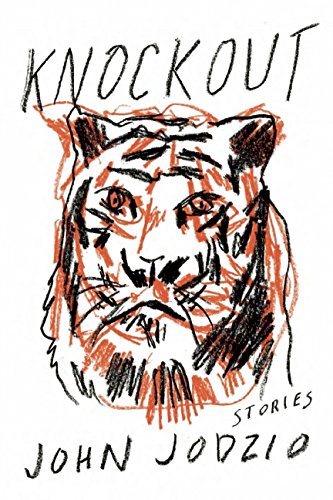 Thursday Mar 24, 2016
7:00 pm - 9:00 pm
THE POWERHOUSE ARENA [Dumbo]
37 Main Street
Brooklyn, NY 11201
For more information, please call 718.666.3049
RSVP appreciated: RSVP@powerHouseArena.com
-or-
Please fill out the "Bookings" form at the bottom of this page.
---
Knockout is the unified collection of stories that create flawless portraits of deeply flawed figures on the edge of the American Dream.
About Knockout:
"John Jodzio is the best kind of modern fiction writer: a thematic traditionalist who feels totally anew." —Chuck Klosterman, author of Sex, Drugs, and Cocoa Puffs
The work of John Jodzio has already made waves across the literary community. Some readers noticed his nimble blending of humor with painful truths reminded them of George Saunders. His creativity and fresh voice reminded others of Wells Tower's Everything Ravaged, Everything Burned. But with his new collection, Jodzio creates a class of his own.

Knockout is the unified collection of stories that create flawless portraits of deeply flawed figures on the edge of the American Dream. A recovering drug addict gets tricked into stealing a tiger. A man buys a used sex chair from his neighbor. A woman suffering from agoraphobia raises her son completely indoors. An alcoholic runs a bed and breakfast with the son from his deceased wife's first marriage. These people will admit that their chances have passed them by. These people know they were born on the wrong side of the tracks, and their dreams will remain unreachable, but that doesn't stop them from dreaming. Yet readers won't be fooled by the funny premises —Jodzio steers these stories into deeper places, creating a brilliant examination of those on the fringes of modern life.
About the Author and Moderators:


John Jodzio is a winner of the Loft-McKnight Fellowship and the author of the short story collections Get In If You Want To Live (Paper Darts Press) and If You Lived Here You'd Already Be Home (Replacement Press). His work has been featured in a variety of places including This American Life, McSweeney's, and One Story. He lives in Minneapolis.
Emily Condon lives in Brooklyn and manages This American Life and Serial. She likes listening to self-help books on tape and obsessively ensuring that every room she's in has at least five sources of light.
Jonathan Goldstein writing has appeared in The Walrus, The New York Times, GQ, and The National Post. He is a frequent contributor to PRI's This American Life and the New York Times Magazine, and was a 2002 co-recipient of The Third Coast Audio Festival's Gold Prize. In 2004, he was awarded a Canadian National Magazine award for humor. He was a producer for This American Life and WireTap.He is author of Lenny Bruce is Dead, Ladies and Gentlemen, The Bible!, and I'll Seize the Day Tomorrow. 


Sean C
ole is a producer for This American Life and has previously worked for Radiolab and the American Public Media program Marketplace. He's reported on stories for radio programs including All Things Considered, Only a Game, and Studio 360. Sean got his start at the Boston NPR-affiliate WBUR as a newsroom intern. He spent nine years there, ending up as a reporter and producer for the award-winning documentary series Inside Out.
RSVP
Bookings are closed for this event.