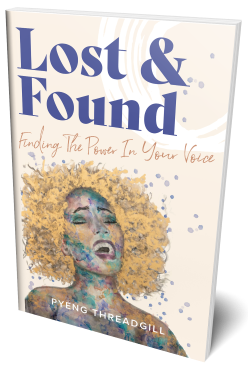 Saturday Jul 15, 2023
3:00 pm - 6:00 pm
POWERHOUSE @ the Archway
28 Adams Street (Corner of Adams & Water Street @ the Archway)
Brooklyn , NY 11201
RSVP Here!
This event will be IN-PERSON – masks recommended. RSVP here!
---
About the Book.
Growing up in the 1980s, in the heart of New York City's downtown music and art scene became fertile ground for seeds of creativity, doubt, and eventual empowerment for Pyeng Threadgill—as expressed through Lost & Found: Finding the Power in Your Voice, a collection of personal essays, poetry, and prose. Threadgill offers the reader various entryways to witness the magnificence and fragility of our voices and of our lives. As a performing professional vocalist, songwriter, recording artist, and bandleader, she began Lost & Found during the pandemic—born from many years of teaching voice, the Alexander Technique, and practicing meditation and meditative movement.
From motherhood to travel, from ancestry to the body—evolving from a passionate performer to injured performer, from voice student to voice and movement teacher—Lost & Found examines the visceral and ephemeral experiences of the voice, for the body and for oneself in the world, as both a spiritual and political act.
About the Author.
Pyeng Threadgill is an American vocalist, composer, writer, video artist and voice and movement teacher. As a vocalist/performer she creates what she calls New Porch Music based on the traditions of Black American Folk, Soul, Jazz and improvisational music. Pyeng uses these Porch Sessions to create connected conversations whereby audiences may reflect on their own life stories and identities for healing and empowerment.