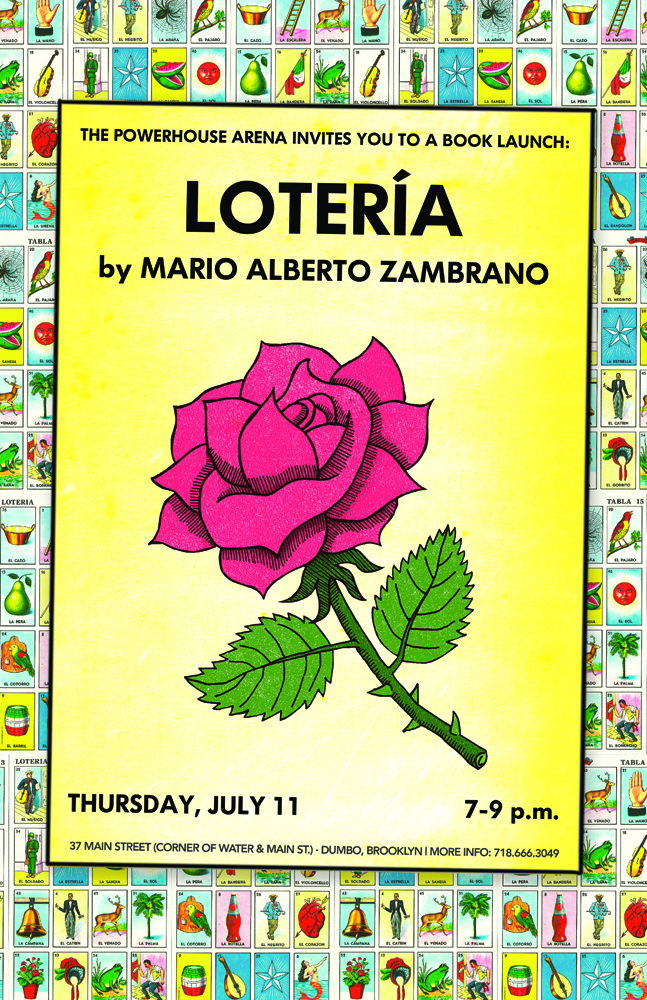 Thursday Jul 11, 2013
7:00 pm - 9:00 pm
THE POWERHOUSE ARENA [Dumbo]
37 Main Street
Brooklyn, NY 11201
For more information, please call 718.666.3049
RSVP appreciated: RSVP@powerHouseArena.com
-or-
Please fill out the "Bookings" form at the bottom of this page.
Drinks will be served. 
---
A deck of Lotería cards helps inspire a young girl who has been left to fend for herself at the hands of the state.
About LOTERÍA:
With her older sister Estrella in the ICU and her father in jail, eleven-year-old Luz Castillo has been taken into the custody of the state. Alone in her room, the young girl retreats behind a wall of silence, writing in her journal and shuffling through a deck of Lotería cards—a Mexican version of bingo featuring bright, colorful images.
Neither the social worker assigned to her case nor her Aunt Tencha, who desperately pleads for her niece's release, can cajole Luz to speak. The young girl's only confidant is her journal. Within its pages, Luz addresses an invisible higher power, sharing her secrets.
Using the Lotería cards as her muse, Luz picks one card from the deck with each shuffle. Each of the cards' colorful images— mermaids, bottles, spiders, death, and stars—sparks a random memory. Pieced together, these snapshots bring into focus the joy and pain of the young girl's life, and the events that led to her present situation. But just as the story becomes clear, a breathtaking twist changes everything. A surprising, spellbinding tale richly imaginative and atmospheric, Lotería is an exquisite debut novel from an outstanding new voice in fiction.
About the Author:
Mario Alberto Zambrano was a contemporary ballet dancer before dedicating his time to writing fiction. He has lived in Israel, The Netherlands, Germany, Spain, and Japan, and has danced for Hubbard Street Dance Chicago, Nederlands Dans Theater, Ballett Frankfurt, and Batsheva Dance Company. He graduated from The New School as a Riggio Honors Fellow and the Iowa Writers' Workshop as an Iowa Arts Fellow, where he also received a John C. Schupes Fellowship for Excellence in Fiction. Lotería is his first novel.
---
For more information, please contact
Justin Levine
email: justin@powerhousearena.com
powerHouse Arena, 37 Main Street, Brooklyn, NY 11201
tel: 212-604-9074 x109
RSVP
Bookings are closed for this event.