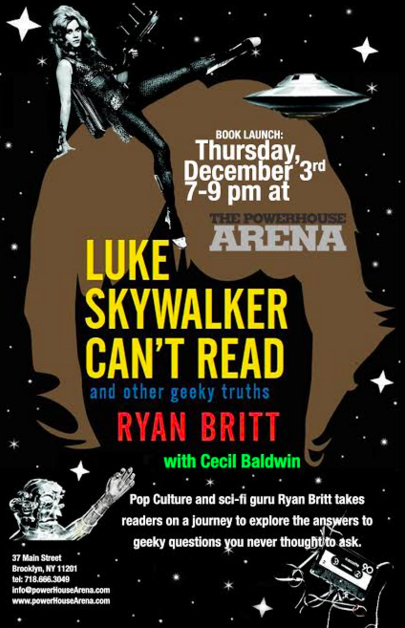 Thursday Dec 03, 2015
7:00 pm - 10:00 pm
THE POWERHOUSE ARENA [Dumbo]
37 Main Street
Brooklyn, NY 11201
For more information, please call 718.666.3049
RSVP appreciated: RSVP@powerHouseArena.com
-or-
Please fill out the "Bookings" form at the bottom of this page.
---
Join us as essayist Ryan Britt launches his zeitgeist-heavy new book Luke Skywalker Can't Read and Other Geeky Truths. Hosted by the voice of Welcome to Night Vale, Cecil Baldwin, the evening will include an introductory program of guest essayists reading about their geeky truths, followed by a conversation between Britt and Baldwin covering topics ranging from fandom, to Star Wars fever, to how a good monster should dress. As books are signed, cocktails, beer and wine will be served. Music will be curated throughout the evening by vinyl DJ EKOB.
About Luke Skywalker Can't Read:
"Ryan Britt is . . . the Virgil you want to guide you through the inferno of geekery." —Lev Grossman, author of the bestselling Magician's trilogy 

Pop Culture and sci-fi guru Ryan Britt has never met a monster, alien, wizard, or superhero that didn't need further analysis.

Essayist Ryan Britt got a sex education from dirty pictures of dinosaurs, made out with Jar-Jar Binks at midnight, and figured out how to kick depression with a Doctor Who Netflix-binge. Alternating between personal anecdote, hilarious insight, and smart analysis, Luke Skywalker Can't Read contends thatBarbarella is good for you, that monster movies are just romantic comedies with commitment issues, that Dracula and Sherlock Holmes are total hipsters, and, most shockingly, shows how virtually everyone in the Star Wars universe is functionally illiterate. 
 
Romp through time and space, from the circus sideshows of 100 years ago to the Comic Cons of today, from darkest corners of the Galaxy to the comfort of your couch. For anyone who pretended their flashlight was a lightsaber, stood in line for a movie at midnight, or dreamed they were abducted by aliens, Luke Skywalker Can't Read is full of answers to questions you haven't thought to ask, and perfect for readers of Chuck Klosterman, Rob Sheffield, and Ernest Cline.
About the Author:


Ryan Britt is the author of the essay collection Luke Skywalker Can't Read and Other Geeky Truths. (Plume/Penguin Random House) His writing has appeared in The New York Times, Electric Literature, VICE, The Awl, The Morning News and elsewhere. Currently, he is a consulting editor forStory. Formerly, Ryan was the staff writer for the Hugo Award-winning science fiction web magazine Tor.com where he remains a regular contributor. In addition to hosting both The Hi-Fi Reading Series and Lust for Genre, Ryan has also told live stories on stage for The Moth, The Liar Show, RISK! and many others. He's taught for The Gotham Writers' Workshop, The Sackett Street Writers' Workhop as well as privately. He lives New York City.
Cecil Baldwin is an actor, known for Billie Bob Joe (2015), Speak Heaven (2009) and Not Like the Light (2014).
RSVP
Bookings are closed for this event.